Management of Complex
and Pathological Wounds
with Integra®
Marc E. Gottlieb, MD, FACS
Phoenix, Arizona
Arimedica version, 2005.
Originally published as:
Gottlieb ME.  Management of Complex and Pathological Wounds with Integra.  In: Lee BY, ed.  The Wound Management Manual.  New York, McGraw-Hill, 2004: 226-289.  (ISBN 0-07-143203-5).
Arimedica version, expanded, with additional content and case studies, 2005.
Copyright © 2004, 2005, Marc E. Gottlieb, MD
Content may be used for non-commercial educational purposes.
Content may not be republished, nor used for commercial purposes without prior license or permission, except as permitted as "fair use" under United States copyright laws.
Contacts:
Marc E. Gottlieb, MD, FACS
Plastic Surgeon, Phoenix, Arizona
Phone:    602-252-3354
Fax:         602-254-7891
Email:      megott@arimedica.com
OUTLINE
INTRODUCTION
An Overview of Integra
Integra and Chronic Wounds
INTEGRA BIOLOGY
Structure
Chemical composition
Microarchitecture
Macroarchitecture
Acute Physiological Effects
Immediate closure of wound and recognition as normal tissue
Inflammation and its effects are suppressed
Pathergy is preempted
Sub-Acute Physiological Effects
Suppresses normal inflammatory wound repair
Induction of embryonic histogenesis
The histogenetic process
1 - Wound closure and suppression of inflammation
2 - Recognition of the matrix, pioneer cells
3 - Transition
4 - Syncytial transformation and clusters
5 - Stimulation and entrainment of perivascular cells
6 - Vasculogenesis
7 - Second set histogenesis
8 - Matrix filling
9 - Consolidation
10 - Domain maturation
11 - Epidermal events
The histogenetic process, comparison to normal inflammatory repair
12 - Wound module versus histogenesis
13 - Timing
14 - Cellular controllers
15 - Control dynamics
16 - Order of events
17 - Fibroblasts
18 - Vascular density
19 - Collagen density and organization
20 - Contraction
21 - Maturation
Related Therapeutic Effects
Semibiological, but not alive to begin with
Biological superdressing
Histoconduction and bridging
Suppression of scar, avoidance of scar sequelae
Similarity to normal dermis, favorable mechanics
Local soft tissue pathology is controlled
Resistance to recurrent disease
INTEGRA INDICATIONS AND USES
Integra General Indications
Overview of Wound Repair Surgery
General issues and topical care
Wound repair
Grafts
Flaps
Integra and Conventional Wound Surgery
Integra for acute wounds and critical coverage
Integra for essential coverage
Integra for reconstruction
INTEGRA FOR CHRONIC AND PATHOLOGICAL WOUNDS
The Problem of the Chronic Problem Wound
Rationale and Indications for Integra on Chronic Wounds
High risk history and susceptible disorders
High risk ulcer profile
Inflammation and disease persist
Topical care not succeeding
Control of symptoms
Surgical complications or wound failure anticipated
Skin grafts ineligible
Flaps ineligible or at high risk
Exposed essential structures
Biological coverage desirable
High risk patient
Large surface areas
High risk donor sites
High risk for recurrent disease
Avoiding scar and improving reconstruction
Simplifying care and preserving function
Absent risk factors, a superior reconstruction
Integra and Chronic Wounds, Comparison to Conventional Methods and Surgical Planning
Case study A1, indications and surgical planning
Case study A2, indications and surgical planning
Case study A3, indications and surgical planning
Case study A4, indications and surgical planning
Case study A5, indications and surgical planning
Use of Integra, Discussion by Diagnosis and Pathology
Macro-arterial
Micro-arterial
Hypercoagulable and other micro-occlusive
Diabetes
Venous disease
Lymphatic
Immunopathic
Mechanical, anatomical, trauma, and surgery
Radiation and malignancy
Granulomatous and infectious
Miscellaneous other disorders
Adjunct
Use of Integra, Discussion by Anatomy
Head, trunk, upper extremity
Lower extremity
Exposed structures
Scalp
Dorsum of hand
Visceral and alloplastic coverage
Achilles tendon
Heel
Amputation and limb salvage
TECHNIQUE AND MANAGEMENT
Technique and Management
Control disease and prepare wound
Excise wound
Forms and availability
Antibiotics
Application to wound
Fixation and compression
Interim management & observation
Separated silicone
Overgrafts
Planned second Integra
Secondary procedures
Ancillary therapies
Long term management
Logistics
Complications and problems
Open Integra
Failed Integra
Caveats and contraindications
REVIEW OF EXPERIENCE
Patients and Ulcers
Table 3, data: patient profiles and ulcer history
Table 3, analysis
Table 4a, data: ulcer anatomy - site
Table 4b, data: ulcer anatomy – complications
Table 4, analysis
Outcomes
Table 5, data: outcomes - outcome category
Table 5, analysis
Table 6a, data: outcomes – diagnosis
Table 6b, data: outcomes – site
Table 6a, b, analysis
Table 6c, data: outcomes - closure of internal structures
Table 6c, analysis
Table 7a, data: utilization, length of treatment
Table 7b, data: utilization, inpatient versus outpatient
Table 7a, b, analysis
Summary of Author's Data
Other Sources
Other Indications
Bulk filling
Contour correction
Control of inflammation and scar contracture
Peripheral nerve management
New product forms
Keratinocytes
Tissue engineering
GALLERY OF CASES
Case study A1, indications and surgical planning
Case study A2, indications and surgical planning
Case study A3, indications and surgical planning
Case study A4, indications and surgical planning
Case study A5, indications and surgical planning
Case study B1, acute care and critical coverage
Case study B2, acute care and critical coverage
Case study B3, acute care and critical coverage
Case study C1, reconstruction
Case study C2, reconstruction
Case study C3, reconstruction, keloid
Case study D1, outcome type 1a, nominal reconstruction, healed
Case study D2, outcome type 1a, nominal reconstruction, healed
Case study D3, outcome type 1b, healed after ancillary care
Case study D4, outcome type 1d, healed after second Integra
Case study D5, outcome type 2a, partial success, healed after secondary flap
Case study D6, outcome type 2c, persistent open Integra
Case study D7, outcome type 3c, failure, amputation
Case study E1, diagnosis, venous
Case study E2, diagnosis, immunopathic
Case study E3, diagnosis, immunopathic
Case study E4, diagnosis, hypercoagulable
Case study E5, diagnosis, hypercoagulable
Case study E6, diagnosis, arterial disease
Case study E7, diagnosis, arterial disease
Case study E8, diagnosis, arterial disease and diabetes
Case study E9, diagnosis, diabetes, necrobiosis
Case study E10, diagnosis, granulomatous
Case study E11, diagnosis, atypical infection
Case study E12, diagnosis, mechanical
Case study E13, diagnosis, metabolic
Case study F1, location, upper extremity
Case study F2, location, trunk
Case study F3, location, leg
Case study F4, location, foot
Case study G1, exposed structure, bone
Case study G2, exposed structure, joint
Case study G3, exposed structure, hardware
Case study G4, exposed structure, lung
Case study H1, select problem, achilles
Case study H2, select problem, heel
Case study H3, select problem, stump salvage
Case study H4, select problem, dorsum of hand
Case study I1, performance, resistance to recurrence
Case study I2, performance, tumor
Case study I3, adjunct use, flap delay and donor site
Case study I4, technique and management, complete excision
Case study I5, technique and management, redo Integra
Case study I6, technique and management, planned second Integra
Case study I7, technique and management, not using Integra
Case study I8, technique and management, tissue engineering
SUMMARY
REFERENCES
60 references
INTRODUCTION
Wounds, and especially chronic and pathological wounds, are subjects which historically have received minor attention from organized, academic, and commercial medicine. However, since the last decade or two of the 20th century, there has been a burgeoning interest in the subject. Basic and clinical research has proliferated, and robust principles of pathology, therapeutics, and clinical care are evolving, practiced by cross-discipline physicians, allied health professionals, and manufacturers who make the products needed to support clinical practice. In prior years, the product base in this specialty consisted mostly of bandages and non-pharmacological topical medications. As this chapter is being written in the year 2003, there are now a dozen or two legitimate pharmaceuticals and other products designed to facilitate or accelerate wound repair, including sophisticated manufactured devices, living and non-living. These contemporary products are the nascence of wound engineering and wound biotechnology, presumably presaging ever increasing capabilities for the hasty cure of chronic wounds. Among these modern technology products is Integra Dermal Regeneration Template® (manufactured by Integra Life Sciences, Plainsboro, New Jersey; marketed by Ethicon, Somerville, New Jersey, USA). Integra's structure and biological effects are unique among contemporary wound and surgical devices. Originally developed as an artificial skin for treating burns, its special properties make it effective for treating many wounds, acute and chronic, traumatic and pathological. It is often superior to any conventional surgical method, and it is sometimes the only permissible option. It can solve problems simply not curable by customary modalities, and thus it extends the boundaries of successful care and curable wounds. This chapter will detail Integra, its biological properties, the rationale for its use on various wounds, and its methods of use and related care. Because trauma wounds occur in usually healthy people, and because the art is already very dependable for trauma wounds, most of this chapter will focus on the exceptional ability of Integra to close chronic and pathological wounds.
An Overview of Integra

Integra is a non-living semi-biological spongy matrix made from type 1 collagen and chondroitin-6-sulfate. It is manufactured as a thin bilaminate sheet, the deep layer being the sponge which is placed in contact with the wound, and the top layer being a silicone rubber "epidermis" (figure 1). It has two main functions or modes of use. The first is as an artificial skin, effectively performing the barrier functions of normal skin while persuading the host that skin is actually present and that there is no injury nor need for inflammation. Its second function is as an agent of tissue regeneration. The sponge has histoinductive and histoconductive properties which attract mesenchymal cells and direct them to begin regenerating, within the sponge, a lamina of tissue comparable to embryonic dermis. Both the native and the regenerated material have desirable properties and beneficial effects on the recipient wound.

As a surgical implant, Integra's use is comparable to ordinary skin grafts. Patients and wounds have a period of preparatory care. When ready for surgery, the wound is excised, and Integra is used to cover the exposed surfaces. Compression dressings and splints are applied. The regeneration process, which occurs over a period of several weeks, can be observed directly through the transparent outer silicone. When regeneration of the "neodermis" is complete, the silicone is discarded, and true epithelium is restored with thin epidermal autografts. Its spectrum of use includes (1) acute wounds such as deglovings, fasciitis, and excisional defects, (2) reconstruction, such as controlling keloids and correcting contractures, and (3) chronic wounds due to many disorders.

<![if !vml]><![endif]>

Figure 1

(1a, top) This is a piece of Integra, silicone side down, from which the sponge has been partially separated. (While not the usual mode of use, the sponge can be used alone for bulk filling of small spaces. The two lamina can be separated using a variety of surgical instruments.)

(1b, bottom) This is the structure of the spongy collagen-GAG matrix (missing the silicone which comes off in histology processing). It is somewhat flattened in this view, but the pore voids typically fill to capacity as histogenesis progresses.
Integra and Chronic Wounds
To anyone not familiar with the principles of reconstructive plastic surgery, an obvious question is "why the middle man, why not just stick the second stage skin graft on the wound in the first place?" The answer is that certain wounds cannot support skin grafts, either because disease has rendered the host wound incompetent to heal, or because visceral or skeletal structures are exposed. Conventional principles teach that flaps are required in these situations. The art of conventional surgical wound closure – repairs, flaps, grafts – is a detailed subject. Options are chosen individually based on size, location, acuity or severity, exposure of internal structures, patient history and comorbidities, and many other factors. Most surgery is done with the implicit faith that wound healing is competent and that the repair will heal. However, these assumptions and all of the usual art of surgical repair are challenged when caring for chronic and pathological wounds. The various illnesses and risk factors which cause ulceration (arterial and venous diseases, immunopathies, hematopathologies, and many others) also conspire to eliminate the ordinary options for wound closure, and they can impair the wound healing process itself. For these patients, disease and pathological anatomy make them ineligible for the repairs that would be done for comparable defects in healthy trauma patients.
All treatment options, from topical care in support of natural contraction to simple repair to elaborate reconstruction with autogenous living tissues are all prone to fail when working with chronic and pathological ulcers. This is reflected in the chronicity of the problems, the prolonged failed care, the multiple failed procedures, the incidence of amputation, and the loss of vocation, lifestyle, and well being. Integra can reliably close such ulcers. It not only withstands many disease-imposed risks, but it actually has a therapeutic effect on the wound to control local pathology. When applied to impaired wounds, injury, inflammation, and ulceration cease, conventional fibrous wound repair is inhibited, symptoms and nursing requirements abate, and tissue regeneration begins. It can succeed in healing chronic wounds when all other options are contraindicated or will fail, and it does so safely, without donor sites nor risk to the patient.
It must be noted that good outcomes with Integra do not come automatically. No legitimate remedy for chronic wounds works in the absence of systematic and comprehensive good care. This includes a program of proper diagnosis, treatment or correction of underlying diseases and risks, diligent care of the wound and periwound, prudent treatment choices, thorough pre-operative wound preparation, continuity of care from one treatment phase to the next, and long term maintenance management. Used properly, Integra is for many patients the crucial component of care which solves otherwise unsolvable problems. Integra's favorable properties, its clinical utility, and its superiority for many wound repairs and reconstruction all derive from its unique structure and biological properties.
INTEGRA BIOLOGY
Integra was first conceived in Boston in the 1970s in a collaboration between a burn surgeon Dr. John F. Burke and polymer scientist and engineer Dr. Ioannis V. Yannas. Biology, materials, and manufacturing were all foremost issues 1, 2, 3. While the gamut of Integra indications were not perceived at that time, each detail of the product's design was important in creating the properties that now make it so versatile. Chemical composition and materials, microarchitecture and fabrication, and macroarchitecture and composite structure all contribute crucial effects which allow Integra to function first as an almost normal skin and then to act as a skin regenerant.
Chemical composition
The Integra sponge or matrix is made from two ingredients, type 1 collagen (acquired from bovine achilles tendon) and chondroitin-6-sulfate (chondroitin sulfate C, a glycosaminoglycan (GAG) from shark cartilage). The raw materials are processed and chemically cross linked in a proprietary process which results in a porous sponge with 8% chondroitin. The material is generically referred to as CGM, collagen-GAG matrix. There are many collagen products marketed for wound care, so it must be understood that Integra is NOT a "collagen product". The chemistry of Integra depends on both components. The collagen provides mainly structural form and stability. The chondroitin-6-sulfate is what confers key properties. Along with hyaluronan, dermatan, keratan, and heparan, the glycosaminoglycans are the large saccharide polymers which are key components of the extracellular matrix. Vertebrate cells cannot function without adhesion to these molecules which have key roles in cell and tissue development and differentiation. In unproteinized embryonic tissues, they are the sole medium in which young cells develop, and they accumulate in fetal wounds which heal by regeneration without inflammation nor fibrosis 4, 5, 7b. As will be discussed, Integra histogenesis is highly analogous to normal embryonic dermatogenesis, and the chondroitin is largely responsible for this effect. Another Integra property is that the chondroitin masks binding sites on the collagen, thereby preventing platelet adhesion and resulting inflammation. It is interesting that when the material was invented, chondroitin was used only for chemical engineering purposes of improving the mechanics and stability of "the collagen matrix", and it was serendipity that the combination had remarkable other effects on wounds.
Microarchitecture

The porous collagen-chondroitin sponge has a void volume of 95%. Pore diameters are typically 5 – 150 microns, averaging 80 – 100 microns. The septae of the sponge are several microns thick, comparable to the size of individual cells which will invade and populate the sponge. These micro-dimensions of the matrix were deliberately engineered because geometry, space, and surface all have effects on cell behavior. If the pores are too small, histogenetic cells cannot invade nor occupy the matrix. Too large, and potential histogenetic cells would "see" a non-stimulatory flat surface. At the chosen size, histogenetic cells "feel at home" and are induced to proliferate (figure 2).

Macroarchitecture

During manufacture, the spongy Integra material is formed into a sheet about 1 - 2 mm thick, comparable to the average thickness of human dermis. Liquid silicone (polysiloxane) elastomer is poured as a second layer. The silicone barely penetrates the sponge, but enough to bond the two lamina. The final composite of spongy matrix overlayered with transparent silicone rubber is about 3 – 3.5 mm thick. The composite material is pliable and conformable to gross anatomical contours. The silicone serves as an effective epidermis, airtight and water tight as long as it is undamaged. The matrix in contact with the host has the important job of regulating reactions and inducing histogenesis. Non-specific chemistry loosely adheres the sponge to healthy tissue within a few days, but histogenesis is a delayed event, and there is no formal histological connection between the material and the host for approximately 10 days.

<![if !vml]><![endif]>

Figure 2

This micrograph, 17 days after placement, shows the sizes and relationships of cells and matrix. The smallest dark round lymphoid cells are the pioneer cells, the larger flatter ones are the transitional cells.
Acute Physiological Effects
When Integra goes on a wound, all of the normal physiological responses to injury cease. Recognition of injury is so severely attenuated that inflammation and its derivative events never emerge. Integra therefore favorably influences clinical outcomes immediately upon placement on a wound. As the entire process evolves in time, from non-living matrix to autogenous tissue, each of its important biological properties is relevant to one or more of its clinical indications, such as preventing scar or closing exposed bones and joints. At the front end, it is its abilities to immediately close a wound, to be recognized as normal tissue, to suppress inflammation, and to control acute wound failure which are especially important. These are the properties which make Integra dependable for critical coverage where life and limb are threatened and for closure of pathological wounds.
Immediate closure of wound and recognition as normal tissue
The composite Integra implant, matrix with silicone, is an effective artificial skin. The silicone pseudo-epidermis has an obvious function because it is a thorough barrier against environmental exposure. However, it is the biocompatible sponge, looking to the body like aminoglycan ground substance, which has the less intuitive but more potent beneficial effect on the wound. When Integra is applied to a wound, the wound immediately stops being a wound. It may still be an injury or defect, but from a physiological point of view, all of the events which define the usual response to injury cease. The sponge is accepted by local cells as "self". To lymphoid patrol cells which do eventually find the matrix, the chondroitin lattice appears to be an acellular but otherwise normal tissue. The only response triggered is a regenerative one. This means that inflammation and other defensive responses do not occur.
Inflammation and its effects are suppressed
Inflammation is the normal protective response to injury. Depending on its cause, injury is recognized by platelets or leukocytes. They trigger an auto-amplifying cascade of cells and chemicals which is meant to defend the host and stabilize the injury, recognized clinically by customary signs such as redness, swelling, and pain. Wound repair is the latter response which makes scar and restores the host. Repair is an integrated sequential consequence of inflammation, appearing as injury and inflammation subside. Inflammation is an inherently destructive process. While inflammation begins the sequence which leads to wound repair, repair processes are suppressed by acute inflammation. Acute inflammation can also dismantle early products of repair. Collagenolysis and other proteolysis during inflammation will lyse scar, commonly seen clinically when an abscess drains through a recently healed wound. These are the reasons that inflammation is the enemy of the wound physician. When inflammation occurs reactively for identifiable reasons, such as an infection or a fracture pseudarthrosis, the physician must control the cause of the inflammation. When inflammation arises for erroneous reasons, such as rheumatoid disease, then inflammation per se must be stopped. Until then, physiologic wound repair will remain suppressed, and surgical wound repair is prone to fail.
When Integra is applied to a wound, inflammation ceases. It is not only recognized as self, but it also seems to be "invisible" to platelets and inflammatory leukocytes. Observed histologically, at no time are there are inflammatory cell infiltrates in the matrix. At no time do inflammatory cell exudates nor even intravascular leukocyte margination appear in the adjacent tissues (figure 3). Clinical signs of inflammation are suppressed or eliminated. Pain is often conspicuously absent after Integra, and any pre-operative periwound erythema and edema abate rapidly (figure 4). At least three characteristics of Integra explain this phenomenon. (1) Because of masked binding sites, platelets cannot recognize the collagen, and platelet adhesion is absent. This prevents the thrombotic cascade to inflammation from being triggered (figure 5). (2) The artificial epidermis sequesters the wound, eliminating ambient exposure, desiccation, bioburden, and their injurious effects. (3) The chondroitin matrix looks sufficiently like normal tissue that blood borne leukocytes and lymphoid cells that might find their way into the matrix do not recognize anything abnormal that would trigger a defensive response 6.
Figure 3

These five images demonstrate the absence and suppression of inflammation. Figures 3a, b, c were taken from a patient having lower extremity dermatofasciectomy for primary lymphedema (Milroy's, praecox).

<![if !vml]><![endif]>

(3a, top left) Biopsy was taken 4 hours after the fasciectomy, just prior to Integra. Normal post-traumatic thrombosis has recognized the injury, attracting polymorphonuclear leukocytes (neutrophils) which are densely marginated in blood vessels on the wound surface. This is the normal response to injury, the start of inflammation.

(3b, top right) Biopsy was taken 4 hours later after placing Integra. A blood vessel is present at the wound surface between Integra matrix (top and left) and normal adipose (bottom and right). Leukocyte margination and migration are present, but not dense

(3c, middle, left) At 24 hours the only neutrophils are a few, in proportion to the red cells that bled into the matrix. Figures 3d, e are from a similar patient.

(3d, middle, right)  At 5 days, the only cells present are early histogenetic pioneer and transitional cells. There are no neutrophils, no plasma cells, no eosinophils, no lymphocytes, no monocyte-macrophages. Other than some late foreign body giant cells occurring along the silicone, at no time does a defensive response ever appear in the matrix.

(3e, bottom) At 11 days, the matrix remains mostly devoid of cells in this locale, although the entrainment of cells starting to migrate toward the matrix is apparent at lower right. (Note 1: Cell migration and histogenesis occur casually at different rates throughout the matrix, and it is common that a somewhat later image (3e at 11 days) might appear less populated than an earlier image from a different area (3d at 5 days); this variability of time with Integra is the norm. Note 2: Unless otherwise stated or obvious, all histological images presented throughout the chapter are oriented with the outer superficial surface, silicone or epidermis, at the top.)
<![if !vml]><![endif]>

Figure 4

Case study E4. This 61 year old woman had leg ulceration and failed care for many years, along with a history of multiple venous thrombosis and pulmonary embolism. Note that the usual stigmata of venous disease, pigment, edema, dermatosclerosis, are not very severe. This is a hypercoagulable ulcer rather than a common post-phlebitic venous problem, confirmed by histology (microthrombi; long standing warfarin therapy precluded making the exact pre-thrombotic diagnosis).

(4a, top left) The ulcer prior to aggressive consistent topical care.

(4b, top right) After stricter care and increased warfarin, the wound and periwound are improved, but nevertheless, inflammation and active necrosis-ulceration persist at the margins.

(4c, bottom left) Six days after wound excision and Integra, periwound inflammation, erythema, and edema, have completely subsided.

(4d, bottom right) Healed. As the first case cited in the text, this is a good example of a chronic refractory ulcer due to active pathology which failed multiple prior care but healed promptly with Integra.

<![if !supportMisalignedColumns]>
<![endif]>
Figure 5  (below)

Electron micrographs of matrices incubated with platelet rich plasma:

(a, top) Platelets adhere as expected to a collagen-cellulose matrix;

(b, bottom) Platelets do not adhere to the Integra collagen-GAG matrix. The chondroitin has rendered the collagen invisible to platelets. (Photos on file, Ethicon, Somerville, New Jersey, USA)

<![if !vml]><![endif]>

<![if !vml]><![endif]>
Figure 6   (right)
This 43 year old woman had previously undiagnosed Behçet's syndrome, now with multiple acute manifestations. Illustrated is the textbook "pathergy test".
(a, top) This is the result 12 hours after a single prick to the thigh with an 18 gauge needle.
(b, bottom) Histology demonstrates hemorrhage and complex mixed inflammation at the boundary between dermis and hypodermis. This is one of the classic but more parochial definitions of pathergy. Throughout this chapter, "pathergy" is used in its more contemporary and more liberal sense of acute, unexpected, disproportionate wound and soft tissue complications. Although this is not an Integra patient, these images demonstrate the type of immunopathic events that often lead to refractory ulcers that Integra can heal.
Pathergy is preempted
"Pathergy" has the general meaning of an abnormal or exaggerated response to an injury or challenge. Originally applied to allergens, it has taken on broader meanings, such as the intense inflammatory response to minor trauma in Behçet's syndrome (figure 6). Lately it has come to signify an unexpected or disproportionate adverse response of a wound to accident, disease, or deliberate injury (debridement and surgery). The injury-induced necrosis of pyoderma gangrenosum is a paradigm. In this chapter, "pathergy" will be synonymous with "unexpected acute wound failure". It is a tokenized way to describe progressive inflammation, necrosis, tissue lysis, wound bursitis, dehiscence, and other undesirable wound complications not due to obvious causes such as infection or excess mechanical load, especially if they are unanticipated, exaggerated, or a consequence of treatment or injury-triggered flare-up of underlying disease.
Wound pathergy is most prone to occur with any disorder that causes severe ischemia or severe inflammation. This includes athero- and other macro-occlusive arterial diseases, hypercoagulable, microthrombotic, and micro-occlusive disorders, autoimmune vasculitis and angiopathies, and the various active immunopathies, including connective tissue disorders, panniculopathies, inflammatory dermatoses, and any similar disease of immunity and inflammation. In these disorders, every surgical procedure, from simple debridements and biopsies to amputations and complex wound closures, is at risk for necrosis, lysis, dehiscence, and ulceration. These undesirable responses are mediated in many ways, including acute neutrophilic inflammation, complement and lymphocyte activation, abnormal cytokine profiles, protease activation, thrombosis, and ischemic infarction to name a few that are most understood. A robustly healthy wound and host weather injury and inflammation, and they easily get on with repair when the acute events subside. Sick wounds and hosts do not have the same degrees of freedom to accommodate the secondary injury that inflammation creates. Anything that mitigates inflammation lessens the chances of wound failure.
Regardless of the disease and the pathogenetic pathway to wound failure, almost anytime that Integra is applied to such wounds or patients, these risks are controlled and adverse wound behaviors are eliminated. By sequestering mesenchyme and creating a closed wound, by mimicking normal autogenous tissue, and by suppressing inflammation, the various deleterious effects of injury and inflammation which lead to acute wound failure are arrested. Because Integra should never applied to a natural wound surface, but rather to an acutely, fully, surgically excised surface which is histologically normal, these various factors are stopped before they ever start.
Sub-Acute Physiological Effects
Subacute Integra effects are those related to its regeneration phase. From the patient's perspective, this is a busy time, with clinic visits, dressing changes, anticipation of skin grafts, and anxiety over the outcome. From a general physiological point of view though, Integra's abilities to suppress acute inflammation mean that this period of several weeks is very benign and uneventful. From the wound's point of view, this is a crucial but orderly, controlled, and productive time in which normal wound repair is suppressed and an embryonic form of histogenesis grows the neodermis.
Suppresses normal inflammatory wound repair
Inflammation begets normal wound repair. This process, in which the wound contracts and is cemented together by fibrous scar, is known as the "wound module" 7a. It is the body's standard mode of repair after injury. It begins as blood-borne monocytes in the inflammatory zone of the wound are transformed to macrophages. As mobile phagocytes, macrophages have an afferent function to recognize debris and remove it, resulting in eschar separation. Their efferent role is to make cytokines which stimulate local vascular and perivascular histoprogenitor cells. Stimulated cells migrate to the wound and establish new blood vessels, recognized as "granulation tissue". Behind them come myofibroblasts which contract the wound and regular fibroblasts which make the collagenized scar. As the proliferative wound module covers the original defect, epithelial cells migrate across it. The wound is "closed" when epithelialization is complete, when mesenchyme underneath is fully sequestered from the ambient world. Chronic wounds are all due to some component of this process failing. However, even in healthy subjects, normal inflammatory wound repair can be the proverbial "double-edged sword", ensuring the immediate health of the subject, but leading to undesirable late effects due to scar and contracture. By turning off inflammation, Integra turns off the master switch which triggers this entire series of events. Fibroplasia never occurs, meaning that contractures, keloids, and other reactive or pathological scars and their clinical effects also never occur.
Induction of embryonic histogenesis
If Integra did nothing other than control inflammation and pathergy, and thereby stabilize a sick wound, it would still be a valuable device. However, it would then be just another biological dressing ultimately needing replacement by autogenous grafts. What makes Integra unique among all other surgical grafts and implants is its ability to regenerate an embryogenic tissue. The surgeon who uses Integra is incubating an engineered tissue devoid of scar and having the characteristics of dermis. The aminoglycans and the geometry of the matrix are presumed to be the key triggers and regulators of this phenomenon. It is easy enough to observe Integra regeneration histologically and see that the process is completely different than ordinary wound module fibroplasia. Understanding that the process is comparable to embryonic histogenesis comes by inference and cross correlation with available information on that subject. Notable parallels include the lack of inflammation in fetal wound repair, the lack of fibroplasia and the prompt regeneration of tissues in fetal wound repair, the predominant role of aminoglycan ground substance in embryonic histogenesis and fetal wound repair, the comparable development and morphology of dermatocytes during embryogenesis and Integra histogenesis 8, and the biophysics of tissue growth and vasculogenesis 9, 10, 11.
The histogenetic process
As Integra histogenesis proceeds, several distinctive events or phases occur. The following images are taken from among 11 different individuals with extensive histologic documentation of their Integra reconstruction (unless explicitly stated, sequential images are not necessarily from the same patient):
1 - Wound closure and suppression of inflammation. The most immediate effects of Integra are to sequester mesenchyme from the ambient environment and to suppress inflammation (figures 3 and 4).
2 - Recognition of the matrix, pioneer cells. Small lymphoid looking cells enter the matrix in small numbers. Integra was engineered to be non-soluble. There is no evidence that Integra has any diffusible moieties nor any cytotactic properties These lymphoid "pioneer cells" seem to be patrol cells, either blood borne or resident in normal tissues, which find the matrix by happenstance. They do not recruit other cells. They migrate or diffuse freely through the matrix, and when they do react, they simply adhere to the matrix (figure 7a).
<![if !vml]><![endif]>

Figure 7a

Recognition of the matrix, pioneer cells. Integra 5 days after placement. Sparsely scattered in the matrix are small lymphoid-looking cells with dark nuclei. These are the pioneer cells. There is neither hemorrhage nor inflammation in the matrix, neither of the usual mechanisms which would transport cells. These pioneers have randomly found the matrix. Some are still free and round, and some are adhering to the matrix and starting to flatten.

<![if !vml]><![endif]>

Figure 7b

Transition. A closer view. One cell is still a round unattached pioneer. The other cell has transitioned, attached to the matrix, flattened and elongated. Attachment with morphological transformation is a characteristic cell-glycosaminoglycan interaction.
3 - Transition. Adherent pioneer cells undergo a transformation. They elongate along the septae of the matrix, then enlarge as cytoplasm and nucleoplasm accumulate in preparation for proteogenesis and mitosis. These behaviors are characteristic of cell-aminoglycan interactions. These transitional cells mark the beginning of active histogenesis (figure 7b).
4 - Syncytial transformation and clusters. The transitional cells develop into "syncytial fibroblasts". These are large cells. Under light microscopy, their boundaries are indistinct, hence the designation "syncytial". They are proteogenic, with large pseudopods surrounding foci of young amorphous collagen. They are also mitotic, and they eventuate in small clusters of cells (approximately 1-12) occupying a domain or pore of the matrix. The clusters are evenly scattered throughout the matrix, wherever there was a pioneer cell (figures 7c, 7d). These events usually occur between 5 and 15 days (all event times are expressed as days or weeks after Integra placement; the time frame of Integra events has wide variability, from person to person and within different locales in the same person, and the given values are very rough approximations; events tend to be quicker in healthier people, on upper parts of the body, and in children). There are two notable observations about these cells: (1) as characterized by light microscopy, appearance and behavior of these cells are identical to the syncytial fibroblasts characteristic of embryonic dermatogenesis 8; (2) there is nothing like this which ever occurs in normal inflammatory wound repair. Syncytial fibroblast transformation is the keystone event in Integra histogenesis. It occurs because the collagen-chondroitin matrix is directing cells to do something that mature cells ordinarily will not do.
<![if !vml]><![endif]>

Figure 7c

Syncytial transformation. This group of images is also at 5 days.

(7c-1, left) What was a transitional cell has become a syncytial fibroblast. It is large, with a large nucleus. There are long pseudopods and gossamer indistinct boundaries. Other cells in the region are still pioneers or in transition.

(7c-2, middle) What makes this transition the keystone event in Integra regeneration is that these transformed cells are histogenetically active, the first cells to be generating the new tissue. Activity occurs both as mitotic replication of new cells and the production of an end product, connective proteins. Mitosis is captured here in metaphase.

(7c-3, right) In this image, a syncytial fibroblast has already doubled by mitosis. These large stellate cells seem confluent, their boundaries indistinguishable with light microscopy. Pale pink material within the cell is young fibrillar collagen. (Note: the apparent separation between cells and the matrix is a fixation-dehydration artifact, which will also be seen in other images.)

<![if !vml]><![endif]>

Figure 7d

Syncytial clusters. A 17 day view showing a well established syncytial cluster of indistinct large embryonoid fibroblasts. It has grown in size to about a dozen cells. It is an insular cluster with no gross organization, not yet a tissue. It is however proteogenic, with pale pink eosinophilic young fibrillar collagen in and around the cluster. Substrate supply to this cluster depends on the diffusion of nutrients and gases from the host wound. At this point, no further growth is possible until revascularization can meet the metabolic needs of this and competing clusters.
5 - Stimulation and entrainment of perivascular cells. The syncytial clusters are metabolically active, and the diffusibility of gases from the host wound and competition between clusters are limiting factors. As demand outpaces supply, angiogenic factors are made in order to summon new blood vessels. At the heart of embryonic biophysics, this closed loop demand-supply interaction regulates vasculogenesis and substrate-dependent histogenesis, and it depends on VEGF (vascular endothelial growth factor) and other angiogenic growth factors. New blood vessels must come from pre-existing blood vessels, and stimulation causes nearby angiocytes, both endothelial and perivascular cells, to enlarge, multiply, and migrate (figures 7e, f, g).
<![if !vml]><![endif]>

Figure 7e

Normal angiocytes prior to Integra. Images 7e, 7f, and 7g are from the same patient. The first is normal tissue prior to placement of Integra. Note that among blood vessels large and small, that all angiocytes, endothelial and medial, are small and uniform in size, with small dark nuclei. Many are flattened due to intraluminal blood shearing and mural tension and geometry. This is what normal blood vessels look like.

<![if !vml]><![endif]>

Figure 7f

Stimulation of perivascular cells. At 10 days after Integra, syncytial clusters are starting to demand revascularization. Like all cytokines, angiogenic factors are transforming, mitogenic, and cytotactic. These diffusible peptides are now being felt by nearby pre-existing blood vessels, and the vascular cells are responding. This image is typical. Angiocytes have "come alive". Nuclei are enlarged with stippled chromatin. Cell sizes and shapes are variable, but they are all enlarging. Cells are breaking away from their native positions as they begin to migrate toward the source of angiogenic stimulation. Some will undergo mitosis, as beautifully captured in anaphase near the center.
<![if !vml]>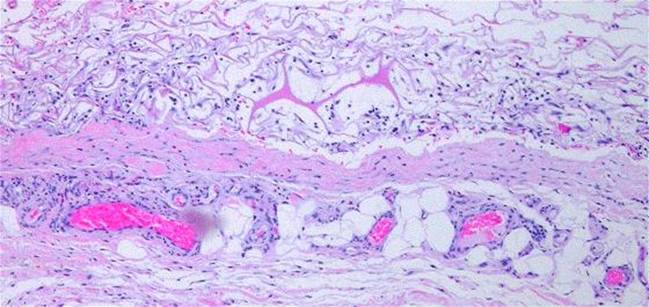 <![endif]>
Figure 7g
Entrainment of perivascular cells. This is a wide view of the 10 day events in figure 7f. The matrix has numerous islands or clusters of syncytial cells, recognized by blue basophilic filling of loci in the matrix without significant eosinophilic proteins. These clusters are all signaling the need for angiogenesis to satisfy their metabolic needs. The Integra is on the sural fascia of the leg. Deep to this, in the subfascial areolar adipose, blood vessels are markedly hyperplastic. Migration of angioblasts or histioblasts, from the vessels into and across the sural fascia is obvious. Note that the matrix is more densely populated with syncytial clusters on the right and left sides, less so in the center (which variability is completely normal). Correspondingly, subfascial angiocyte hypertrophy and cell entrainment is less advanced in the center, because these events are governed by simple diffusion gradients of growth factors individually in each locale. This entrainment of cells is the beginning of Integra angiogenesis and "second set" histogenesis.
6 - Vasculogenesis. Migrating angiocytes aim for the sources of stimulation, each syncytial cluster, then reassemble themselves into luminal vessels that can conduct blood. As further histogenesis proceeds to fill the matrix, the vascular network continues to branch and expand as required. An anatomical connection between host and Integra is now starting to form (figure 7h; 5 – 15 days for the initiation of this process).
7 - Second set histogenesis. Now that new blood vessels directly supply the early clusters, more robust histogenesis can proceed. There is empty space to be filled, and it is filled both by mitotic new cells (which can proliferate until loss of contact is corrected), and by the more voluminous and more mature collagen that they can now make. As the widely dispersed syncytial clusters grow larger, they grow to confluence, and the matrix fills with tissue (figures 7i; 10 – 20 days for the initiation of this process).
<![if !vml]><![endif]>

<![if !vml]><![endif]>

Figure 7h   (left)

Vasculogenesis. In this 17 day view, vascular hypertrophy of the substrate and cell streaming toward the matrix are very active. There are a few areas of well established vascular ingrowth, and from these, new vessels are branching wider and deeper into the matrix. Erythrocytes are present in young vascular lumina. Note that the upper layers of the sponge are still largely a void. There are pioneer and transitional cells, syncytial clusters, some zones of early collagen, and a foreign body giant cell along the silicone, but there is no systematic organization and no blood vessels. Accompanying new blood vessels in the lower strata, the matrix is getting denser with more protein and more cells. This is because, as vasculogenesis takes place and restores circulation, unfettered cell aggregation, proliferation, and metabolism can begin.

Figure 7i   (right)

Second set histogenesis. This too is a 17 day view, demonstrating what happens after blood vessels enter the matrix. The silicone is toward upper left, the base toward lower right. The upper left corner of the image is unvascularized matrix. It contains scattered low density syncytial cells making pale fibrillar collagen. The rest of the image is in a zone of active angio-organization. Vessels are seen either in cross section (with or without erythrocytes), or as longitudinal chords of clustered angioblasts. Some are capillaries, and some are already enlarged higher order vessels supplying smaller ones downstream. The angioblasts are still in an active migratory or transformational state, having large ovoid nuclei, stippled chromatin, and a loose intercellular organization. They are either coalescing into blood conducting vessels, or enlarging luminal diameter and mural thickness to serve as arterioles, or they are themselves the source of new angioblasts for more distal vessels – or all three. Wherever they have infiltrated or traversed a pore, the pore has become filled with formal fibrous tissue. Much of that tissue is dense pink fibrous collagen. Syncytial fibroblasts, and migratory cells which became fibroblasts rather than angioblasts, are trapped in the collagen, becoming flattened, and starting to assume the classic fibroblast appearance. Note that even within the zone of active angio-histogenesis, that some pores are filled, and some remain empty. The empty ones either had no early transitional nor syncytial cells to attract vessels, or else no vessels have yet been attracted to permit second set histogenesis. As vasculogenesis pushes upward toward the silicone, or tangentially across non-vascular substrate, more and more of the matrix will become filled in this way.

<![if !supportMisalignedColumns]>
<![endif]>
8 - Matrix filling. The first round of histogenesis could occur anywhere in the matrix, deep or superficial, wherever there were pioneer cells and syncytial clusters. However, second set histogenesis must start at the base, because this is where new blood vessels must enter. It develops layer by layer, a broad tangential front rising through the matrix like a tide, from base up to silicone, as progressive vascularization allows the process to occur at ever higher levels. The events are qualitatively identical at all levels, but the surface lags behind the base by 1 – 2 weeks (figure 7j; onset at 3-6 weeks, depending on many factors).
<![if !vml]><![endif]>

Figure 7j

Matrix filling. This image at 17 days shows a regeneration that is about half way through, 1-2 weeks away from skin grafting. At the top are serum filled pores with scattered pioneer or transitional cells. In the stratum below, some large clusters of syncytial cells are awaiting the arrival of nutrient capillaries, making some fibrillar collagen as they wait. At center level, migratory angioblasts are in evidence, with erythrocyte-conducting vessels present. Overall cell and collagen density is increasing in this zone, but this central layer is still more basophilic than eosinophilic, more cellular and cytoplasmic than proteinized. Toward the base of the Integra, large conducting vessels are carrying nutrient blood locally and to the developing strata above. They are surrounded by bright pink dense fibrous collagen which is now the predominant bulk of the tissue. At the lowest level, entrapped fibroblasts are flattened and parallel between maturing collagen bundles. There is a firm physical connection of collagen and vascular structures uniting the matrix and the host. The blood vessels in the substrate fascia remain hypertrophied and basophilic, but their proliferative response is starting to wind down as the zone of active histogenesis and angiogenesis shifts to the upper levels and new vessels in the mid-zone become the angiogenic source. The process will continue shifting upward.
9 - Consolidation. Because the top levels lag behind the base, there is a period in which the base is both maturing and also serving as the source of migratory angioblasts and histioblasts needed at still developing higher strata. As histogenesis completes itself, the entire matrix consolidates to a uniform final appearance, domains filled, and all mitosis, migration, and reorganization ceased. Skin grafts are usually ready to be placed before this process is complete (figure 7k; 3-16 weeks).
10 - Domain maturation. Pores that are newly filled with cells and connective proteins typically have loosely organized collagen bundles, still immature fibroblasts, and vessels not yet fully coalesced. There is a maturation period in which these structures assume their final histological structure. Only a few weeks long, this maturation period is very brief by the standards of normal inflammatory scar maturation. This is when the tissue settles down to become typical mature mesenchyme. The cells that generated the new tissue need never again replicate unless injury or embryonic events once again recruit them to do so (figure 7l).
<![if !vml]><![endif]>

Figure 7k

Consolidation. This image at 6 weeks demonstrates the final consolidation of the matrix. All pores, all domains, all locales are completely filled with regenerated tissue. The uppermost strata are still a bit more basophilic, from cells that are still large and immature, and from less collagen more poorly organized. The lower strata are assuming their final structure. As the next few weeks go by, the regenerated matrix will become 100% uniform. (Note the large accumulation of foreign body giant cells at the top. This is a response to the silicone. They can start to appear within a week of Integra's placement. Some people do not get them, and some do. When they do occur, this can be seen clinically as blistering of the silicone with accumulation of turbid fluids. It is not accompanied by other inflammatory signs and symptoms, and as seen here, there are no inflammatory infiltrates. This is benign, and gentle curettage of the surface will allow skin grafts to take without problem.)

<![if !vml]><![endif]>

Figure 7l

Domain maturation. This image at 8 weeks demonstrates what happens as each pore or domain is completely filled and histogenesis ceases. Collagen bundles are well organized and lamellated. Fibroblasts are flattened and mature. Cell sizes have returned to normal. Blood vessels have regained an entirely normal size and histology, both those in the matrix and those below the base. The fibrous bond between host and matrix appears completely natural. There is not an inflammatory cell in sight. Regeneration is complete. This is the final output of the histogenetic process, and although 8 weeks is a very short time by the standards of conventional wound healing and scar, this is mature Integra. From this point forward, only very slow remodeling will occur, over many months and years, in the same way that normal dermal collagen turns over. Note that the matrix itself is entirely unaltered, neither resorbed by cellular nor chemical processes, nor in any way distorted by fibrous contraction or compression.
11 - Epidermal events. Epithelium is usually restored surgically. Transplanted cells reestablish a basement membrane, then engineer the formation of a lamina propria to supply their metabolic needs. Papillation of the epidermis, formation of the papillary dermis, and proliferation of the subepidermal vascular plexus are events governed by the new epidermis. They are entirely independent of the substrate, and these events are identical for scars, ordinary skin grafts, Integra, or reepithelialization of any other wound or tissue (figures 7m, n).
<![if !vml]><![endif]>

Figure 7m

Epidermal events, early. This is regenerated Integra a few weeks after placement of a skin graft. The matrix is not mature, but it is consolidated and vascularized at the top, and the skin grafts have had no trouble taking. The graft is still young and thin, but all strata of the epidermis (germinativum, spinosum, granulosum, lucidum, corneum) are reorganized and functioning to expectations. The graft is not yet mature enough to thicken and undergo papillation, but as a metabolically active tissue, it needs a robust circulation, and its effects on the Integra are already evident. The graft appears to be in direct apposition to the Integra, but there are actually numerous new capillaries that have formed in the subepithelial zone. This is the beginning of a papillary dermis.

<![if !vml]><![endif]>

Figure 7n

Epidermal events, late. In this image, skin grafts have been healed over Integra for one year. The Integra matrix appears nearly unaltered from its original structure, and is only loosely collagenized, creating a soft compliant dermis. There is no evidence whatsoever of any matrix distortion due to fibrous contracture. What is new in this image is the papillary dermis. This is a normal papillary dermis, and it forms regardless of what is underneath it. This new layer is characterized by a structural layer of denser collagen containing a highly vascularized subepidermal plexus, and the epidermis has typical rete ridges.
The histogenetic process, comparison to normal inflammatory repair
The wound module of inflammatory repair was epitomized in a preceding paragraph, and it's anatomy is depicted in figure 8. To fully understand the advantages of Integra, the histology of these two systems must be directly compared. Key distinctions between the two are:
12 - Wound module versus histogenesis. Normal repair is triggered by and is contingent on inflammation, resulting in the wound module of inflammatory repair. Inflammation is antithetical to histogenesis, and Integra suppresses inflammation while undergoing a developmental rather than a reactive process (figure 9).
13 - Timing. Inflammation is rapid, the entire process from onset to a nominally healed wound being measured in hours to days. Normal fibrous repair is sufficiently mature at 5-15 days to permit suture removal. Yet at 5-15 days in Integra, the process of histogenesis is just barely underway. Integra is a more controlled and more paced process.
14 - Cellular controllers. The "hornet's nest" of acute inflammation is stirred up by blood borne neutrophils, monocytes, and lymphocytes. These cells are transient and extrinsic to the tissue, disappearing when injury is controlled. These cells never appear in healthy Integra. The pioneer cells which find the Integra matrix, while lymphoid in appearance, are not lymphocytes. A defensive response is never initiated, and these cells become intrinsic, the sires of the new tissue.
15 - Control dynamics. As an engineering control system, inflammation and early repair is an open loop process. The outputs of the system, angiogenesis and fibroplasia, have no direct inhibitory feedback on the system controllers, the leukocytes and macrophages, who answer to an independent set of triggers. New vessels reaching the inflammatory cells do not inhibit further production of angiogenic factors. Repair cells, under the uninhibited control of inflammatory cells, accumulate in supernormal numbers, leading to the excessive density of blood vessels and disorganized solid fibrosis that characterize young scar. The Integra control system has closed loop feedback. Syncytial cells and angiocytes have a mutual cooperative regulation without the need for a third extrinsic party. New vessels are summoned only by legitimate metabolic need, and the relief of ischemia by the arrival of new vessels turns off further production of angiogenic factors. The resulting vascular density is exactly what it needs to be to supply the needs of the tissue, no more, no less. Closed loop control means that histogenesis more accurately targets a model of normal embryonically developed tissue, without excesses.
16 - Order of events. In normal inflammatory repair, angiogenesis precedes any other reparative event. Angioblasts migrate from underlying source vessels toward the source of angiogenic stimulation, which is the inflammatory cell layer on the surface of the wound. Dense angioplasia is always present just below the wound surface, the vessels organizing in a layer of acute inflammatory glycosaminoglycans devoid of fibroblasts or proteins. Fibroblasts only appear deep to this, after vessels are well organized, conducting blood, and maintaining an environment where inflammatory cells are no longer needed. Angiogenesis leads. Fibroplasia follows. In Integra, fibroplasia leads and angiogenesis follows, just as in normal embryogenesis. There is a second wave of fibroplasia, but this is due to the cooperative facilitation between the two sets of cells.
17 - Fibroblasts. The reparative cells of inflammatory healing, angioblasts and fibroblasts, both originate from underlying vascular cells. Newly generated fibroblasts are typically round with large active nuclei. With time, they get denser and more compact, first filling their strata of the wound with cells, then becoming flattened by the collagen they produce. Whether first populating the revascularized aminoglycan ground substance or later entrapped in collagen, they are at all times distinct from each other, individually identifiable, never contiguous nor entangled with each other. In Integra, syncytial fibroblasts are so-called because they are large, entangled, and indistinct. They look like embryonic dermatoblasts, not like ordinary reparative fibroblasts. Later cells appearing during second set histogenesis are more like typical fibroblasts, but they appear concurrently with collagen, and they do not become dense and space filling themselves.
18 - Vascular density. In inflammatory repair, new vessels are abundant, far in excess of normal vascular density, far in excess of what is needed for normal blood supply. Vessels are attracted to a broad tangential extrinsic boundary of stimulation (the macrophage zone) which is unconcerned about the normal vascular needs of the tissue. Because of the open loop state of the system, angiogenesis just keeps going. This is recognized clinically as the robust red color of hypervascular granulation tissue. As the healed wound matures, excess vessels slowly involute, and vascular density returns to normal over months or years. In Integra, vascular density remains accurate, exactly what is needed to meet the metabolic requirements of the tissue. This is because vasculogenesis is under the control of distributed attracting points (syncytial clusters), each intrinsic to the developing tissue, each having its own closed loop interaction with arriving vessels. Having normal vascular density, regenerated Integra remains white, looking like dermis or fascia. Vascular density does not change much with maturation because it is already what it should be. Integra's vascular biophysics are identical to normal closed loop embryonic vasculogenesis (figure 10).
Figure 8
This image is of a single biopsy, taken from a healthy patient with a recent wound which is now covered with typical red granulation tissue. It demonstrates the entire process of normal inflammatory repair, the "wound module". Inflammation, which triggers all of the events, always occurs at the surface of a wound. As time progresses, this creates strata in the wound, new developing layers covering deeper older levels which first evolved so many days ago. Timewise sequential biopsies are not needed to tell the story of inflammatory repair, because looking deeper into a fully proliferated wound is to see its entire history. The whole specimen, shown on the left, is about 6-8 millimeters thick. The right side has 8 high resolution views of the various strata.
Level 1, the inflammatory zone. The wound is capped by a shell of eosinophilic fibrin and plasma. It is heavily infiltrated with blood borne acute inflammatory cells (neutrophils, lymphocytes, monocytes). Absent an epidermis, this inflammatory layer sequesters and protects the underlying host. Platelets and leukocytes are releasing cytokines which are inducing the transformation of monocytes to macrophages, seen as occasional enlarged mononuclear cells. (The onset and evolution of this event, from the time of acute injury, is typically several hours to 2 or 3 days; typical times for other events are given below.)

<![if !vml]><![endif]>

Level 2, the macrophage zone. Transformed macrophages are large, interspersed with a lower concentration of other inflammatory cells. Some eosinophilic plasma and hemorrhage from underlying new vessels has stained this specimen, but it is the pale basophilic areas which are characteristic. This pale zone is filled with mucoid glycosaminoglycans, the viscous ground substance in which cells can survive and migrate. There are no fibroblasts nor connective proteins nor any organized cellular structure, so this aminoglycan "ether" is the entire universe to cells at this level. These GAG's, which are made by inflammatory and transformed cells, have a different composition and structure than those in the Integra matrix, and thus different effects on cells. Macrophages at this level have the keystone role of making pro-proliferative cytokines which will transform and attract histogenetic cells from underlying blood vessels. (1 to 4 days.)

Level 3, angioblast streaming. In this zone, stimulated angioblasts which have arisen from deeper source vessels, are streaming toward the macrophages making angiogenic factors. They are long migratory spindle cells moving through the aminoglycan ground substance. They are surrounded by inflammatory cells migrating to the inflammatory zone penthouse. As angioblastic cells reach this area, they start to reform tubular vessels. (3 to 5 days for onset.)

Level 4, vessel organization zone. Angiocytes have reformed tubular vessels and are now conducting blood. This provides crucial circulation and logistical support to the wound, creating the necessary conditions for the other major cell line, the fibroblasts, to begin functioning. Numerous neutrophils can still be seen, mostly around the new vessels, because this is where they must exit to make their way to the top. However, a few young round fibroblasts can be seen, and some faint pink eosinophilia attests to the beginnings of some connective protein formation. (4 to 7 days.)

Level 5, non-inflammatory transition zone. At this level, the incipient tissue is fully sequestered from inflammatory stimuli. There are no inflammatory cells (except a few in-transit neutrophils). Small round cells between vessels are young fibroblasts. There is not yet much structure to the pink collagen, but it is getting more noticeable. (5 to 10 days).

Level 6, fibroblast accumulation zone. The space between vessels is filled with young round histogenetic cells. They are poorly organized, but some clustering and orientation is evident. Collagen is showing some organization and fibrous structure. This is the first level at which things are becoming more "tissue" than "granulation". (7 to 12 days.)

Level 7, fibroblast maturation zone. Inflammatory cells have long since disappeared from the picture. There are nearby large conducting blood vessels supplying the proliferating capillaries above. Fibroblasts are becoming flattened, oriented, clustered, and entrapped in the collagen they are making, looking now like classic fibroblasts. The new fibrous tissue is about 50% cells, 50% collagen. (7 to 15 days.)

Level 8, fibrous consolidation zone. Fibrous scar is becoming organized. The tissue is more protein than cell. Collagen is forming long thick bundles, and tensile strength is developing. Usually present at 10 to 20 days, dense consolidation is barely yet occurring in this particular specimen which was taken only 10 days after injury. As time continues, this collagen will become clinical scar, thicker, denser, and more non-compliant (figure 11).
<![if !vml]><![endif]>

<![if !vml]><![endif]>

Figure 9   (left)

(a, top) Integra is on the lateral thigh following necrotizing fasciitis. It is fully regenerated and ready for skin grafts. In the seam between two pieces, an open area has allowed some normal wound healing to occur, resulting in granulation tissue growing through the seam (this can be avoided by simply overlapping the pieces by a few millimeters). The side-by-side difference between normal repair and Integra is as obvious grossly as it is histologically, and this will result in different types of healed tissue as shown next.

(b, bottom) This is healed Integra at 24 months, on the left flank just above the hip, in a 7 year old girl. It looks mostly like normal skin. While there are some differences due to epidermal pigment variegation and contour depression from absence of subcutaneous adipose, the quality of the skin is inherently normal, soft, pliable, free of erythema and fibrosis. The only exception is the red scar in the center. This is typical hypertrophic scar that has occurred where normal wound repair and granulation tissue developed in a seam gap. In a child, this degree of hypertrophy is common and can be expected to persist for several years. The differences between granulation tissue and Integra histogenesis, between long lasting hypertrophic scar and fully matured Integra neodermis, as shown in these two images, recapitulates everything else that can be said about the significant biological differences between these two processes.

Figure 10   (right)

(a, b, left top and bottom) Granulation tissue and inflammatory angiogenesis. In this normal wound, beads of vascularized wound module are proliferating through superficial plasma exudates and dressing materials. It is a saturated red color due to high density of large diameter vessels carrying excessive blood volume. It contrasts sharply with the pale color of surrounding normal skin. Histology corroborates the gross appearance. Once this wound is closed, vascular density will return to normal over months or years. Hypervascularity is the result of an unregulated open loop process forced by cells (macrophages) extrinsic to the developing tissue.

(c, d, right top and bottom) Integra histogenesis. The neodermis is fully regenerated and ready for skin grafts. Histology shows just a few vessels (thin chords of cells, and small transverse rings), and vessel count and blood volume are much lower than in granulation tissue. Color (hue and saturation) of the new tissue appears virtually identical to the adjacent normal skin. This is because they have equal vascular density, both densities being just exactly what is needed to supply the tissue. Precise and efficient network formation results because Integra and embryonic vasculogenesis are nearly identical dynamical processes, tightly regulated closed loops controlled by cells (syncytial fibroblasts and embryonic dermatoblasts) that are intrinsic to the developing tissue. Unlike what happens in scar, vascular density in the Integra is already what it should be, and this will not change as the tissue matures.

<![if !supportMisalignedColumns]>
<![endif]>
19 - Collagen density and organization. Inflammatory repair results in fibrous collagen, dense to the point of complete filling, with little lymph or ground substance. Large collagen bundles are arranged arbitrarily, but they develop tropic-anisotropic directionality if the scar is subjected to tensile loads (Wolf-Davis Law). The dense packing of collagen means that fibers have no tertiary or 3-dimensional form (wavy or springy or coiled) which would confer extensibility. The scar is therefore inelastic, noncompliant, and poorly deformable, leading to its many complications. Absent significant mechanical load, scar collagen slowly remodels, returning after months or years to an architecture akin to dermis or fascia. Integra collagen is less fibrous. It has no overall directionality. The matrix septae partition the space so that large scale collagen organization is incoherent, unable to form long bundles. Rather, collagen forms casts of the matrix pores, following the contours of the bounding septae. This creates both a highly partitioned architecture and tertiary structure which permits tensile strains. To the extent that a domain is fully bounded and tends to form closed "onion skin" loops of collagen, net local tension at rest tends toward zero. Collagen density can be no greater than 95% (matrix is 5% of volume), and the matrix serves as a percolation network of empty space between collagen bundles, giving it some fluidity. The regenerated material remains highly pliable and deformable (figures 11, 12).
<![if !vml]><![endif]>

<![if !vml]><![endif]>

Figure 11   (top)

(a, left) Fibroplasia in a normal wound. This is the zone of fibrous consolidation. Densely packed fibroblasts are making thick chords of collagenized scar. As the process evolves, increasing connective proteins will make the scar progressively less compliant or distensible. These fibrous chords are multidirectional at their inception, but subjected to tensile loads, they will reorient themselves to resist that load, distorting features and obstructing motion.

(b, right) Integra collagenization. Cellularity is low. Collagen conforms to the matrix, forming discrete packets molded within the pores of the sponge. Spaces and interruptions, incoherence, between collagen clusters mean that the material remains more fluid and deformable, more like normal tissue, less like scar.

Figure 12

(a, left) Scar contracture. Contraction and non-compliance of scar causes the common clinical problem of contractures across joints. In this case, the scar is on the dorsal ankle after an old burn. Motion of the ankle puts tension on the scar, causing it to undergo tendinous metaplasia, further decreasing compliance. Motion (from normal walking) also fractures the scar, causing ulceration which begets more scar. This image not only illustrates the nature of chronic scar and contracture, but it also highlights precisely the kind of case which is reconstructable with Integra.

(b, right) Compliant Integra. This patient had large back flaps for radiation necrosis of the pelvis. Integra was used to close the flap donor sites. Just a few months after placing the Integra, while other normal scars are still young, red, and stiff, the new Integra skin is very deformable, wrinkling and folding normally in response to any motion or force. This property allows joints, the face, and other mobile parts to be reconstructed without contractures.

<![if !supportMisalignedColumns]>
<![endif]>
20 - Contraction. Normal scar contracts, the natural means of closing a wound, but also the other reason for scar's many complications. Integra does not contract. In addition to the properties discussed in the preceding paragraph, the appearance of the matrix remains unaltered. If Integra collagen did contract, one would expect to see the matrix material become stretched, distended, ruptured, folded, pinched, compressed, compacted, or any other conceivable deformation due to the force of contracting scar. None of this happens. Developing collagen respects and conforms to the material, and the native morphology of the matrix is unaltered during histogenesis (review any of the Integra histology images). Septal architecture also remains unaltered for as long as the matrix persists, which is years (figure 13)
21 - Maturation. Normal inflammatory wound healing follows a pattern of "overshoot-then-involute". The acute inflammatory repair phase is rapid, aggressive, and open loop. Instead of the wound creating a model of normal tissue, it "overshoots", quickly resulting in an excessive density and quantity of new blood vessels and immature connective proteins. These early events are measured in days to weeks. Once the wound is epithelialized and proliferation ceases, the scar undergoes a maturation process in which excessive elements of repair involute. Erythema fades, scar becomes more compliant, and scar histology gradually transforms back toward normal dermis. Scar maturation is measured in months and years, and in the interval, scar complications can cause all manner of troubles. Integra does not have this overshoot-involute pattern. Instead, Integra undergoes an orderly targeted evolution which leads to a dermal analogue without any oscillatory behavior. Regenerated Integra is a nearly mature, mechanically compliant, esthetically acceptable tissue by the time that skin grafts are healed. This behavior is a consequence of closed loop controls on cell migration and proliferation which are typical of both Integra and embryonic histogenesis. Integra histogenesis is measured in weeks to months, in a middle zone between inflammatory repair and scar maturation. The matrix itself disappears slowly by passive hydrolysis, preserving much of its original architecture for as long as four years. (figure 14).
<![if !vml]><![endif]>

<![if !vml]><![endif]>

Figure 13   (left)

This is Integra one year after placement. As time goes by, normal physiological remodeling of dermal collagen causes the neodermis to slowly look more like natural dermis. That process is evident here, seen as the formation of discrete separated wavy collagen bundles, many of them transverse and parallel, typical of native dermis. However, most of the matrix still persists, and whatever collagen remodeling is taking place, it continues to respect the boundaries imposed by the matrix. The neodermis conforms to the matrix, rather than distorting the matrix the way that contracting scar distorts anything in its way.

Figure 14   (right)

(a, top left) Normal reticular dermis. Large, parallel, mostly transverse collagen bundles are separated by interstitial spaces. Typical fibroblasts in typical densities are dispersed throughout

(b, top right) Normal reticular dermis from another subject. There is variability in the size and orientation of dermal collagen from specimen to specimen, due to location, skin thickness, local biomechanics, orientation of the specimen cuts relative to local skin anisotropies (Langer's lines, fibers seen parallel or on end), and intersubject variability. Thus the two top specimens look different, but both are normal reticular dermis. Collagen bundles are large, somewhat coiled, wavy, or springy. They are largely individualized and distinct, separated by interstitial spaces. These factors permit elastic compliance of the material, and normal motion of related body parts

(c, middle left) Young scar. This is normal repair at peak fibroplasia. The scar is highly cellular, and in ensuing weeks it will become heavily collagenized. Dense packing of fibers means no fluidity of the material. Lack of folding or waviness means that there can be no distensibility. This is the stuff that causes contractures, strictures, stenoses, stiffness, and other typical adverse effects of scar.

(d, middle right) Young Integra. In comparison, young Integra has a completely different histology, morphology, and biomechanics. The matrix itself partitions the collagen, having a similar effect on the structure and mechanics of the material that the interstitial spaces have in normal dermis. While it does not look precisely like normal dermis, it has many of the same structural properties, and it can be expected to behave like normal dermis.

(e, bottom left) Matured scar. This scar, at 2 years old, is still cellular compared to normal dermis, but not by much. The scar collagen has undergone a gradual transformation. It is now bundled and springy, looking mostly like normal dermis.

(f, bottom right) Old Integra at 4 years. The original matrix is largely gone in this area (but it is still abundant in some other out-of-view areas of this biopsy). For septae that do remain, their morphology is still unaltered. Just as with scar, normal physiological collagen remodeling is also slowly making this specimen look like normal dermis. However, in sharp contrast to scar, Integra has, from the outset, a structure and properties that are already very close to dermis, thereby avoiding scar complications.

<![if !supportMisalignedColumns]>
<![endif]>
Figures 15 and 16 highlight all of these differences. They show Integra juxtaposed directly against inflammatory repair and scar. In these images, the two processes operate concurrently, side by side within microns of each other. Yet the processes remain distinct, each preserving its own distinctive anatomy. The microanatomical differences correlate directly with differences in clinical behavior, potential morbidity and sequelae, and ability to have a well behaved properly healing wound. It must be understood that Integra does not alter basic biological systems. The body has genetic processes that allow it to respond to different conditions. Injury is recognized as such, and the body responds accordingly, with inflammatory repair. If appropriate conditions are met, then the body responds with embryonic histogenesis. It is therefore not surprising that Integra does what it does, but without an artificial device to create the necessary stimulus, this histogenetic process has no natural triggers in adult life. It is erroneous to think of Integra as just another ordinary graft or repair. It invokes an entirely different biological response than any other form of injury, surgery, or other treatment, accounting for its favorable properties (table 1).
<![if !vml]>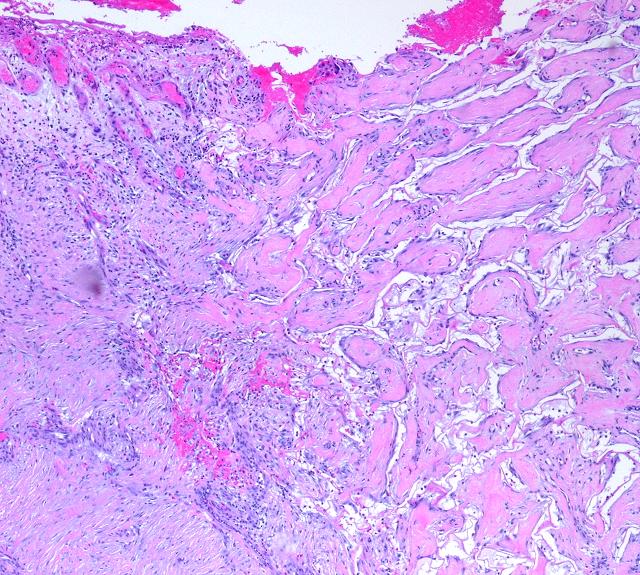 <![endif]>
Figure 15
Integra generated tissue is just like normal tissue in that if it is injured, leaving an open wound, it will trigger normal inflammatory repair. Four weeks into an Integra reconstruction, a biopsy was taken, resulting in a bead of granulation tissue. Two weeks later another elliptical biopsy was taken, at right angles to and centered on the first one. This image shows the boundary. An active wound module is arising from the Integra itself, and the anatomies of the two processes are boldly contrasted. Both wound module proliferation and Integra histogenesis are continuing side by side, each developing according to its own set of stimuli and responses. It is the same individual, the same cell biology, the same genome, but cells are behaving according to two vastly different programs. Integra has triggered the embryonic histogenesis program, something that does not happen naturally after injury and ordinary surgery.
<![if !vml]>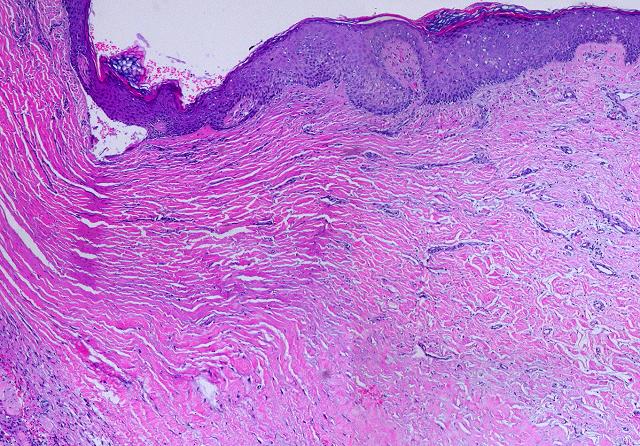 <![endif]>
Figure 16
This specimen is one year after Integra was used to close a large flank defect following tumor excision. On the right is properly healed Integra. The neodermis looks very much like normal dermis (figure 14). Epidermis and the papillary dermis are normal. On the left, the Integra skin converges on an area of normal wound healing and scar. The scar is relatively mature and contracted. In the lower left corner is renal cortex with glomerular ghosts. The scar is classic scar, but as a mature scar, it has some characteristics tending to look like dermis. However, seen juxtaposed against the Integra, one can appreciate why Integra behaves so much more like normal skin.
Table 1: Repair and Histogenesis
Condition

INFLAMMATORY REPAIR

INTEGRA HISTOGENESIS

EMBRYONIC DERMATOGENESIS

and

FETAL WOUND REPAIR

inflammation

inflammation triggers the process

inflammation is suppressed

no inflammation

cell controllers

chemotactically summoned
marrow-derived cells

resident local mesenchyme   
(or possibly marrow derived patrol cells)

locally developing mesenchyme

type of cell response

defensive

non-defensive, histogenetic

non-defensive, histogenetic

type of healing

wound module inflammatory repair

generative (embryonic) histogenesis

generative and regenerative histogenesis

dynamical control system

open-loop, controllers extrinsic to tissue

closed-loop, controllers intrinsic to tissue

closed-loop, controllers intrinsic to tissue

order of histogenesis

angiogenesis leads, fibroblasts follow

fibroblasts lead, angiogenesis follows

dermatoblasts lead, angiogenesis follows

vasculogenic dynamics

target or gradient angiogenesis

distributed field angiogenesis

distributed field angiogenesis

vascular density

hyperdensity angiogenesis

correct density angiogenesis

correct density angiogenesis

type of histogenetic cell

classic fibroblasts

syncytial fibroblasts

syncytial fibroblasts (dermatoblasts)

collagen architecture

dense, non-compliant

percolated, distensible

percolated, distensible

scar contraction

prominent

absent

absent

star chemical

collagen

(structural)

glycosaminoglycans

(process regulator)

glycosaminoglycans

(process and structure)
Table 1
Inflammatory repair, Integra histogenesis, and embryonic events (dermatogenesis and fetal wound healing) are compared, feature by feature, demonstrating the similarity of Integra regeneration to embryonic events.
Related Therapeutic Effects
Semibiological, but not alive to begin with
"Biological dressings" are used to protect wounds, control inflammation, prevent pathergy and complications, and promote wound repair prior to definitive closure. Cadaver allograft, porcine xenograft, allogeneic amnion, and non-biological materials (e.g. Biobrane®, Bertek Pharmaceuticals, Inc., West Virginia, USA) are commonly used in lieu of using (wasting) autogenous skin grafts simply for interim wound control. Integra is semi-biological. It is made of biological materials which identify itself to a wound as compatible. Aminoglycan biocompatibility, sequestration of the wound, and suppression of inflammation make Integra a comparable or superior biological dressing. It's key advantage though is that it is not alive. Other biological dressings will die, degenerate, be rejected, or otherwise require periodic replacement. Integra does not die. It does not degenerate. Assuming that the wound has been properly prepared, it just sits on the wound, providing biological coverage without jeopardy to itself. It can serve its purpose as a biological dressing for a prolonged interval (weeks to months), and it need not be replaced. It is available in limitless quantities without procurement issues.
Biological superdressing
As a non-living semi-biological material, Integra is an excellent biological dressing, but it has an added advantage. As the Integra covered wound becomes healthy and competent to proliferate new tissue, the Integra then acts as the matrix for new tissue growth. Thus, Integra does double duty, first as a non-living biological dressing which cannot die nor degenerate, and then as the agent of skin regeneration and reconstruction. As such, it is much more than just a simple or passive biological dressing, and the term "biological superdressing" designates its ability to automatically transition into the mode of active histogenesis and skin regeneration.
Histoconduction and bridging
The Integra sponge is a trellis that guides the ingrowth of new tissue. When Integra is placed on a healthy wound, histogenetic cells and new blood vessels migrate into the material. It is customary to think of this ingrowth as an orthogonal function, the direction of growth being vertical through the matrix, at right angles to the wound surface, the same process taking place concurrently at each infinitesimal area of the wound. But there is nothing which prevents histioblasts from migrating tangentially. If there is a gap or void in the wound which cannot source cells into the overlying Integra, cells will migrate in from surrounding healthy regeneration-competent areas. This property is analogous to other histoconductive matrices such as bone grafts. Tangential histoconduction means that Integra regeneration can "bridge" over surfaces that cannot heal. Objects which customarily need flaps for closure can instead be healed with Integra. This includes bone, tendons, open joints, cartilage, and even alloplastic hardware.
Suppression of scar, avoidance of scar sequelae
Scar is the consequence of inflammatory wound healing, a disorganized deposition of collagen distinctly different than normal dermis and fascias. An indiscriminate glue that binds injured tissues together, scar ensures the health of subjects after injury and surgery. For all the good that it does though, scar has its dark side. Prior to maturation, scars and their sequelae can become foremost clinical issues. From skin deformities after burns and dermatoses, to joint contractures and tendon entrapment after all types of extremity injury, to strictures, stenoses, and obstructions of tubular viscera, restriction of lungs, dyskinesias of the heart and valves, and sclerosis and dystrophy of tissues everywhere, scar can be a potent troublemaker. Throughout all of medicine, it is one of the most prevalent causes of long term morbidity and dysfunction and the need for corrective surgery, physical therapy, and other clinical care. Because Integra stops inflammation and normal repair, it stops scar formation. No scar means none of its complications. It can control fibroplasia where old scars once were, it can prevent new scars, and it can correct the adverse consequences of scar such as contractures and stenoses. It even suppresses or prevents pathological types of scar such as keloids (case C3; see the "Gallery of Cases" section for a detailed description of all referenced cases).
Similarity to normal dermis, favorable mechanics
More than just taming scar, regenerated Integra has properties comparable to normal dermis. This can be inferred from its histology and histogenesis. Mechanical testing of these materials has provided documentary confirmation 12. The real proof though is "in the pudding". Clinical observations of its texture and quality, its suppleness and pliability, readily confirm its distinction from scar and similarity to normal skin. This means that mechanical compliance is good (more elastic, lower Young's modulus), that scars are not apt to contract, and that the resulting sequelae of scar contracture do not occur (case A3, A4, B1, B2, C1, C2, H4).
Local soft tissue pathology is controlled
Integra does not cure nor have any direct active therapeutic effect on any of the diseases that create pathological wounds and chronic ulcers. However, Integra does have the ability to control the local effects of disease. Injury, disease, inflammation, ulceration, wound closure, and various therapies are all part of a complex non-linear dynamical multi-control system, just like any complex system in physiology and pathology. Normal tissue, active but stable disease, rampant disease, a normal healthy healing wound, a stalled wound, and an actively ulcerating wound are all basins of attraction or local stability on the chaotic attractor of the system's state space. In the chronic pathological wound, sick controllers and impaired degrees of freedom in the system cannot easily keep the host in a desirable state. Any perturbation of the system, by disease, trauma, or therapy, can have no effect or dramatic effects, expected results or contrary results. How a therapeutic intervention might effect the system cannot be predicted, even when the linear one-to-one relationships between particular components of the system are well characterized. The body has various systems for fighting, controlling, and eliminating disease, but in the chaotic pathological wound, these systems cannot prevail. While Integra does not directly cure any diseases, its ability to control the wound is profound enough to permit normal physiological systems to recover, regain the upper hand, and eliminate residual pathology. Thus, via complex non-linear interactions, Integra controls local soft tissue pathology and keeps it controlled. Active inflammation and ulceration cease, and reconstructed areas seem resistant to recurrent disease. (cases A2, E3, E4, E5, E6, E10, E13, F4).
Resistance to recurrent disease
Continued management of underlying diseases and risks is mandatory for any wound in any patient, before, during, and after acute phases of healing and reconstruction. This is for both the general health of the patient and the continued health of the closed wound. Reality is though that some patients will have flare-ups of disease or unexpected injury or they will lapse in their follow-up and preventive care. Like anything else, Integra can be damaged by trauma such as lacerations or pressure. However, it seems to be relatively resistant to the effects of recurrent inflammatory and lytic disorders such as venous or rheumatoid ulceration (cases D2, D3, E13, I1).
INTEGRA INDICATIONS AND USES
Integra General Indications
Integra's use can be classified or conceptualized in several ways. It is both an acute artificial skin and a skin regenerant, and it can be used to serve either or both of these functions. Most Integra cases can be classified into four general modes of use. (1) Critical coverage for salvage of life and limb. As an artificial skin, Integra blocks recognition of injury, quenches inflammation, and controls pain, pathergy, edema, and fluid fluxes. These properties help stabilize general metabolism with large injuries, they significantly reduce nursing requirements, and they accelerate recovery and rehabilitation. Integra can be life saving for large wounds such as burns, deglovings, and fasciitis 13 - 18. (2 ) Integra provides essential coverage, closing exposed visceral, skeletal, and other structures. As artificial skin, it provides interim protection for these structures, and as an agent of regeneration, it creates the final skin coverage, often supplanting the flaps or complex repairs usually required for their closure. (3) As a skin regenerant, Integra is valuable for any soft tissue reconstruction where quality of the skin and avoidance of scars and contractures is desirable. (4) Integra's dual nature also allows it to act as a "biological superdressing". Like any acute biological dressing, Integra, can have a true therapeutic role, controlling inflammation, environmental exposure, and other risks which threaten wound healing and surgical repair. However, unlike ordinary biological dressings, Integra need not be removed, and it automatically assumes the role of skin regenerant.
For many wounds, acute and chronic, traumatic and pathological, Integra's ability to fulfill these roles easily and at low risk makes it equivalent to or superior to conventional methods of wound closure. For example, it's ability to conduct tissue tangentially allows it to bridge gaps such as open joints and cover structures such as large tendons. This means that a simple safe procedure can supplant a traditional large operation, with equivalent and sometimes better results. Choosing among various options for wound closure is based on many factors related to the wound, the disease and risks, and the patient. To understand Integra's indications and advantages, it is first necessary to understand the general principles of reconstructive plastic surgery and operative wound closure.
Overview of Wound Repair Surgery
Therapeutic wound repair, as opposed to physiological wound repair, means surgical closure. Many wounds do not need surgery to close. They simply need good hygienic care in support of natural contraction and epithelialization. However, some wounds do need surgery for closure, either for the sake of timeliness and efficiency, or for the sake of safety and preservation of parts and function, or because they will not heal otherwise. When surgery is required or desirable, the methods generally fall into three categories: repair, grafts, and flaps.
General issues and topical care
In discussing the methods of wound management and closure, there are several important concepts which must be remembered in every case, every patient, every wound. These are: (1) Wounds heal. It is nature's way. In a healthy patient, operative repair is not necessary for many wounds. But (2), operative repair of simple wounds is done for many good reasons, such as symptomatic and psychological relief, convenience, expediting the end result and minimizing costs, and controlling the functional and cosmetic outcome. (3) Healthy wounds heal, and while good care supports this, all too often bad care impedes what nature can already do on its own, so do not mistake poor care for a pathological wound. (4) Pathological wounds do not heal on their own, so make an accurate diagnosis, understand the pathophysiology, and plan treatment accordingly. (5) Non-operative topical care in support of contraction and epithelialization is always a good choice in healthy simple wounds. (6) When a wound is not capable of healing by normal contraction, or when a wound must not be allowed to heal that way, by reason of disease, anatomical complexity, altered function, or threat to the patient, then this is when choices must be made about surgical closure. (7) Wounds that are not properly prepared and do not meet criteria of suitability-for-closure cannot be closed. This is true from the repair of simple lacerations to managing major trauma to doing elective surgery to placing implants like Integra. Premature closure of an unprepared wound will result in abscess or dehiscence. Wounds that are not ready to close must not be closed. Proper preparation means complete control or correction of disease, elimination of injury, removal of debris and eschar, alleviation of adverse mechanics, and thorough control of edema and inflammation. Throughout this chapter, any discussion of operative wound closure, by Integra or by any conventional method, is hereby explicitly understood to be a wound that has had the necessary pre-operative evaluation and preparation appropriate for the circumstances of the wound, and that the wound is as fully controlled and prepared as the current state of the art, the efforts of physician and patient, and the nature of the underlying disease permit.
Wound repair
"Wound repair" in its most liberal definition refers to (1) the physiological process of wound healing, (2) any type of wound closure surgery, and (3) certain tactical methods of wound closure. In the latter sense, repair refers to the simple methods of directly approximating wound margins. These basic techniques are used when injured anatomy can or must be reduced, significant amounts of skin are not missing, and additional incisions and advancement of tissue are not needed. Any procedure which requires the replacement of missing anatomy or the elaborate design and rearrangement of skin is considered reconstruction. Repairs are generally done for acute benign wounds following trauma and surgery.
Grafts
Grafts are pieces of tissue that come from a variety of sources and which are sutured into the recipient wound (in this chapter, "suture" implies any suitable form of surgical fixation, including sutures, staples, tapes, and glues). A graft is a graft by virtue of the fact that it has no anatomical attachment to the host, no circulation of its own, and it is not capable of living independently away from a recipient wound. Any type of tissue can be grafted for many reasons. Some grafts are alive and some need not be. For example, cadaveric fascia, tendon, and bone are everyday surgical implants because even though dead, their desirable biomechanical and bone regenerative properties persist. However, for skin grafts and wound repair purposes, grafts must be alive. This puts certain constraints on a successful graft: (1) Grafts, even living grafts, depend on the host or recipient wound to do the healing. (2) They will neither survive nor heal if the host wound is incompetent to heal. (3) Because a graft is completely dependent on the health of the recipient wound, the wound must be properly prepared, non-pathological, and adequately vascularized.. (4) The graft must be in firm direct contact with the wound. Failure to have a mechanically stable graft means no adhesion, no revascularization, and no healing. Improper application, seromas, hematomas, and motion are categorically intolerable. All manner of dressings and splints are used to avoid these. (5) The graft must be suitably thin to stay alive. Too many cells, too thick, and their metabolic needs outstrip the diffusibility of gases and nutrients from the host wound, and it dies. (6) Skin grafts do not carry with them the cellular machinery of repair. Therefore, the recipient wound, which does all of the healing for the whole system, must be healthy. (7) A healed skin graft is epidermis on scar, and like any scar, it is subject to hypertrophy, contracture, and related problems. (8) Grafts are technically simple and clinically convenient, but biologically they are very complex. In short, a skin graft is a handy dandy way to put skin someplace that it is needed, but the recipient wound must be healthy, wound healing competent, independently capable of healing, and have no special needs other than the need to restore missing epithelium, and the mechanics and appearance of the healed wound must not be an issue. Excision of a large nevus on the back or closure of a large burn at mid-thigh in a healthy person are examples of ideal suitability for a skin graft. Chronic irradiated wounds of mobile tissues around the mouth or perineum are the worst conceivable circumstances to use a skin graft, and poor appearance and function of the grafts will be moot because they will not heal in the first place.
There are three main reasons that grafts are used. (1) Convenient wound closure. When rapid or extensive closure is desirable in a healthy wound, and when scars and function are not foremost concerns, skin grafts are the most pragmatic method to close a wound that cannot be repaired by simple suture or minor flaps. (2) Biological dressing. Dressings made of compatible biological materials provide high quality short term protection for wounds under circumstances where autogenous skin is in short supply, minor inflammation or injury persist despite care, or the wound or patient are not yet ready for final closure. Biological dressings are temporary by design. Skin grafts are a suitable way to do this. However, since loss of the grafts is also likely, the method is best managed with disposable materials such as cadaver allograft, porcine xenografts, and alloplastic materials such as Biobrane®. (3) Specialized reconstruction. Special grafts are used for specific reconstructive needs, functional and cosmetic. A variety of tissues are valuable as reconstructive grafts, including bone, fascia, tendon, cartilage, mucosas, and full thickness skin. Skin grafts are of two varieties. Those used for convenient wound closure are usually "split thickness", tangential shaves of epidermis which allow the donor site to re-epithelialize. They are very convenient, utilitarian, and the best option for covering large areas, but they also heal with scar and they contract. "Full thickness" grafts transport both dermis and epidermis. They are limited in availability, and they require deliberate operative repair of the donor site, but they are similar to native skin when healed, so they are used when high quality skin reconstruction is needed in relatively small areas, especially around joints, face, and mobile structures which cannot afford to contract.
Flaps
Flaps, like grafts, are pieces of tissue transferred from one place to another for the sake of reconstruction or wound closure, but with crucial differences. A flap is a flap by virtue of the fact that it does maintain an anatomical attachment to the host (the pedicle), carrying its own circulation, and being perfectly capable of living independent of any other anatomy other than its own pedicle. While skin flaps are the most common, flaps come from all variety of tissues for the sake of myriad types of reconstruction. They are all typically thick complete structures such as a whole muscle, or composite structures of skin and fascia or skin, fascia, and muscle. Unlike certain grafts which can be non-living, flaps are categorically alive, and any necrosis of a flap due to inadequate circulation is a failure. The biology, techniques, and indications for flaps are completely different than those of grafts: (1) Healthy properly made flaps are independently capable of healing and do not depend on any substrate or recipient area. (2) Flaps will live and heal even when the recipient wound is incompetent to heal. (3) Any target wound to be closed with a flap must meet basic closure criteria of hygiene, debridement, and control of disease and inflammation, but it need not be fully vascularized or inherently healthy. (4) The technical deficiencies which can kill a graft (mechanical dehiscence or impaired adhesion) do not kill flaps, and they can be advanced and inset again. (5) Whereas grafts depend on diffusion of gases and nutrients from the host wound, flaps get these via the circulation through their pedicles, and flap failure is usually due to poor design, poor technique, or vascular disease all of which can result in inadequate perfusion. (6) Because flaps are normal, vascularized, independently viable composite tissues, they carry with them all of the machinery of wound repair, and they can heal when the recipient wound is ill and cannot heal. (7) Flaps retain their original normal characteristics and mechanics as they heal and thus they avoid problems due to tangential scarring. (8) Flaps can be technically elaborate, but properly designed, they are biological very simple, simply healing a circumferential "cut" by ordinary means. Some flaps are small and technically trivial, such as for minor trauma repair, small scar revisions, and reconstruction after the excision of small skin lesions. Some flaps require substantial technique with significant possible risk to the patient, including the risks of any prolonged and elaborate operation, and the sacrifice of donor structures (done for the greater good, but still a sacrifice). While some small flaps are done simply for convenience, major flaps are done because the wound cannot be directly repaired, simple grafts will not heal, essential structures must be protected, problematic scars must be avoided, or various other site specific reconstructive criteria must be met.
The main caveat of flaps is that the circulation through the pedicle may be inadequate to meet the perfusion needs of the entire mass of the flap. Unlike split thickness skin grafts, flaps are not a renewable resource, so proper design and execution are of paramount importance so that they do not die. Some flaps are "random", meaning they are designed based on local geometry, tissue mechanics, and the desirability of a particular piece of skin for a particular purpose, but not designed with regard to the vascular anatomy of the tissue. There are general design rules which govern how to create a successful random flap, but many factors can interfere, such as anisotropic skin elasticity which can keep a flap from reaching the target, or a poorly placed suture that creates a line of tension across a flap which will kill it. In the interest of having flaps reach their targets successfully, they are sometimes raised and advanced in incremental stages known as "delays", each delay allowing the flap's vascular network a chance to adapt. Large random flaps may be tricky to pull off, but they often provide the best functional and cosmetic results by restoring precisely the type of tissue needed. When safety, a healed wound, and preservation of life and limb are of paramount importance, the most dependable flaps are "anatomical" flaps, flaps designed explicitly around the vascular anatomy of the tissue to be used. Skin and fascia are supplied in part by direct fasciocutaneous vessels arising from the major distributing vessels, and they are supplied in part by perforators arising in underlying muscles. The circulatory anatomy of skin, fascias, and muscles is well mapped, and it is easy to design flaps where the incorporation of these vessels or muscles ensures a fully perfused flap. Many standard flaps (such as the rectus abdominis or the latissimus dorsi muscles) are based on a single vascular pedicle, allowing those flaps to be transplanted to remote locations where the pedicle vessels can be anastomosed to vessels at the recipient site ( a "free flap"). These flaps may sacrifice useful muscles, and they can be bulky and require later revisions, but they reliably get wounds healed. As such, they are used when large amounts of tissue are needed, or when open important structures demand dependable coverage. In short, flaps can be a technically elaborate and laborious, but they bring inherently healthy, wound healing competent tissues to the problem area. When the stakes are high for successful wound closure, good flaps get the job done.
There are four main reasons to use flaps. (1) Convenient wound closure. Typically for small traumatic or surgical defects where simple direct repair is not possible, the simplest, most efficient, most dependable way to close a wound is a small nearby flap. (2) Essential coverage. The conventional arts of repair dictate that exposed visceral and skeletal structures should be closed with flaps. This is because skin grafts cannot take or cannot perform properly in this role. The reasons are many. Grafts cannot take over moving skeletal parts such as joints and tendons. They cannot take over voids such as joint spaces and serous cavities nor over alloplastic non-living materials such as hernia mesh and metal joint prostheses. Even if grafts could theoretically be coaxed to heal over some of these structures, the non-compliant scar will rupture with subsequent movement, or scarring in the grafts will inhibit movement. Skin grafts over rigid materials (bone) are subject to shear ulceration with only minor force. Pathological conditions in exposed structures, such as a bowel fistula, may destroy skin grafts or lyse any direct repair under tension. Exposed vital organs like heart, lung, and brain may require ample protection from injury and exposure. In these situations, skin grafts and similar materials can have a role as biological dressings for acute, short term protection. However, definitive closure of these essential structures requires thick, durable, mechanically compliant, anatomically normal tissues that ensure healing and do not depend for their survival on the wound or the structures that are being closed. (3) Reconstruction. Flaps are often used when reconstructive requirements are foremost considerations. Reconstruction means restoring tissues or entire structures, the reconstitution of form and function to avoid or correct disabilities or cosmetic defects. Such functional problems may be acute and wound related, or they may be chronic, elective, and associated with disease, birth defects, or remote healed trauma. The restoration of injured or missing complex structures can be for any reason on any part of the body. Situations are as diverse as medicine and pathology themselves, from the release and reconstruction of burn and scar contractures to the replacement of missing facial features after cancer surgery, from ears to eyelids, abdominal wall defects to anal strictures, pharynx to fingers. Anything which needs form or function or must move or look correct needs to be reconstructed. Flaps fulfill the reconstructive requirements of specific tissue types for specific tasks without excessive scarring. (4) Wound healing incompetence. This is essentially synonymous with chronic and pathological wounds. Wounds which can heal do so. When a wound or injury cannot heal, it becomes a chronic ulcer. Radiation, venous disease, arterial disease, immunopathies, and so on all create circumstances in which the inherent machinery of repair, the local progenitor cells and the derivative wound module, are impaired, inhibited, or dysfunctional to one degree or another. All operative wound closures involve the juxtaposition of one wound surface against another. While it is nice when a wound is completely healthy and both surfaces can heal, nevertheless it is only necessary for one of the two surfaces to be wound healing competent. If both surfaces are wound healing incompetent, nothing heals. This is why skin grafts usually fail over chronic wounds, because neither the wound nor the graft are independently capable of healing. When operative wound closure demands that competent tissues be juxtaposed against the incompetent ones, flaps provide this service. Obviously, the flap itself must be fully healthy. For instance, a radiation ulcer cannot be closed by the mobilization and advancement of adjacent irradiated skin, so a flap from a farther region is needed.
Good flaps are the romantic heroes of reconstructive plastic surgery, but as good as they are, they have their limitations. Certain areas of the body, notably around the ankle and foot, often do not have enough skin to close the defects that occur there. Local soft tissue mechanics may prevent a flap from reaching its target. Certain areas do not have any direct anatomical flaps. Flaps can die, either in whole, or more commonly the distal end of the flap which is, of course, the part being stretched into service to cover the target defect. Underlying vascular disease may kill a flap. Atherosclerotic vessels may prevent anastomosis of a free flap. Potential local flaps may be within the zone of injury. Occult hematological disorders can kill a flap. Active inflammatory or other disorders may threaten the flap as much as they have caused the primary problem, either by necrosis or by dehiscence and failure to heal. Whatever illnesses and comorbidities have created the wound may make the patient too ill or high risk for an elaborate operation. Flaps can sacrifice useful parts and create secondary disabilities. Flap donor sites can have complications and make the whole problem larger. Failed flaps take away anatomy and limit further options. A core skill of plastic surgery is knowing how to make a good flap and avoid these problems and pitfalls. In patients who have chronic and pathological wounds, these problems and pitfalls may not be avoidable. Flaps have a pivotal role in the closure of complex wounds, but there are times when flaps simply cannot be done or will not survive. Integra is the new alternate option that often works where flaps cannot. Understanding when a flap should be used but cannot be used is to understand when Integra should be used.
Integra and Conventional Wound Surgery
By now, it should be clear that, when dealing with chronic and pathological wounds, especially those that have exposure of bones, tendons, joints, and other essential structures, that conventional simple direct closure and skin grafts, the technically simple options, are usually doomed to fail. Deliberate conscientious open wound care is usually superior, safer and more successful. If surgery is indicated, conventional principles of plastic surgery, prior to Integra, require flaps for dependable closure. This principle has always been and always will be valid, but as just discussed, the same problems which create pathological wounds also create problems for flaps. Problem wounds have a well deserved bad reputation, and conventional principles of operative plastic surgery which succeed in healthy wounds have their limitations in problem wounds.
Integra is a new paradigm of wound closure. Its technical use is nearly identical to ordinary skin grafts, but the similarities end there. It is an implant, it is not living, it suppresses repair, it induces histogenesis, it has histoconductive properties, all unique among ordinary wound closure materials and methods. Integra is not meant to be used for every wound. The entire art of surgical wound repair and reconstructive plastic surgery offers many options to get good results in simple, effective, dependable ways. Most problems can be solved by usual methods. Integra is used for two important reasons. First, in certain situations, it gives superior results compared to conventional methods, either a better biological result, or improved safety, convenience, or economy. Second, it solves problems which are not remediable by conventional means. The following sections will explain Integra's general indications and uses, after which its role in chronic wounds will be detailed.
Integra for acute wounds and critical coverage
Integra functions as a high quality artificial skin. Whether for burns, fasciitis, degloving injuries, or any trauma or surgery resulting in large loss of skin, it has proven itself a superior tool to minimize morbidity, accelerate recovery, and avoid residual sequelae. Its effects on an acute wound can be dramatic, and on large acute wounds, life saving. Control of extensive platelet and leukocyte activation and subsequent inflammation have a potent beneficial effect on general post-trauma physiology. Fluid fluxes, evaporative cooling, environmental exposure, and microbial bioburden are immediately eliminated. No donor sites are created which would enlarge the wound and compound these problems. Dressing changes are infrequent, and nursing requirements for the wounds are nil. Its dependability as an acute skin replacement has even extended the range of surgical procedures, allowing elective excision of huge areas of skin for problems such as lymphedema 19. Cases B1, B2, B3, E13, and G4 illustrate these principles.
Integra for essential coverage
Integra can cover and close those internal structures that convention says should be managed with flaps. As a high grade skin substitute, it can protect those structures. Because it is not alive, it cannot degenerate and disappear simply because it is overlying a non-vascular structure which cannot support an ordinary skin graft. Because it regenerates new tissue, it eventual builds its own final living coverage. Because it can conduct tissue tangentially, it can bridge, building new tissue across gaps that ordinarily mandate closure with flaps. Because of its superior mechanics compared to skin grafts, it often functions as effectively as flaps over mechanical structures. It has these properties without creating donor wounds nor sacrificing other autogenous tissues. It permits closure and salvage of injured extremities that might otherwise be amputated for lack of a good flap. Cases A1, A4, A5, E7, E8, F1, G1, G2, G3, G4, H1, H4, and many other illustrate these principles.
Integra for reconstruction
If a wound or injury crosses joints or mobile structures, contractures may occur. Integra can be used for initial wound closure in order to avoid them. Integra can also be used as a later procedure to correct already stiff or contracted joints. Many circumstances will affect whether Integra or any other surgical method is used either sooner or later for these purposes, but if the goal is to avoid scar related morbidity, disability, and disfigurement, Integra can solve the problem. Its crucial property in this regard is its ability to arrest normal fibroplasia and instead create a more normal embryonic type of tissue which has favorable mechanics. Flaps are conventional, and they may often be superior, but Integra has some preferential properties, such as control of scar, lack of donor sites, formation of a thin tissue, and no need for later "debulking" procedures. Practical clinical uses of this property of Integra include the correction or elimination of keloids, the prevention or correction of contractures, the restoration of features to face, breast, genitalia, and other soft structures, and restoration of a more normal skin surface to old areas of scar and skin graft. Cases A3, C1, C2, C3, and H4 illustrate these principles.
INTEGRA FOR CHRONIC AND PATHOLOGICAL WOUNDS
The overall success rate in completely healing chronic wounds with Integra is nearly 90% in properly selected patients. This is exceptionally good when one considers that Integra is used for the extreme situations of refractory pathology, extensive ulceration, exposed vital structures, and other risk factors for which conventional repair and reconstruction are apt to fail or already have failed. All of the foregoing discussion about the general use of Integra is fundamental to understanding how to use Integra for chronic wounds. The difference is that chronic and pathological ulcers are hard to treat and are prone to complications and failure. For these wounds, Integra not only fulfills its nominal roles as artificial skin and skin regenerant, but it is therapeutic, helping to tame inflammation and residual pathology, thereby giving an advantage to the wound and its treatment that few other therapies, if any, can match. Throughout this section, quantitative and outcome oriented statements will be made, such as "most common risk factor" or "20% incidence" or "length of treatment averages 5 months" or "95% success". These valuations are based on the author's cumulative experience and compiled data as well as other sources. This data is summarized in the "Review of Experience" section which follows.
The Problem of the Chronic Problem Wound
The book Wound Repair, 2nd edition, by Peacock and VanWinkle, 1976, is a milestone publication, being the first contemporary textbook widely circulated devoted to this subject 20. However, textbooks reflect the problems and perspectives of their times, and in 1976, the issues of the day were pre-cytokine wound healing physiology, surgical technique, burns, trauma, surgical wounds, and repair of tendons and other special structures. Foremost basic science topics were collagen biology and scar. Only 14 of 699 pages are devoted to a rudimentary discussion of venous and pressure ulcers, with treatment emphasis on skin grafts. Published just a few years later, the small book Chronic Problem Wounds by Rudolph and Noe, 1983, reflects the awakening appreciation that these problems are distinct from ordinary surgical wounds, that there must be some diagnosis oriented formality in the approach to pathological ulcers, and that their good care requires a different frame of mind 21. Contemporary wound research and practice is now centered on problem wounds, in no small part because we have been so successful in learning how to manage and resolve acute healthy traumatic wounds. One might hope that in decades to come, that chronic pathological wounds will become equally easy to manage, but for now, the designation "problematic" is well earned.
Some chronic and pathological ulcers are due to diseases such as lupus or hemoglobinopathies that are persistent and difficult to treat. Some, such as pressure ulcers, are due to repetitive unrelieved injuries that arise from complex physical and psychosocial problems that cannot easily be corrected. The problem is made more complex because there are always two sets of issues to diagnose and treat, what caused the injury or tissue loss, and what is inhibiting healing. Sometimes these are the same, and sometimes they are distinct. Trivial assumptions about successfully repairing healthy wounds, as ordinarily practiced for everyday trauma and surgery, are invalidated because some of these chronic wounds simply cannot heal. Many of these problems are in older patients where there are multiple concurrent risk factors which compound the severity and refractoriness of the ulcer. These are chronic problems which heal slowly and whose care requires the diligent and extended participation of patient, family, and professional providers. However, many patients cannot cooperate with the prescribed care, due to disease, physical disabilities, and psychological, social, and economic factors. An old patient with rheumatoid ankle ulcers or diabetic foot ulcers who might be blind, obese, crippled in the hands, stiff in the back or hips, has no companions at home, and has inadequate economic resources to afford help simply cannot perform the seemingly simple tasks of wound bathing and bandaging. These wounds are chronic problems with a chronic risk of recurrence if the underlying disease is not managed. The problem is compounded by huge gaps in our knowledge of the biophysics and pathology of these problems. The number of rational, scientific, and thoughtfully invented therapeutic products is still limited, and the subject is an invisible orphan in the undergraduate curriculum of medical education. So, problem wounds will be a problem for a long time.
Effective management of problem wounds follows the same models of clinical care that are applied to any issue in medicine. This means proper history and examination, a differential diagnosis of the causes, and a refined diagnosis based, as needed, on laboratory and imaging studies. But unlike most other medical problems, thorough wound diagnosis also depends on a period of observation to ascertain the behavior of the wound, its dynamics, and its response to non-specific introductory wound care. It must be concluded whether a wound is being sustained by ongoing trauma or if it is failing due to persistent disease. It must be determined if wound healing physiology is inherently competent, responding but losing to repetitive injury, or if wound healing per se is failing. If the problem is repetitive injury, is it due to some pathological or physical condition inherent to the patient, or is it the result of inept injurious care? If the wound is failing, incompetent to heal, is it due to correctable extrinsic factors such as arterial insufficiency, or is the intrinsic machinery of repair inhibited or damaged, such as by antimetabolite chemotherapy or radiation? Once these questions are answered, then a diagnosis specific treatment plan must be implemented. Some therapies will be obvious, rational, and effective. Some will be favorite nostrums and "shot in the dark" choices from the often irrational supply depot of wound care products. Some patients need pharmaceuticals, some need physical modalities, some need surgery, and some just need good nursing. Progress must be monitored and measured, treatment changed as needed if the wound is not responding as expected to prescribed care. It is not the purpose of this chapter to discuss the general biology of the problem wound and its overall clinical management. It is presumed that every clinician treating these problems understands the basic structure of medical diagnosis and treatment and how they apply to this particular subject, regardless of the specific diagnoses or what the treatment plan and choices are for any individual patient and wound.
The preceding discussion of conventional wound repair represents the current common art of reconstructive plastic surgery. While customary repair, grafts, and flaps are eminently successful in curing acute wounds in healthy people, they cannot be trusted in chronic wounds. The new quest to cure chronic pathological wounds is therefore fostering many novel approaches to all aspects of wound therapeutics, both surgical and non-surgical. Integra is one of the new thoughtfully invented products that works well. It is versatile, effective, and safe, and like anything else, it must be selected and used properly in order to succeed.
Rationale and Indications for Integra on Chronic Wounds
Surgical closure of chronic and pathological wounds is difficult and unreliable for the same reasons that they are difficult to manage without surgery. Underlying disease perpetuates the ulcer or inhibits healing. Control of underlying disease is mandatory in principle, but it can be impossible to eliminate adverse factors such as autoimmune inflammation, arterial insufficiency, and the effects of radiation. These disorders can also cause anatomical complications or caveats, such as rheumatoid synovitis exposing ankle tendons or severe atherosclerosis eliminating the usual flaps used to cover those tendons. These are the wounds subject to pathergy and wound healing failure, leading to prolonged care, multiple failed procedures, risk of amputation, and prolonged frustration and expense. For unwary surgeons, autogenous materials are prone to be wasted, and donor site complications may enlarge the original wound. Even when a standard flap is available, underlying illness and risks may cause complications or make the patient too ill for major surgery. These are the problems of trying to do surgery for chronic pathological wounds. Integra's properties solve most of these problems, and it is often the only option which will succeed. The art of efficient, expeditious, effective wound repair or reconstruction is in knowing when to apply each of the tools. Integra should be used preferentially for the following circumstances.
High risk history and susceptible disorders
If the patient has a history of failed surgery for the ulcer or related conditions. If the patient has a history of failed surgery for other reasons, or wound and soft tissue complications of prior surgery or trauma (pathergy). If prior reconstruction or wound closure has become re-ulcerated. If the patient has arterial disease, immunopathies, longstanding or severe venous disease, or hypercoagulable and micro-occlusive disorders, especially if severe, difficult to manage, or actively flared up. (Cases A2, A3, A5, D3, D4, E4, E6, E7, F1, G2, H1, H2, I6; case numbers referenced are those that most clearly illustrate each of these points.)
High risk ulcer profile
If the current ulcer has failed or progressed in spite of reasonable prior care. If examination shows persistent inflammation, necrosis, lysis, and progressive ulceration. If there is pathergy and progressive necrosis or ulceration after debridement and other supervised care. If pain is difficult to control. If skeletal or visceral structures are exposed or can be anticipated after debridement. If periwound transcutaneous oxygen levels or other regional measures of blood flow are diminished. If the ulcer or location would ordinarily be considered at high risk for complications or amputation. (D1, D2, D3, D4, E2, E3, E4, E5, E6, E10, F4, G2, G3, I1).
Inflammation and disease persist
If the physician has done everything that current art and science permit to treat the disease and control the wound, but inflammation or active ulceration persist, then conventional repair or grafts with living materials are apt to fail, and Integra should be used. Integra is not only preferred because it is not alive, but its ability to control inflammation is also therapeutic, and rapid subsidence of pain, drainage, ulceration, and pathological wound dynamics can be expected. (Cases A2, D2, D3, D4, E2, E3, E4, E5, E10, E12, F3, G1, G2, I1).
Topical care not succeeding
It is necessary with any chronic wound to have a preliminary treatment phase in which diagnosis is made, risk factors are corrected, and basic wound care is initiated. By the time these activities are concluded, a few weeks of hygienic treatment and observation will have revealed if the wound is wound healing competent, beginning to proliferate an active wound module. If not, if the wound is incompetent to heal under ordinary circumstances, Integra ought to be used in lieu of conventional surgery. (Cases D1, d2, D3, D4, D5, D6, E1, E2, E3, E4, E5, E10, E12, F3, F4, H2, I1, I4, I6).
Control of symptoms
In a problem wound, severe pain may be present due to persistent pathological inflammation (i.e. the inappropriate inflammation of immunopathic or similar disorders, as opposed to the reactive inflammation of controllable factors such as trauma and bioburden). The patient may have constitutional symptoms of malaise and tiredness. In these cases, wound excision and closure with Integra can immediately cure the pain and relieve other symptoms, and it should be done for humane symptomatic relief. (Cases D1, D3, D4, E3, E9, E10, G4).
Surgical complications or wound failure anticipated
If residual pathology, inflammation, or ischemia threaten complications of conventional flaps, grafts, and repairs. If prior attempts to do surgery for the same condition did in fact fail. If the established diagnoses or confirmed ischemia carry a high risk of pathergy and surgical complications. (Cases A1, A2, A3, A5, D1, D3, D4, D7, E3, E4, E5, E6, E7, E8, E10, F1, F4, G2, G3, H1, H2, H3, I1, I4, I5, I6).
Skin grafts ineligible
Skin grafts are technically convenient but biologically complex, being completely dependent on a healthy and wound healing competent host wound. Conditions such as ischemia, devascularized structures, and minor residual inflammation nullify the use of skin grafts because the grafts will die or not adhere. Not being alive, Integra does well in these circumstances. (Cases A1, A2, C3, D1, D3, E3, E4, E6, E8, E10, F1, F2, F4, G2, G3, H1, I1, I4, I5).
Flaps ineligible or at high risk
Flaps ordinarily solve what grafts cannot, because they are normal vascularized tissues which are independently capable of and responsible for healing the wound. Integra can be used safely and dependably when flaps cannot or should not be used: if location and local anatomy have limited flaps (such as the distal leg and ankle); eligible flaps are in the zone of risk and will probably fail; active inflammatory diseases threaten wound complications along all new incisions; vascular disease and ischemia threaten flap necrosis; atherosclerosis or hypercoagulability or general patient condition preclude free flaps. (Cases A1, A4, A5, D1, E5, E6, E7, E8, F1, F4, G2, G3, I6).
Exposed essential structures
One of the preeminent indications for flaps is the closure of visceral, skeletal, and alloplastic structures. If flaps are ineligible for any of the above reasons, Integra is a highly dependable substitute, because of tangential histoconduction and its ability to bridge a non-living hiatus. (Cases A1, A2, A4, A5, B1, D5, D7, E3, E4, E8, E12, E13, F1, F2, G1, G2, G3, G3, H1, H2, H3, H4, I2, I5, I6).
Biological coverage desirable
Integra should be used wherever a conventional biological dressing might be used for interim wound closure, including persistent mild inflammation or interval protection of a wound in preparation for later closure. It will eliminate intermediate steps, because it serves both purposes, short term biological coverage and definitive reconstruction or wound closure. (Cases A2, B1, B2, B3, D1, D4, E7, E9, E10, E13, F2, F3, G3, G4, H4, I2, I3)
High risk patient
Integra placement is quick and safe, the only "cut and bleed" risk to the patient being the wound excision. Subsequent skin grafts have no risk other than the graft donor site. Integra should be used in lieu of conventional repairs for any patient who is sick or a poor risk for surgery and anesthesia. If disabilities and psychosocial circumstances warrant minimum surgery-induced disruption of daily affairs, Integra can be the simplest yet most dependable approach to wound closure. Integra is the ultimate "play it safe" wound closure option. (Cases B1, B2, D3, E7, H1, H2, H3, I5).
Large surface areas
For large wounds, skin graft needs will be correspondingly large, but creating donor wounds concurrent with the primary wound can complicate post-operative care. Inflammation, physiological challenge, pain, drainage, soiled dressings, septic risk, nursing requirements, and various functional inhibitions will all increase. In a sick or disabled person, a large wound excision with simultaneous large donor sites can sometimes be "too much". Integra requires two procedures, but as with much of reconstructive surgery, multiple small operations are safer and yield better outcomes than doing one big heroic operation fraught with pitfalls. Using Integra, net physiological load on the body is significantly reduced. During the first procedure, the primary defect immediately ceases to be a wound, physiologically speaking, and the latter skin grafts done by themselves are simpler to cope with. Whenever it is desirable to limit collateral injury, minimize wound surfaces, minimize acute physiological stress, or simplify post-operative symptoms and nursing care, Integra serves this function. (Cases B1, B2, B3, E5, E13, F3, G4, H4).
High risk donor sites
Flap and graft donor sites can be at risk because of disease, location, ischemia, inflammation, and any other factor discussed above. Arterial insufficiency is probably the most common risk that jeopardizes a donor site. The high incidence of necrosis and ulceration after saphenous vein donation for heart and vascular surgery is common evidence of this risk. Even if a donor site can be harvested without wound complications, there can be functional contraindications. For example, the latissimus dorsi muscle is crucial to be able to use crutches, walkers, and wheelchairs, those orthotics necessary for many chronic wound patients. Yet a latissimus free flap is one of the first choices for many plastic surgeons wanting to cover a complex lower extremity wound. Preservation of health, function, and lifestyle are the real goals, not simply wound closure for its own sake. If it is desirable to avoid donor sites, Integra eliminates this risk while giving equivalent or superior coverage of the target wound. (Cases A4, A5, D3, D7, E5, E6, E7, F1, F4, G2, H3).
High risk for recurrent disease
Patients with chronic wounds have chronic disorders. Recurrent ulceration of skin, scars, and skin grafts is a risk, especially for immunopathic, venous, lymphatic, and hematological disorders. Integra reconstructed skin seems to be somewhat resistant to recurrent disease, therefore more durable, less prone to ulceration. These disorders also risk new wounds in areas not yet ulcerated, meaning that Integra can have a role for prophylactic skin reconstruction. If there are extensive trophic changes of skin, if there is obliterative liposclerosis, if there is chronic dermatitis or recurrent transient erosions of skin, or if there is any other irreparable pathology of skin and fascias, then this risk is real. Preemptive excision and reconstruction absent any ulcers may or may not be justified, but if there is already an ulcer which has failed other care and is scheduled for surgery, then strong consideration should be given to excising the entire affected area (usually the distal leg and ankle) and reconstructing skin with Integra. (Cases A2, D2, D3, D4, D6, E2, E3, E4, E9, E10, F3, G1, H1, I1, I4).
Avoiding scar and improving reconstruction
Regardless why it is used, Integra controls scar. Unlike split thickness skin grafts, an Integra reconstruction is unlikely to contract and require late revision. It is therefore useful both for the prevention of contractures and for the correction of established contractures. The value for burn closure and similar acute wound repair is obvious. For chronic wounds, if the area involves joints, hands, face, neck, breast, genitalia, skin folds, or any other mobile anatomy, then Integra should be given primary consideration unless some suitable flap or direct repair can do an equivalent or quicker job. (Cases A3, A4, B1, B2, B3, C1, C2, C3, E13, F1, H4, I3).
Simplifying care and preserving function
Upon placement of Integra, the wound is immediately closed. Pain, drainage, and other symptoms cease. Nursing requirements are nil, permitting almost all care to be as an outpatient, requiring only infrequent dressing changes. For patients with obligations at work or home, who must preserve function and lifestyle, who must travel, who live remotely and cannot come for frequent medical visits, or in whom other illnesses take precedence, Integra can be used because of its ability to simplify care. (Cases A4, B2, D6, E7, E9, E13, F3, G1, G3, I2, I3, I5).
Absent risk factors, a superior reconstruction
Integra's ability to heal wounds, to succeed where flaps would ordinarily be used, to achieve superior results in some cases (avoiding scars and graft contractures, avoiding revisions and flap debulkings), and to do so with no risk, no donor sites, and no inpatient care are valuable properties in their own right. For situations where flaps or grafts would be conventional, easy, safe, and successful, Integra might sometimes be preferred because of these advantageous properties. (Cases A1, A3, A4, B1, B2, B3, C1, C2, C3, E7, E8, F1, F3, G2, G3, H1, H2, H2, H3, H4, I3, I5).
Integra and Chronic Wounds, Comparison to Conventional Methods and Surgical Planning
The above discussion of Integra indications does not imply that Integra replaces conventional methods of wound surgery. All methods are important, and reconstructive plastic surgery and wound surgery are, at their core, a doctor's "black bag" of principles and techniques which are selected and applied based on individual circumstances. When conventional repair, grafts, and flaps are likely to give the fastest, surest, most dependable, least complicated or disabling way to resolve a problem, that is what should be done. Since the majority of all surgery is done in people in whom physiological wound repair is intrinsically healthy, conventional methods will always be the most common. However, Integra is an important new tool in that black bag, because it can simplify care, make it safer, and succeed where conventional modalities fail. This is especially true in problem wounds where normal wound healing is damaged or inhibited. The best way to appreciate circumstances in which Integra is superior to conventional surgery for chronic wounds is to look at some case studies.
Case study A1, indications and surgical planning
73 year old man; embolic foot necrosis; leg salvage with Integra. The patient had embolization and distal foot necrosis following femoral catheterization for coronary angioplasty. Amputation through the distal tarsal row removed all necrosis. This is a functionally good amputation because all major ankle stabilizers, including tibialis anterior and peroneus longus are still inserted. The dilemma is that there is insufficient skin to close the wound (figure 17a). If more bone is removed for the sake of skin closure, the tendons will be disinserted, ankle control lost, and a below knee amputation would be warranted. There are no local flaps to cover the defect. Skin grafts are contraindicated over the open joints. The patient has atherosclerotic arteries making a free flap risky. Most surgeons would have opted below knee amputation. By placing Integra over the open osteotomies, these problems evaporate. Integra keeps the wound safe, tolerates arterial insufficiency, heals over bone, and bridges the joints. Skin grafts were placed at 6 weeks. They were completely healed and mature several months later. The patient wears a customized shoe and is fully ambulatory (figures 17b-e).
Figure 17   Case study A1

<![if !vml]><![endif]>

(a, top left) Amputation through the distal tarsus. Cuboid and cuneiform osteotomies and intertarsal joints are open without sufficient skin to close them.

(b, top middle) Some of the lateral skin could be sutured without tension, and everything else was covered with Integra, shown here stapled in place before fixation dressings.

(c, top right) The regenerated Integra a few days after placing skin grafts.

(d, bottom left) The healed result. Note that the Integra area is smaller than it was originally. This diminution in size, with corresponding dilation or advancement of adjacent normal skin is an occasional occurrence. Representing normal accommodation to mechanical load and anatomical geometry, all skin can do this, typically seen in the atrophy of bulky flaps and surgical "dog ears". It is different than scar contracture because it remains compliant, not stiff, no tendinous banding, without limitations of motion.

(e, bottom right) At 5 months, the patient is walking normally in a custom fitted shoe.
Case study A2, indications and surgical planning
74 year old woman; mixed pathological ulceration into the ankle; closed with Integra. The patient presented with a 30 year history of recurrent ankle ulcers, old skin grafts, and a nominal history of venous disease. Figure 18a demonstrates the frequent inflammatory papules and ulcers. Absence of venous stigmata such as edema, liposclerosis, and pigment changes, pertinent features such as history, distribution, and appearance of the lesions, and her ultimate response to antimetabolic chemotherapy confirm this as an immunopathy. The patient was already being treated with anticoagulants for a thrombotic history. Seronegative rheumatoid arthritis, Sweet's neutrophilic dermatitis, and an antiphospholipid antibody syndrome are the most probable diagnoses. The lesions as seen were intermittently controlled with various treatments, but during an intense flare-up, all of the old skin grafts lysed. Ulceration was into the major underlying tendons and into the ankle mortise. The author treated this by excision and closure with a scapular free flap. At 9 and 10 days after surgery, gastrointestinal bleeding forced discontinuation of anticoagulants. The flap promptly began dying from its margins inward (the vascular anastomoses were patent at the time of debridement 4 days later, a characteristic history with hypercoagulable disorders). The ankle now requires closure. Further free flaps are contraindicated. Local flaps are not large enough, and they risk necrosis because of disease. Skin grafts cannot cover the open tendons and joint. Amputation would be considered by many surgeons. Interim biological dressings are suitable, but the closure dilemma cannot be avoided indefinitely. This was the author's third Integra case. Integra was not used in the anticipation that it would work. It was used as a temporization, a biological dressing to buy time while alternate options were considered. It healed, and stayed healed through 4 years of follow-up (figure 18b). It was one of the seminal cases that led to this chapter. Similar cases would now be managed preemptively with Integra rather than by any other method.
<![if !vml]><![endif]>

Figure 18   Case study A2

(a, top) A view of the chronic lateral ankle pathology. Acute and chronic inflammation of decades duration are affecting old skin grafts. A few months later, intense inflammation lysed all of the skin in this area, leading to the failed free flap and then Integra.

(b, bottom) Integra was placed over the fibula, the open ankle joint just anterior to the fibula, and the surrounding soft tissues. The image shown is two years later. The Integra has been problem free, and inflammation and ulceration no longer affect the area.
Case study A3, indications and surgical planning
44 year old woman; hypercoagulable disorder and chronic achilles ulceration; healed with Integra. The patient had a spontaneous achilles tendon rupture. Tendon repair was followed by multiple complications and necrosis of the tendon. The ankle was ultimately closed with a rectus abdominis muscle free flap and skin grafts. The patient presented to the author for consultation because of villous dysplasia of the skin grafts, chronic recurring ulceration, and pain and dysfunction (figure 19a). The plan was to do serial excisions of excess old flap and advancement of surrounding skin. The first such procedure caused prompt dehiscence and necrosis of the wound. These events and a history of retinal artery thrombosis pinpoint a hypercoagulable disorder, confirmed by multiple post-acute elevations of fibrinogen and anticardiolipins. Any further effort to close and revise this wound has these challenges and requirements: any incision risks more necrosis and complications, a free flap already failed to give a desirable result and more donor sites are unwarranted, more skin grafts will have the same problem of mechanical dystrophy and ulceration, the reconstruction must be mechanically compliant and thin enough to accommodate normal footwear. Wound debridement and warfarin anticoagulation were followed by Integra. There were no further adverse events. A second piece of Integra was placed after the first one regenerated, in order to get a thicker neodermis in this area of significant stress and strain (figure 19b). The area healed without any of the pathological changes that affected the original skin grafts. (figure 19c).
<![if !vml]><![endif]>

(a, left) Skin grafts over muscle flap over missing achilles tendon. Villous dysplasia of skin grafts is common in areas of repetitive mechanical strain, and the scar remains juvenile, hyperemic, pathologically active. There are multiple skin ulcers near the distal end.

Figure 19   Case study A3

(b, center) Integra in place. It is fully regenerated and silicone is separating. It is desirable to place grafts before this happens, but this does happen and is manageable as discussed in the text.

(c, right) The reconstruction at one year. In contrast to what had happened with the original ordinary skin grafts, notice how this skin is thin, soft, compliant, with normal texture, that it has even developed the normal transverse dermal creases that occur in this area.
Case study A4, indications and surgical planning
58 year old man; vascular infarction of hand; preservation of length with Integra. The problem resulted from accidental brachial artery drug injection (figure 20a). Initial debridement preserved metacarpophalangeal joints and proximal phalangeal bone, intending to use them as grafts under a hypogastric flap that would preserve some length and mobility. An abdominal pedicle transfer is an inherently difficult reconstruction, made more difficult here because of prior above knee amputation, an obese abdominal panniculus, cardiovascular disease, and depression. The patient opted out of this flap after 1 week, and all non-viable bone and joint was removed, just below the metacarpal heads. The margins of skin viability were a centimeter or two proximal to the osteotomies, creating a problem for closure. One option is to shorten bone, leaving him without metacarpals, but a mobile carpus. Aside from the general disabilities that this causes, it takes away this patient's ability to hold a cane, crutch, or walker that he needs because of the ipsilateral thigh amputation. To preserve length, soft tissues are needed. A flap from the trunk was already a failed bad idea. A radial forearm flap is disqualified by the vascular injection injury, and so is a free flap. Skin grafts will either not take on the open bone, or will be prone to recurrent ulceration. The solution was to create a first web space by wrap-around of a dorsal skin flap over the thumb metacarpal, then closure of all wounds and osteotomies with Integra (figure 20b). After it was healed, tendon transfers and osteotomies in select areas were able to restore some mobility and pinch (figures 20b, c). In the author's practice, Integra would now be opted as primary reconstruction for any such situation, abandoning the radial forearm flap and other traditional options just listed.
<![if !vml]><![endif]>

(d, bottom right) In this image at one year, the reconstruction is matured. Skin is durable. Tendon and muscle transfers have restored some flexion and pinch at the thumb base. The skin is healed and trouble free, and the hand is functional for the patient.

Figure 20   Case study A4

(a, top left) The infarcted hand, prior to debridements. Various ischemic areas can be coaxed to survive with good wound care, pharmacological intervention, and patience.

(b, top right) There is more salvageable hand than might at first be appreciated. The problem is that there is not enough soft tissue to cover remaining viable bone. Osteotomies are proximal to the metacarpal heads. The first web space has been reconstructed with a dorsal skin flap. Integra covers the bones and parts of the web space, shown at two weeks.

(c, bottom left) The healed hand. Some minor injury caused abrasion at the end of the long finger, but that healed quickly. Thumb carpometacarpal extension is preserved.
Case study A5, indications and surgical planning
60 year old man; severe arterial disease with heel necrosis; leg salvage with Integra. The patient has diabetes, end stage renal disease, and severe atherosclerosis. Left foot ulceration resulted in septic gangrene, necessitating below knee amputation. While recuperating, he was allowed to get a large heel pressure ulcer. Toes on the right foot are already missing from previous vascular events. The patient was sent for consultation after refusing right leg amputation. The problem is how to close the large heel wound and preserve function. Severe arterial disease and deficient local resources preclude any type of local or free flap. Skin grafts are sure to fail over a calcaneal osteotomy accompanied by advanced vasculopathy. Integra easily solves the problem. It succeeds without donor sites nor other risk to the patient. It was managed as an outpatient, and the patient has maintained function and lifestyle (figure 21).
<![if !vml]><![endif]>

(a, left) This is face on view of the reconstruction, healed Integra over a large posterior calcanectomy and achilles insertion.

Figure 21   Case study A5

(b, top center) The patient is in full weight bearing on his healed foot. The oblique calcanectomy merely followed the contours of skin necrosis; the toes are missing from previous vascular complications.

(c, bottom center) For stability, the patient uses a space filling orthotic wrapped around his ankle.

(d, right) Using his sneaker, his left leg prosthesis, and a walker, he is independent and ambulatory.
Use of Integra, Discussion by Diagnosis and Pathology
The diagnosis which underlies a chronic pathological ulcer has significant implications for type of treatment, length and success of treatment, resource utilization, collateral morbidity, and stability of the result. While Integra is useful for a variety of chronic wounds, its relative indications, contraindications, and details of use vary with the cause of the ulcer. This section describes the use of Integra based on underlying diagnosis.
Macro-arterial
Ulceration associated with arterial insufficiency, usually atherosclerotic, is one of the most common reasons to use Integra. The degree of arterial insufficiency governs the ease or difficulty, success or failure, of wound repair and reconstruction. This is true for Integra or any other surgery, and if technically possible, arterial insufficiency should be corrected prior to any wound closure surgery. To the extent that revascularization succeeds and restores wound healing competence, an ulcer might close by topical care only or by customary one-stage grafts and flaps. In patients with more severe or uncorrectable disease, Integra is valuable for two reasons. The first is its ability to control wound conditions, averting the pathergy that ordinarily complicates severe arterial insufficiency. As a non-living material it will not fail the way that grafts and flaps might, and it is ideally suited to the retarded or delayed healing typical of arterial insufficiency. The second reason is its ability to bridge essential structures, performing well in lieu of conventional flaps which might be unavailable or too risky. In these conditions, Integra is very successful in closing wounds and salvaging limbs when conventional surgery would fail. Salvaging complicated stumps, such as coaxing a dehisced or partially necrotic below knee amputation wound to heal rather than conversion to an above knee amputation, is a particularly valuable capability. (Case H3).
Integra will fail when arterial insufficiency is severe (easy to recognize, because the matrix turns black). For mild insufficiency, ankle-brachial indices (ABI's) of 0.7 to 0.8, conventional repair, grafts, and flaps are permissible and are likely to heal. In these circumstances, Integra might often be preferable for the closure of tendons, bones, and joints in lieu of higher risk flaps, but it is not essential. ABI's below 0.2 to 0.3 are likely to result in failure regardless of method. In these extreme circumstances, if Integra was used, it would be safe, losing nothing but time if it fails, but at these low ABI's, failure is mostly assured. Alternately, transcutaneous oxygen pressure measurements (TcpO2) can be used to assess risk, and values of 10 torr or lower without improvement breathing 100% oxygen is another marker of extreme arterial insufficiency likely to fail surgery, including Integra. It is in the middle zone, where conventional surgery is likely to fail or carry substantial risk, that Integra is likely to be successful. Hyperbaric oxygen therapy can be a worthwhile adjunct treatment, typically started at the time of Integra placement or up to a few weeks in advance, with courses of treatment typically 20 to 40 sessions.
Atherosclerotic macroarteriopathy is distinctive in that it is an anatomical condition of blood vessels which impedes but does not damage wound repair, nor is it a soft tissue disease which causes active pathological ulceration. Wound physiology remains intrinsically healthy, and length of treatment (from placement of Integra to healed skin grafts) for arterial ulcers is one of the quickest compared to other diagnoses. Simply stated, for arterial ulcers, Integra heals wounds and salvages limbs which could not have been managed by any other means, and it does so with no added risk to the patient. The only caveat is that if ischemia is too severe, Integra will not help, and extreme degrees of arterial insufficiency with significant morbidity or complications are still best managed by amputation. (Cases A1, A4, A5, E6, E7, E8, F1, F4, H2, H3, I5).
Micro-arterial
Micro-angiopathies include thromboangiitis obliterans and other arteritides, vasculitides associated with systemic immunopathies (lupus, CRST, scleroderma, etc.), and metabolic disorders such as certain calcium dystrophies. Unlike atherosclerosis, the upper extremities are frequently involved with disease and ulceration, and young people are often affected. Compared to the macro-angiopathies, general patient management differs in many ways, with the focus being more on managing the underlying diseases rather than reestablishing circulation. When ulcers develop, their clinical pathology and management share features of both arterial insufficiency, proportional to the degree of ischemia, and the underlying immunopathy. Non-angiopathic calcium disorders are discussed below, but special note should be made of ulcers due to systemic calcinosis-calciphylaxis. This is due to secondary and tertiary hyperparathyroidism and its various causes, usually end stage renal disease. Histologically, it is characterized by diffuse medial arteriosclerosis in small and micro vessels. It is sometimes accompanied by hypercoagulability and microvascular thrombosis. The problem causes ischemic infarction and ulceration of skin and subcutaneous fascias. The problem can occur anywhere, but it has a predilection for central areas, usually abdomen, pelvis, and thighs. The disorder is problematic enough by itself, but in some patients it is compounded by macro-atherosclerosis due to the diabetes or hypertension which caused the renal disease. Characteristic of any severe vascular insufficiency, transcutaneous oxygen pressures are low, pain is severe, and the wounds heal exceedingly slowly with topical care alone. Pathergy is the rule, with attempts to debride such wounds usually rewarded with more to debride. Integra is remarkably successful in these patients. Areas of necrosis and ulceration are completely excised, and Integra is placed immediately to cover the wounds. Relief of pain is instantaneous, pathergy is prevented, and the wounds heal. Integra regeneration proceeds at relatively normal rates, ready for skin grafts in 5-6 weeks. Hyperbaric oxygen therapy can be a useful adjunct during early phases of the reconstruction. (Cases D1, G2).
Hypercoagulable and other micro-occlusive
These are a wide range of metabolic and hematological disorders which cause microvascular occlusion, but no other active injurious pathology. They include hematopathologies (hemoglobinopathies, polycythemias, red cell and platelet disorders, dys- and cryoproteinemias) and hypercoagulopathies (prethrombotic disorders, antiphospholipid antibodies, homocysteinemias). Clinical symptoms, wound pathophysiology, and wound natural history are comparable to atherosclerotic or other arterial ulcers, including severe ischemic pain, pathergy, refractoriness and multiple treatment failures, and threatened or prior amputations. But there is an important difference: most of these conditions are easier to manage. They tend to occur in younger otherwise healthier patients, and the problems or their effects are usually correctable or more easily managed, such as treating hypercoagulable patients with anticoagulants. The consequence is that patients in this category have high Integra success rates with few failures or complications. As with any ulcer of any diagnosis, initial treatment phases involve basic topical hygienic wound care, diagnosis, and initiation of disease specific therapies. Many such ulcers are small and heal with anticoagulation and topical care alone, and larger ones can improve to the point of successful skin grafting. However, these are "chronic problem wounds", and some remain refractory to care, exhibiting continued ischemia and wound misbehavior in the form of pain, pathergy, delayed healing, and defiance of conventional surgery. When ischemia and delayed wound healing persist, Integra controls symptoms and pathergy, tolerates the ischemia without consequence, and gradually heals the wound. Periwound ischemia helps confirm the diagnosis and may indicate hyperbaric oxygen as short term adjunct therapy (as with the other ischemic ulcers, transcutaneous oxygen pressures are a useful tool to assist diagnosis, assess risk, and plan treatment; doppler pressures, photoplethysmography, pulse volume measurements and similar measures of bulk macroarterial flow will not be helpful in these disorders). (Cases A2, A3, D3, E4, E5, I6).
Diabetes
Diabetes does not cause any unique ulcerative pathology nor does it intrinsically retard wound repair. Three categories of ulceration in diabetic patients should be considered. The first are ulcers due to any other diagnosis which incidentally occur in a diabetic person. In these patients, the diabetes per se is generally not relevant to the wound and its management. Diabetes is of course associated with accelerated and distal-acral atherosclerosis, and it is the arterial disease, not the diabetes, which can make these wounds problematic. Wound and Integra management are typically the same as for other arterial ulcers. The second type of ulcer is necrobiosis lipoidica. This occurs in non-diabetic patients as well, but it has a well-characterized association with diabetes. It is a chronic necrotizing inflammation of subcutaneous adipose fascias having a somewhat distinctive distribution over the pretibial region. It is most comparable to an immunopathic panniculitis (discussed below). Like other such disorders, aggressive excision and skin reconstruction with Integra is very successful, not only healing the wounds, but eliminating the inflammatory phlegmon which makes these patients chronically ill, and minimizing the risks of future ulceration. (Case E9).
The third category is the characteristic "diabetic ulcer". This is really a neuropathic ulcer, often compounded by associated arterial disease and non-compliant patient behaviors. The paradigms are the mal perforans and the Charcot ulcers on plantar surfaces. Results with Integra are mostly poor. Even when arterial insufficiency is not a contributing factor, patient compliance and location in weight bearing areas can be insurmountable problems. Integra's biological performance will be correct, undergoing thorough regeneration and partial or complete take of skin grafts as long as patients are kept non-ambulatory or non-weight bearing. However, lack of patient compliance and participation may keep the skin grafts from ever being applied, and reulceration is likely. Note that Integra performs well on the foot for other problems. It does well in diabetics on non-weight bearing surfaces, and it does well on the plantar in other patients who are sensate and responsible about activities and orthotics. Opting Integra or any other form of reconstructive foot surgery in these patients must be tempered by two principles. (1) If a patient cannot be compliant during a plantar reconstruction, it might be best not to begin at all (true for any type of diabetic foot surgery or reconstruction). (2) Healed Integra under the calcaneus or other plantar weight bearing surfaces is subject to reulceration. Integra reconstruction on weight bearing plantar surfaces is probably best avoided in diabetic foot patients.
As long as the problem is not a plantar "diabetic ulcer", Integra salvages many necrotic and ulcerated feet in diabetic patients. When arterial insufficiency causes problematic wound behavior, Integra can control pathergy and stabilize the wound. When vascular disease precludes grafts and flaps, Integra is a dependable way to heal the wound and restore new skin over tendons, ligaments, and other structures. When open bones and joints after foot debridement threaten high level amputation, Integra's ability to regenerate over these structures heals them with minimum risk and minimum disability. (Cases A5, D1, D7, E8, E9, F1, H3).
Venous disease
Venous ulcers are the most common lower extremity ulcers. Key features of the disease and its management are venous hemodynamics, venous vasculitis, venous thrombosis (and hypercoagulability in some patients), acute dermatitis, chronic trophic tissue changes and liposclerosis, and the paramount necessity of good control of edema and venous hypertension. For many patients, the problem is not the disease but the lack of competent care. Once a good program of systematic sustained care and compression is initiated, many of these patients and ulcers will heal and stay healed without surgery. If an ulcer persists after that, vein excision or interruption can be the simple trick that works next, and for those with larger ulcers that need skin replacement, complete excision and ordinary skin grafts usually then succeed. However, some patients have more difficult situations due to advanced, refractory, complicated disease: (1) extensive circumferential ulceration, (2) long duration with prior failed skin grafts, (3) refractory inflammation (venous vasculitis and dermatitis), (4) advanced liposclerosis and scarification of the sural fascias which, after excision, leave bare muscle, tendon, and synovium upon which to place grafts, (5) pre-excisional ulceration into skeletal structures such as tibialis and peroneus tendons, the bony malleoli and malleolar bursas, and the ankle joint, (6) concomitant unrelated diseases such as atherosclerotic arterial insufficiency or a connective tissue disorder. In these patients, Integra successfully reconstructs stable skin, regardless of how many prior skin grafts failed. Good preparation is essential, including good wound hygiene, topical or systemic steroids if needed to control refractory venous vasculitis and dermatitis, anticoagulation for that subpopulation in whom the problem is due to hypercoagulability, strict compression to control edema and venous hypertension, and complete wound excision and venous interruption at the time of surgery. Integra's abilities to control inflammation and bridge essential structures ensure that the wounds heal and that disease stays quiet in reconstructed areas. In the patient who is responsible about compression and edema management, these goals are easily achieved, and the success rate of Integra is one of the highest for all diagnoses. (Cases D2, D5, D6, E1, G1, I4).
Lymphatic
Dermatitis and ulcers due to lymph stasis and postural edema are quite different than venous stasis in many ways, but they also have features in common. Similarities include late stage soft tissue pathology, frustrations over failed treatments and recurrent problems, and the general concepts and methods of management. While wound, skin, and edema treatment principles are largely the same as those for venous disease, most surgeons learn to stay away from lymphatic conditions. If surgery is done for any reason, either minor wound surgery and skin grafts, or regional panniculectomies and skin grafts, or even just incisions through the edema for musculoskeletal surgery underneath, the operative wounds can be harder to manage than the original ulcers, and often they do not heal. Integra is effective. It can greatly simplify excision and closure of such wounds, and it can reliably heal. Its role as a high grade artificial skin allows for complete elective dermatofasciectomy of an entire limb for lymphedema, and the resulting reconstructed skin tends to stay edema free. (Case B3).
Immunopathic
The immunopathies are a broad category of autoimmune and inflammatory pathologies. They include the classic collagen-vascular and connective tissue disorders (rheumatoid, lupus, scleroderma, polymyositis, ankylosing spondylitis, Behçet's, Sjögren's, Wegener's, and so on), the arteritides (polyarteritis nodosum, giant cell arteritis, thromboangiitis, etc.), the inflammatory dermatoses and panniculopathies (pyoderma gangrenosum, erythema nodosum, neutrophilic dermatitis, Weber-Christian, etc.), and various other illnesses such as sarcoidosis, Crohn's, and other inflammatory bowel disease. Immunopathies are active diseases with protean manifestations. They are double trouble: they cause soft tissue injury and ulceration, and they also impair the healing of that damage. Progressive necrosis and lysis of skin and fascias can occur, causing chronic ulceration, most common on leg and ankle, but also in many other locations. When these diseases are active, pathergy and wound failure are ever present demons waiting to complicate trauma and surgery. (Fortunately, rheumatoid and similar patients have many elective operations, including prosthetic arthroplasties, without any complications, but active phases of leg ulceration or recent surgical complications are tip-offs to potential trouble.) Immunopathic ulcers are often misdiagnosed and mistreated. Even when diagnosis and care are properly instituted, these diseases consistently stymie attempts to treat, and resolution of these wounds can be difficult and prolonged. Histories of many years or decades duration and many failed prior wound operations are common.
The prospects for successful ulcer surgery using simple repair, skin grafts, and nearby small flaps are very small. Active refractory ulcerative pathology is problematic enough by itself, but many of these patients, being older, also have concurrent venous or arterial disease of varying degrees. Issues of essential coverage further compound the problem because the pathological lysis of skin and subcutaneous fascias commonly exposes muscles, tendons, retinacular ligaments, bones, and joints. Multiple and multifocal ulceration is characteristic. Many immunopathic ulcers remain small, but this combination of factors tends to produce the largest and most complex chronic leg ulcers that occur across all diagnoses. Effective management begins with control of the underlying disease to the extent that it is possible. It is not always possible though, and residual dermatitis, panniculitis, positive serologies, and systemic symptoms may prevail in spite of aggressive anti-inflammatory, antimetabolic, and anti-immune therapies. It is in these circumstances, where aggressive treatment has improved but not eliminated pathological inflammation, that the concept of a biological superdressing is particularly applicable. Integra's ability to subside the residual inflammation, then reconstruct skin and cover exposed essential structures has consistently good results in these patients, with complete or partial healing in 90% of patients. As with generic length-of-care data for these patients, the length of Integra reconstruction is one of the longest, averaging 10 months for complete final epithelialization.. However, this statistic belies that fact that most of these patients have a nearly instantaneous improvement in symptoms, a rapid return to meaningful lifestyle, and that late residual healing is only in small areas that remain uninflammed and asymptomatic. If there are subsequent flare-ups of disease with new wounds, the Integra reconstructed skin tends to be spared from disease and re-ulceration. (Cases A2, D3, D4, E2, E3, F3, G2, H1, I1, I4).
Mechanical, anatomical, trauma, and surgery
There are some chronic ulcers that result from mechanical, traumatic, and anatomical conditions rather than from disease. This is a diverse group of problems including pressure ulcers, congenital, traumatic, and surgical defects of chest, spine, and abdominal wall, persistent ulcers due to mechanical gliding of joints and tendons or due to fracture pseudarthroses, and many other incidental conditions. Within the broad scope of wounds and surgery, only a tiny fraction of these problems qualify for Integra. Many of them are acute or they occur in otherwise young and perfectly healthy people where customary wound care and surgery easily succeed. Many are due to skeletal injury where appropriate bone and joint stabilization will correct the problems. Integra ought to be avoided for pressure ulcers in the neurologically impaired because it will fail for the same reasons that it fails diabetic plantar reconstruction (i.e., the typical sacral, coccygeal, ischial, and trochanteric ulcers). There are ulcers due to illicit drug abuse, psychoneurotic "neurodermatoses", and other problems that result from complex psychosocial factors that are not easily correctable. Most of these are inherently healthy wounds for which no wound surgery other than debridement is ever indicated, at least not until the underlying problems are managed and injury is relieved, and after which they will probably heal by natural contraction supported with basic hygienic care. When surgery is needed, ordinary repairs, grafts, and flaps, the basic stuff of textbook surgery in healthy people, almost always suffices.
However, Integra might be selectively preferred for some of these situations. Essential coverage of exposed structures in areas impoverished of good flaps, or the desire to avoid donor sites or late revisions might be compelling reasons to use Integra. There might be deliberate reconstructive goals, such as restoring the dorsum of the hand, where thin compliant tissue is needed and Integra is superior to legacy options such as groin flaps. Then there are those ulcers due to anatomical, traumatic, and mechanical conditions which become chronic and non-healing in spite of responsible compliant care. A typical example is ulceration in a contracted tendinous scar crossing a joint where repetitive stress-strain continually fractures the scar, liable to occur at any joint but especially common on the dorsal ankle and the popliteal. Even when such scars are not ulcerated, the contractures themselves are still disabling problems. Another common example is laceration or ulceration into the tendon sheath of the tibialis anterior or other large tendon, where constant shearing induces serosal or synovial metaplasia and inhibits fibrous repair and wound closure. Minor ankle trauma causing erosion into a malleolar bursa will not heal for the same reasons, especially in a person with concurrent vascular or autoimmune disease. Injury due to toxic chemicals and chemotherapy drugs can quickly become pathological ulcers devoid of reparative potential. It is in these patients, where an ordinarily simple acute problem has become refractory and chronic, that Integra is valuable. It can relieve adverse mechanics, cover essential structures, control unstable wounds, and prevail under the burden of concurrent risk factors such as arterial insufficiency. Whatever the original cause of a problem, when it becomes a chronic ulcer, Integra is indicated for any of the criteria discussed in the "Rationale and Indications" section above. (Cases E12, G3, I7).
Radiation and malignancy
There is only limited experience with Integra and malignant ulcers. Cancer should be managed by wide excision, but not all tumors are resectable or operable. If a satisfactory wide excision results in a large defect with specific needs for closure or reconstruction, Integra can be used for the same indications that apply after any trauma or surgery. Unresectable tumor and wide micrometastasis always present a challenge. Some type of closure and symptomatic control is theoretically desirable, but using large flaps is often unnecessary risk for no advantage, and skin grafts quickly reulcerate. Nevertheless, it has been an historic practice to at least try to ameliorate a malignant wound with skin grafts, typically for extensive skin and breast cancers. The grafts may take transiently, but they are quickly replaced by tumor. While there are no satisfactory choices for unresectable tumors, Integra can be no worse than flaps and grafts. It has a tangible advantage in that the silicone is an impenetrable barrier that can at least block exposure and drainage, maintain some hygiene, and afford some symptomatic palliation. It has a theoretical advantage in that the aminoglycan in the Integra may have some effect to tame or regulate the malignant behavior of tumor cells. While strictly anecdotal, cases G4 and I2 support the possibility of this hypothesis. While Integra will not cure the problem, its ability to provide some symptomatic relief and simplify care without additional morbidity, donor sites, pain, disability, or significant intrusion on life style are desirable properties, and Integra ought to be considered for these unfortunate situations.
Integra over radiated tissues is also of limited experience. Radiation damage to DNA induces latent cell kill, manifest when cells try to replicate. Wounds cannot heal because the local progenitor cells of wound repair cannot proliferate. For the same reasons, Integra regeneration over a radiated wound might fail. However, to the extent that lower radiation doses or better contemporary radiation therapy practices leave residual wound healing potential, Integra provides such good protection to the wound that this potential has a chance to be expressed. Recall too that the early histogenetic pioneer cells may be blood borne, so Integra may be hosting remote cells which are not influenced by the damaged wound. Histoconductive bridging from surrounding healthy areas also applies. Among the author's few cases, this category had one of the lower success rates, as might be expected, but it was also better than might be expected. There are other reports of success 22. Flaps remain the preferred method of closing radiation wounds, but when circumstances preclude flaps, Integra remains the next best method, possibly succeeding, and at least serving as an effective artificial skin to protect the wound and manage lifestyle. (Cases G4, I3, I8).
Granulomatous and infectious
Closure of any infected wound by any means is categorically contraindicated, but there are different kinds of infections with different principles of care. Physicians are generally very familiar with ordinary suppurative infections due to pyogenic bacteria. These infections are acute. Either they are there or they are not, and they do not become chronic ulcers or panniculitis. Integra has a role in their surgery only to the extent that drainage and debridement leave large defects that meet the indications for Integra closure (cases B2, C1, and H4). However, there are also atypical infections that cause skin and fascial ulcers, those due to fungi, mycobacteria, actinomycetes, and protozoa. These infections often present as a chronic ulcerative panniculitis. They may be small and focal or quite extensive. They may be acute and fulminant or relatively indolent and chronic. They are all comparable in that they must be treated by aggressive total excision, either surgery alone (such as Buruli ulcer due to Mycobacterium ulcerans), or by surgery and antimicrobials (such as panniculitis and ulceration due to Mycobacterium fortuitum or marinum, or complex wounds due to actinomycosis or mucormycosis). Once the wound is completely excised, it can be closed. Because the disease and the required surgery can be extensive or destructive, the defects will often meet the criteria for Integra closure (case E11). A particular benefit of Integra is that it closes the wound without any additional incisions or dissection for the sake of moving flaps or grafts. This is a crucial issue, because with these unusual pathogens, secondary surgical fields are always at risk for infection due to inoculation from the primary wound. There are also the occasional ulcers with granulomatous pathology of uncertain origin. After wound excision, Integra can help control residual inflammation leading to a healed wound (case E10).
Miscellaneous other disorders
Some ulcers are due to uncommon causes in minor categories. An example are the metabolic ulcers due to calcium disorders. Systemic calcinosis or calciphylaxis was discussed above as a micro-angiopathic entity, but there are also the calcium dystrophies. These include the likes of calcinosis cutis, calcifying panniculitis, pannicular ossification, and myositis ossificans, which once they become ulcerated are impossible to heal without complete excision. Integra is applicable because excision of these lesions is apt to result in large wounds with exposed musculoskeletal structures requiring deliberate closure (case E13). There are also a small number of chronic ulcers which defy accurate diagnosis. In a certain sense, the specific diagnosis does not matter. If underlying disease and risks can be identified, each needs to be treated or managed. Beyond that, the wound must be cared for according to principles of good wound management. Integra serves a vital role for the resolution of many of the more persistent, refractory, problematic chronic wounds, and its use is guided by the criteria in the "Rationale and Indications" section.
Adjunct
Integra is useful as a supporting modality for conventional surgery. A flap might be unequivocally the best thing for a given situation, but flaps can create secondary dilemmas which need their own solution. (1) A flap donor site might be large or mechanically noncompliant, impossible to repair directly. It then requires its own deliberate closure, and Integra can be used instead of traditional flaps and grafts. (2) A flap in intermediate stages of transfer has a bare underside. This needs its own care, it risks contraction and loss of flap extensibility as it heals, and it risks necrosis if it is improperly "tubed" under tension. The distal working part of the flap can also be an "unsatisfied end" that risks necrosis if, while under the vascular stress of a delay, it is left exposed and not inset. Integra is a very simple and effective way to close these open surfaces. It protects the flap from exposure and physiological stress, it halts scar and contraction, and it eliminates the typically cumbersome wound care that is required, all without any tension or additional insult to the flap. (3) One method of delaying a flap is to elevate it and then replace it in situ, waiting a few weeks for its circulation to adapt before trying to move it to the target. However, back in its original position, the deep surface starts to heal, and in so doing, scar and revascularization restore circulation to the way it was. This negates the delay, nullifying the hoped for vascular adaptation and jeopardizing the flap during subsequent transfer. By intercalating a barrier between the flap and its donor base, the two surfaces are kept separate. This allows the delay effect to occur, and it makes the second stage dissection and transfer much easier. Integra is ideal for this job. The silicone is the immediate barrier. Then, at the time of transfer, since flap delay and Integra regeneration times are roughly equal, the donor surface is ready to accept skin grafts and requires little other care. (4) Some reconstructions are necessarily complex due to local anatomy and mechanics, lack of adequately large flaps, or a need to minimize the amount of dissection. Integra is an ideal companion to flaps. A small, safe, dependable flap can be used where it is most crucially needed, allowing Integra to close the remaining areas of a complex wound. All of these four scenarios are regular events in plastic surgery, conventionally managed by secondary flaps, skin grafts, biological dressings, and topical care. Integra will often be better, simpler, safer, more effective, fewer complications, better tolerated by the patient. It should be used for these purposes whenever there is a need to simplify a complex reconstruction, protect an open or delayed flap, make the flap donor site easier to manage, or avoid secondary donor sites. (Cases F2, G4, I3).
Use of Integra, Discussion by Anatomy
Head, trunk, upper extremity
The number of chronic wounds on upper parts of the body is small compared to the lower extremity, and wounds here typically have far fewer problems. Integra is more likely to be used in these areas for trauma and reconstruction. Pathological wound healing impairments are less of a concern. Issues of exposed essential structures, biomechanics and scar, lack of suitable local flaps, the desire to limit donor sites, and simplification of care are more likely to be the motivations to use Integra. Results are dependably good. It even works well in vasculopathic hands associated with immune disorders or atherosclerosis. For certain select problems, such as the scalp and dorsum of the hand, Integra ought to be opted as the preferred reconstruction (discussed below). (Cases A4, B2, C1, C2, C3, E5, F1, F2, G2, G4, I2, I3).
Lower extremity
Most chronic wounds are on the lower extremity. Special circumstances and caveats apply when doing any reconstruction on the lower extremity, Integra or otherwise. Integra tends to mitigate pathology and inflammation, which is why it is effective when other treatments have failed, but the following issues must always be considered. Never overlook the possibility of concurrent arterial or venous disease, or any other combination of multiple risks, and treat each risk accordingly. Regeneration times may be prolonged, 6 to 7 weeks sometimes. Edema control and graft fixation are essential. Use splints or boots to control motion of joints or major tendons that are covered with Integra. Avoid pressure injury due to tight bandaging around the foot and ankle. Do whatever is required to protect the reconstruction, but do allow ambulation and preserve function as long as mechanical loads and strains on the graft are completely eliminated in responsible patients. Concurrent treatment of the underlying disorder must continue, depending on the status of the disease and complications of treatment.
Exposed structures
Conventional plastic surgery principles dictate that open bones, joints and bursa, tendons, viscera, and alloplastic materials all be covered with flaps, and that skin grafts and other materials can be, at best, only temporary biological dressings. As a skin substitute, Integra provides superior acute coverage of these structures. Then, by its ability to conduct histogenesis tangentially, it readily bridges these structures, even when they cannot support a conventional skin graft. Integra can close most instances of exposed structures (table 6c). It does so when flaps are not possible, without donor sites and donor morbidity, and without late revision. Since exposure of these structures is what prompts many surgeons to suggest amputation, Integra results in saved limbs. Notable points are the following.
Integra does well on living bone, cortical or cancellous, because healthy bone is capable of sourcing cells and circulation into the graft. If Integra over bone (or any other structure) turns black, it means that the subjacent bone is dead. Further tangential bone debridement and reapplication of Integra will succeed (case I5). Integra performs well over open joints, especially small joints of the hand and foot. Until healed, control of motion by splints or orthotics is essential. Integra performs well over tendons. It does especially well over small extensor tendons. Tendon diameter itself does not seem to be important, but the combination of size and length of excursion is, along with viability and adequacy of debridement. The peroneus tendons just above the malleolus and the tibialis anterior tendon across the ankle are most likely to require secondary coverage by flaps or new Integra. If Integra can control and heal a large complex wound to the point that only a small residual tendon exposure needs to be covered with a small safe flap, this is a clinical success for Integra. One of Integra's values is that it buys time for the surgeon and patient. It can protect a wound or structure while ancillary matters are stabilized or while a final flap is being delayed. If, while being used as an interim skin substitute, it regenerates and heals the wound, then any parallel plan of closure can be curtailed (case G3).
The following paragraphs detail the use of Integra for some select areas and anatomical problems. This is not a comprehensive list of clinical problems that Integra can solve. Rather, these items were selected because they arise frequently enough in practice, they are a natural fit for Integra, and various investigators have reported comparable good results. These are also all situations in which Integra outperforms the usual approaches to care, and Integra should be considered a preferred method of closure.
Scalp
Large scalp defects, with or without calvarial exposure, occur from disease, trauma, and surgery. Small defects, even up to 10 – 15 cm, are often best managed by simple topical care as the scalp contracts, a very dependable solution. For larger defects, conventional methods of closure are skin grafts, scalp flaps, shoulder and neck flaps, and free flaps. These all have drawbacks in terms of durability, donor sites, or risks and costs of the reconstruction. Many surgeons have reported on the exceptional ease, safety, dependability, and good results of using Integra on the scalp. Remember, Integra buys time. Even if later surgery is to be done for esthetic restoration of forehead or hairline, it can be done electively when all else is healed and healthy. The healed Integra will even accept hair transplant plugs. Integra should be considered a preferred choice when operative closure is required for large scalp defects.
Dorsum of hand
Integra was particularly effective for closing the dorsum of the hand. Large defects in this area are conventionally closed with groin, abdominal, and radial forearm flaps, free flaps, and skin grafts. These all have disadvantages related to staged flap transfers, temporary disabilities, difficulties with the aftercare, problematic donor sites, risk to the forearm and hand, contractures and deformities, and bulky flaps requiring staged reduction once healed. Full thickness skin grafts give outstanding results in this location, but donor skin may be limited, or exposed bones, joints, and tendons may limit their applicability. Integra results in a thin and compliant tissue comparable to normal dorsal hand skin. It does so with neither donor sites, nursing and functional problems, risk of flap necrosis, nor late revisions. Whether for trauma, chronic wounds, or elective reconstruction, Integra and full thickness skin grafts should both be considered the options of choice for restoring skin on the dorsum of the hand and wrist. Full thickness grafts are best suited for elective planned reconstructions (e.g., excision of a giant hairy nevus covering the entire dorsal hand and wrist), and Integra is best suited for trauma, burns, chronic wounds, or any situation where donor sites are insufficient or anatomy is complex. (Cases E5, G2, H4).
Visceral and alloplastic coverage
Visceral organs and alloplastic hardware are best closed by flaps, but when flaps are unavailable or patient risk contradicts their use, Integra does a remarkably good job of closing them, protecting them, and restoring new skin over them. Even if the intent is to eventually use a flap, Integra serves as high quality interim coverage, allowing the wound and patient time to stabilize, allowing the surgeon time to plan the definitive reconstruction and delay flaps. Any organ can in principle be closed with Integra (case I2). On an open thorax, it is a competent gas barrier which maintains an expanded lung as long as the silicone is undamaged (case G4). Its most common reported use along these lines is for closure of an open abdomen, and it can be used after trauma, compartment syndrome, congenital abdominal wall defects, tumor resection, and even fasciitis and peritonitis after adequate debridement and control of infection. In the author's one case of Integra over orthopedic hardware, the patient had had multiple wound complications which precluded major surgery until after diagnostic workup and related care. Integra was used as interim coverage, the plan being to use it either until other attempts could be made to close the wound, or until the fracture was sufficiently healed to permit removal of the hardware. The key to any management of this type is to stay ahead of separating silicone. To prevent premature exposure of the underlying structures, removal of old silicone and placement of a new sheet of Integra should be planned for every 4 weeks. In this one case, after three pieces of Integra, a lamina of new skin had formed tangentially, completely covering the plate and fracture, allowing the fracture to heal and obviating any other surgery of any kind (case G3).
Achilles tendon
Achilles tendon exposure is common, due to chronic venous or rheumatoid ulceration, arterial ulcers, pressure ulceration (usually with underlying arterial insufficiency), and complications of achilles rupture and surgery. Achilles ulcers are all manageable, with or without Integra. However, there is a general (mis)perception that they are difficult and refractory. It is true that wounds, flaps, and grafts do have real problems in this area. The ulcers often accompany vascular diseases and other high risk illnesses, and surgery may fail due to those comorbidities. Failed surgery, contractures, and reulceration can also result from motion. Large flaps can require late revision to accommodate activity and footwear. Skin grafts usually fail. However, the common notion that grafts categorically cannot heal over the achilles is erroneous. Failed grafts result from three manageable factors. Two are surgical errors, (1) exposed tendon surfaces may be dry and dead but they are not properly decorticated, and (2) motion is not adequately controlled. The third reason is physiological. Vascular density in this largely collagenous hypocellular structure is just what it needs to be for its own circumstances, but it may or may not be insufficient to support a skin graft. The value of Integra is that it is not alive, so it will not die while waiting for revascularization. Once the process begins, the biophysics of vasculogenesis ensure that sufficient vascularity develops. In the interim, Integra artificial skin protects the tendon and keeps it completely viable. Assuming that good wound preparation and debridement have been done, Integra will succeed where a skin graft might die. After it heals, the final result is thin like normal achilles skin, and it is more tolerant of local mechanics, avoiding later ulcers, contractures, and skin dystrophy. As a genuinely different paradigm of surgery, Integra circumvents, prevents, preempts, solves, and resolves the many factors that make achilles closure problematic. Barring extreme degrees of arterial insufficiency, Integra can be expected to do well over properly debrided achilles tendon. Along with small local reliable flaps that can be done in one stage when circumstances are good, Integra ought to be considered as the primary modality of achilles closure. (Cases A3, H1, H2, I5).
Heel
Every comment just made about the achilles is equally true for the heel, and the two often occur simultaneously. Calcaneal ulceration is almost always due to pressure in patients with arterial disease. Among inexpert "old school" surgeons whose first choice of care for any lower extremity wound in a diabetic or elderly patient is pre-emptive amputation, heel ulceration is one of the common inciting conditions. However, as with the achilles, heel ulcers are almost all manageable. Smaller ulcers up to 4 or 5 cm diameter in patients with sufficient arterial circulation will heal by contraction with topical care alone, and sometimes small local flaps are useful. Larger ulcers and lesser circulation make the problem more challenging, the wounds more prone to stall or fail, and flaps harder to find or more likely to die. If skin loss is large enough that the calcaneus projects posteriorly beyond the skin margins, closure by contraction is unlikely. Integra is used in these latter situations, where topical care only or simple one-stage procedures cannot be done. Placing it over a calcaneal ostectomy is easy, safe, and uniformly effective (barring extreme arterial disease). In cases where topical care alone will not work, Integra ought to be considered the primary option of surgical closure of the posterior heel. (Cases A5, E7, H2, I5).
Amputation and limb salvage
Integra can prevent amputations because it can solve difficult limb salvage problems where grafts and flaps will fail. Three general scenarios occur. (Scenario 1) Preventing peremptory amputation. Injury, infarction, or ulceration of an extremity are often automatically amputated by surgeons who do not know how to manage complex wounds and limb salvage. But rather than lose the entire extremity, these wounds can instead by managed and healed, with Integra having a central place in the schema of debridement and reconstruction (cases A5, E7, H2, I5). (Scenario 2) Preventing unnecessarily high amputation. When amputation is required, it can be kept at a low level, near the zone of debridement. Just because an otherwise satisfactory amputation results in insufficient skin and exposed structures, or the wound cannot support ordinary skin grafts, or there are no nearby flaps to close the wound, none of these justify carrying the amputation to a higher level. The wounds can be closed easily with Integra, preserving joints and limb segments. Preserving a midfoot rather than a below knee amputation, or keeping the knee rather than doing an above knee amputation are the typical situations. (cases A1, A4, E8, F1, F3). (Scenario 3) Avoiding progressive amputation. An amputation already performed may have complications (necrosis, ulceration, dehiscence, abscess) prompting the surgeon to do a higher level amputation. Conversion of a below knee to an above knee amputation is the typical event. As long as the problem is just a local wound complication, as opposed to complete necrosis of a limb segment, the wound can be managed like any other risky wound: debridement, good preparatory care, then closure with Integra (cases E5, E6, H3). Amputation scenarios generally imply arterial disease rather than an inflammatory pathology, meaning that Integra will have a high success rate in these situations (except with extreme ischemia). In all of these situations due to arterial disease, other components of care are equally mandatory: operative or endovascular revascularization, hyperbaric oxygen therapy for defined criteria, pressure relief, and general care of the patient. There are also the few patients who are not salvageable, or who would suffer more by prolonged care, and amputation should be done when it is clear that a patient meets these criteria.
TECHNIQUE AND MANAGEMENT
Technique and Management
Good outcomes with Integra are contingent on technique and details of management. The nominal methods of use are described in prior literature and in the package insert. This section discusses additional details especially relevant to its use in chronic wounds.
Control disease and prepare wound
All chronic wound patients must have accurate diagnosis and treatment of underlying disease and risks. There must be thorough pre-operative management of inflammation, ulceration, edema, debris, and bioburden, controlled as thoroughly as the disease and available treatments permit. Integra can control some residual pathological inflammation, but to ignore proper wound preparation invites abscess and loss of the material. The most common preparatory treatment profile for patients in the author's practice is twice daily hygiene and silver sulfadiazine dressings, edema control by elastic or multilayer bandaging, periodic examination and minor debridement, and incidental therapies related to individual diagnoses.
Excise wound
Regardless of how well the wound has been prepared and how healthy it looks, Integra must not be placed on an existing wound surface. Not only does this risk infection, but if Integra is placed on a proliferative wound module of cells already committed to conventional inflammatory fibrous repair, the full late phase benefits of a compliant scarless tissue will not be realized. At the time of surgery, the entire existing wound must be completely excised. If anatomical circumstances preclude safe excision (e.g. the wound is on open internal organs), then thorough curettage should be done to remove all "granulation tissue". Integra is a surgical implant, not a wound dressing, and it must be accorded due respect. (figure 62, case I4)
Forms and availability
The original product, packaged in isopropyl alcohol, is available in three rectangular sizes, 4x5, 4x10, and 8x10 inches. As much as is needed can be opened and applied to cover the prepared wound after first rinsing out the alcohol. A new package using only electrolyte buffer is recently available. If needed, the Integra sponge can be gently scraped from the silicone and used by itself for extra thickness or bulk filling in small bursas or cavities.
Antibiotics
Infections are a potential complication, but if Integra is properly managed, they are avoidable. Prophylactic antibiotics are used by many surgeons, either as part of the preliminary rinse or impregnated into the sponge after the rinses are complete (table 2), supplemented by several days of oral antibiotics. Low, nearly zero infection rates are due predominantly to good pre-operative preparation, complete excision of the wound, and good fixation and compression of the graft. Whether antibiotics are useful or not is a matter of faith, but they are a cheap and safe hedge against an undesirable complication.
Table 2: Antibiotic usage

(all values in µg/ml)

Vancomycin

Gentamicin

Patient A

vancomycin 3000 mg

gentamicin 720 mg

5 hours

< 2

0.90

14 hours

< 2

0.43

Patient B

vancomycin 8000 mg

gentamicin 1920 mg

15 hours

4

1.07

Patient C

vancomycin 4000 mg

gentamicin 960 mg

4 hours

11.8

0.96

Normal Values

peak

15 – 35

4 - 8

trough

< 10

< 2

       

Table 2

If antibiotics are impregnated into the sponge, the choice of drug is arbitrary and "dealer's choice". The investigator's practice has been to use a standard mix of 1 gm vancomycin dissolved in 3 vials of gentamicin solution (6 cc's, 240 mg) applied to each Integra sheet (4 x 10 or 8 x 10 inches) after rinsing. This mixture was chosen based on its antimicrobial spectrum and the simple reality that these are the drugs stocked in the operating rooms where the author practices. This practice has been safe, as measured by serum drug levels. Representative patient A had closure of the leg for extensive rheumatoid ulceration (750 sq cm Integra), and patients B and C had dermatofasciectomy of the leg for primary lymphedema (2000 sq cm Integra). The total "dose" is indicated. Serum drug levels were measured at the indicated times after surgery. Serum drug levels remain low, at or below normal therapeutic trough levels. There have been no instances of oto- nor nephrotoxicity, but the practice ought to be amended in the face of renal insufficiency. It seems that the Integra is either binding or sequestering the drugs, presumably maintaining high local concentrations without significant systemic exposure. This discussion does not advocate a specific formula or choice of drugs, but simply demonstrates that the practice is safe.
Application to wound
The Integra must conform to and contact the wound surface. Tension within the material will shear the sponge from the silicone, so the material must not be stretched. The material as is is sufficiently deformable to let it conform to most wound surfaces, but it can be folded, pleated, darted, and mosaicized in any way desired so that unstrained material is everywhere in contact with the wound. It can be affixed with sutures, staples, or any suitable alternative. Some surgeons have reported good success using fibrin glues to cement the product on the wound.
Fixation and compression
Fixation and compression are of paramount importance. The principles and art are no different than for affixing any skin graft. The goal is to ensure that the material adheres to the wound without shear, and that hematomas and seromas do not accumulate. Depending on circumstances, the common methods of graft fixation and compression are elastic bandages, padded "tie-over" dressings, and vacuum devices. Joint immobilization and mechanical offloading are achieved with splints, boots, various other orthotics, and even interphalangeal pins or other hardware fixation as needed. Activities and lifestyle are permitted to the extent that splinting and edema control can be maintained.
Interim management & observation
If disease has been controlled, the wound properly prepared and excised, and the graft properly fixated, then post-operative care and concerns are minimum. Because histogenesis is observable through the silicone, it is necessary to periodically examine the graft. Examinations are typically done at one week intervals, consisting of unwrapping and then rewrapping new compression bandages. If there are no problems with the graft or the dressings, intervals of 2-3 weeks suffice. When the graft is fully opacified with new tissue, skin grafts are ready to be placed. The time from placement of Integra until placement of skin grafts averages 3 weeks for upper body trauma reconstructions in young healthy people. For chronic pathological ulcers of the lower extremity in older patients, Integra-to-skin graft intervals average 5 – 6 weeks depending on severity of illness (table 7a).
Separated silicone
When Integra is regenerated, tissue filling the sponge dislodges the silicone overlayer. The nominal usage of Integra is to place skin grafts when histogenesis is complete, but before the silicone separates. If silicone does separate before grafts are placed, this is almost always of no adverse consequence. Blistering of the silicone is irrelevant, but if it opens onto an edge, then some minor inflammation and benign sub-silicone abscess can result. Simply removing the silicone and instituting regular daily hygienic topical care will keep the regenerated Integra healthy and ready for the skin grafts. This will not affect whether the wound heals, although it does risk getting some inflammatory wound module and scar. What is more common is ejection due to benign foreign body reaction against the silicone, which should not be confused with acute inflammation or infection, and which will not jeopardize the skin grafts (figure 7k).
Overgrafts
When dermatogenesis is complete, the silicone is lifted, and thin epidermal autografts are placed on the "neodermis". These skin grafts are managed as any other, but thin grafts are typically used (3 – 8 thousandths of an inch), trying to minimize the amount of mature dermis which is transplanted, and minimizing donor site problems in these at-risk patients. Customary skin graft care is practiced. Small remaining bare areas will epithelialize naturally, and in healthy wounds and patients, grafts are usually healed within 2 – 8 weeks of placement. For chronic problem wounds, epithelium is sometimes difficult to cultivate on top of otherwise healthy Integra, and complete epidermal healing times can be several months (table 7a). This can be a frustration, but it is usually an acceptable one because much of the skin graft has taken, residual open areas tend to be small, and the patients are already much improved. If the Integra is open by circumstances of premature silicone separation or failure of the skin grafts, then one must choose between continued topical care, adjuvant therapies such as platelet-derived growth factor, or new skin grafts. Regenerated Integra is inherently healthy, a "naked dermis" which is effectively closing native tissues underneath. With some basic hygienic care, it can remain open like any other wound. An oft asked question is whether the initial skin grafts need to be placed at all. They are a qualified necessity. Left ungrafted, regenerated Integra will either epithelialize from the margins, or it will not. In healthy wounds and patients, epithelial ingrowth can and does happen, and for smaller wounds, this can be opted in lieu of operative skin grafts 23. For large wounds, anything more than a few centimeters, and for complex or pathological wounds, operative skin grafting is required if results are to be best and the duration of care optimized. Whatever choices are made, it must be remembered that regenerated Integra is a mesodermal structure, and until epithelialized, some kind of active care will always be required.
Planned second Integra
If an Integra reconstruction does mostly well, but there are some unhealed areas, a secondary procedure can be done, usually small flaps or another piece of Integra. However, there are also circumstances in which using multiple sequential pieces of Integra is part of the a priori treatment plan. Situations which warrant this include: using Integra as a long duration artificial skin, replacing a fresh piece before silicone separates on the first piece; maintaining uninterrupted coverage while waiting for tangential histogenesis to bridge a gap; needing a thicker (multiple) layer of regenerated tissue. (Cases A3, G3, G4, H4, I6).
Secondary procedures
With any skin graft, it is common for there to be small scattered open areas which require further topical care as the wounds fully reepithelialize. Typically just a tiny fraction of the total reconstructed surface, these areas heal within a few weeks in healthy patients and wounds, and Integra skin grafts are no different than ordinary skin grafts in this regard. However, for chronic wounds, although Integra fully succeeds in 90 – 95% of properly selected patients, the nominal pathway of "Integra – skin graft – quickly healed" occurs in only 20 – 25% of these patients. The other patients require some additional care, either prolonged topical care of several months duration, a second set of skin grafts, or some new Integra or local flaps to close focal small areas. Nearly all of this secondary care is supplemental to the original reconstruction in patients mostly healed and doing well rather than a bailout from the original plan in patients doing poorly. There are no hard rules about when to do another procedure. Whenever it becomes clear that the current situation will not improve further with topical care only, then a follow-up procedure should be done. (Cases D4, D5, E3, I5).
Ancillary therapies
When more prolonged care is required to get the skin overgrafts completely healed, mostly this is just ordinary topical care with hygienic products. However, several therapies with wound stimulatory effects can be opted to promote or accelerate complete healing in these delayed wounds. Platelet-derived growth factor (PDGF, recombinant human PDGF-BB, becaplermin, Regranex®, Ortho-McNeil, Raritan, New Jersey, USA) seems to be particularly effective at forcing complete reepithelialization of otherwise healthy regenerated Integra (however, it must be used cautiously in patients with immunopathic disorders, because it can have a contrary ulcerative effect). Apligraf (neonatal living skin equivalent, Organogenesis, Canton, Massachusetts, USA) and comparable living devices can have a similar effect. Hyperbaric oxygen therapy may be worthwhile for a very limited set of indications, namely those patients with severe macro- or micro-arterial insufficiency, and in particular, those who have low transcutaneous oxygen tensions which increase while breathing 1 atmosphere 100% oxygen. Custom orthotics for control of motion and edema may be required in select situations, and all other ordinary modalities of post-operative care and wound care must be maintained. Management of the underlying diseases must continue unabated. (Cases D3, E5, E6, F4).
Long term management
Integra maturation is that period of a few months in which the regenerated matrix is consolidating to uniform histology and full tensile strength is developing. Until then, minor trauma can cause tangential avulsion lacerations of the reconstructed tissue. Simple protective wraps and continued edema control are desirable until the new skin is no longer fragile. Underlying diseases and disabilities require continuing management, regardless of whether Integra or any other method was used to heal the wound.
Logistics
Integra and skin grafts are formal procedures conducted in the operating room. Unless a patient's underlying disease or the complexity of a particular problem or operation warrants inpatient care, all management can and should be done as an outpatient. Skin graft timing is judged by how thoroughly regenerated the matrix appears. However, actual intervals are influenced as much by the realities of outpatient services and surgery scheduling, but there is sufficient latitude in the timing of the grafts to accommodate reality. Most patients are not significantly disabled by the required dressings, splints, and aftercare, and most can carry on with ordinary activities of daily living at home. It is most important to realize that the cumulative time required to complete an Integra reconstruction is anything but trivial. None of the methods of using Integra are difficult or arcane, and 4-6 weeks of intrinsic matrix regeneration time may not seem very long, yet until that last little square centimeter is epithelialized, active care must continue. Not surprisingly, time-to-completion is much less for trauma wounds in young healthy people, but for chronic and pathological wounds, treatment averages 5-6 months for most diagnoses, and as much as 10 months for radiation and immunopathic disorders. Physicians who do not regularly treat chronic wounds must appreciate these times and not become anxious nor lose interest. The logistics of an Integra reconstruction, compared to conventional surgery, are really just mirroring the biology of its regeneration. Recall that normal inflammatory wound healing works quickly, over days to weeks, but it leaves a wake of scar related complications that may require months or years of disability or future care. Integra occupies the middle ground, regenerating and healing, and requiring care, over weeks to months. However, once it is healed, it rarely needs further attention nor late revision. Fortunately, although these treatment intervals may seem long to physicians who are anxious to see good results, they are accepted by most patients because (1) the ulcer itself has been present for months or years, (2) they are already used to the idea of needing daily care, (3) once Integra is placed, symptoms, progressive disease, and various disabilities resolve, so function, lifestyle, and peace of mind are improved for most patients, (4) most of the prolonged care is for small unepithelialized but otherwise stable areas, and the patients have long since returned to otherwise normal healthy activities, and (5) Integra is succeeding where all else had failed.
Complications and problems
With proper wound preparation, excision of the wound, and graft fixation, complication rates should be low. Acute hematomas and loss of adhesion due to motion are avoidable and can be easily managed by evacuation, better fixation, and a new piece of Integra if needed. If regenerated Integra ejects the silicone before skin grafts are placed, it is managed topically as already discussed. In these circumstances, the original wound is healed under the Integra, and what happens on the superficial surface is of no great concern. If silicone separates prematurely before the sponge is regenerated, this too is managed by customary daily hygiene and wound care until skin grafts can be placed. In these situations, as long as the Integra sponge remains healthy, primary disease and inflammation are kept under control, and good daily care of the wound is maintained, the Integra will continue to regenerate. Occasionally, silicone separates in limited areas, with turbid milky exudates in the resulting blisters. Whatever the cause of these seemingly sterile abscesses (foreign body giant cell reaction under the silicone is the cause in some cases), they are usually not accompanied by pain, erythema, nor destruction of the regenerated matrix. Local silicone removal and good daily care preserves the matrix, and skin grafts typically do take in these areas. True infection, manifested as intense inflammation, pain, suppuration, and loss of the material, should be very infrequent if the wound is properly prepared and excised, edema controlled, and the graft effectively fixated. The management of lost or delayed skin grafts is discussed above.
Open Integra
It should be clear that, while loss of silicone or epithelium is not the preferred pathway, it is no catastrophe, and the reconstructed new dermis can be safely managed without the silicone. A consistent observation is that even when regenerated Integra remains unepithelialized, the wound and periwound tissues remain free of inflammation, pain, further necrosis and ulceration, and all evidence of the original problem (as long as the underlying diseases are also adequately treated). Thus, even unepithelialized "naked dermis" Integra is therapeutic, and it is far more tolerable to patients than the original wound was, sometimes even perfectly acceptable. (Case D6, E3, F4).
Failed Integra
A core concept about Integra is that it works well for pathological wounds where conventional repairs are likely to fail. This means that Integra is regularly being challenged by proverbial "poor protoplasm". Yet assuming that patients are correctly diagnosed, thoroughly treated, that the wound is properly prepared, and that good care continues after surgery, Integra usually succeeds. However, there are the few times when it simply fails. Failure comes in several forms. (1) "Gangrene" of the matrix. When Integra covers non-viable tissues it turns black, a sure sign of residual undebrided eschar (cases G4 and I5) or of extreme arterial insufficiency. (2) Failure to regenerate. Areas of the matrix can persist as is, without evidence of histogenesis. Usually just patchy, this seems to correlate with general debility or advanced illness. (3) Early lysis or ulceration. Matrix which appears to have regenerated can suddenly ulcerate or involute, either before or soon after skin grafting. This is a dependable marker of underlying disease flaring up, typically immunopathic or hematological disorders, and it may be accompanied by new ulcers in previously uninvolved skin. While Integra can help control or resist active disease and may be more resilient than native local tissues, it is not a cure for these diseases and it is not invulnerable. If the flare is severe, matrix regenerated tissue can reulcerate. (4) Failure to accept or support skin grafts. Many practitioners have observed the "disappearing skin graft" phenomenon in which a first set of skin grafts adheres and then dissolves. Second skin grafts usually succeed. The problem is when Integra remains persistently open after several grafts. Surprisingly, in the author's practice, this has occurred almost exclusively in a few younger patients (less than 40 years old), on the lower extremity, where status of the wound waxed and waned with activity. Patient compliance with restricted activities, leg elevation, and good compression seem to favorably influence this problem. (5) Conversion to a conventional wound with inflammatory healing. This is a combination of the above situations. If grafts do not adhere and disease takes over, the open Integra eventually reverts to an ordinary wound. (6) Late ulceration. Integra which has completely healed might reulcerate if disease or maintenance care get out of control (case I4). If it already healed once, it should be easy to get an incipient new lesion rehealed with good hygiene, compression, anti-inflammatory control, and other basic care. In all of these situations, the problem is not inherent to the matrix, but reflects problems with disease and patient and their management. When these events do occur, the following should be done: reestablish good daily wound care; reassess patient and disease status; intensify treatment of underlying disease if needed; check to make sure that arterial vascular status has not changed during the course of treatment; perform further debridement as needed; rethink the overall treatment plan; when wound and disease are again under control, try again for closure, with new Integra or by other means depending on the new plans.
Caveats and contraindications
There are no formal contraindications to Integra. Used correctly, it is categorically safe and does not jeopardize tissue, limb, or life. Even if treatment plans change along the way, it always earns its keep as a good interim artificial skin in advance of any other reconstruction. The main reason not to use it is that a problem can be solved more expeditiously by conventional means. Relative indications for Integra are presented above. The inverse is true, if those conditions do not exist, Integra is not necessary. If underlying structures are not exposed, if disease and risks are easily or fully controlled, if dependable flaps are present, if prior conventional procedures were uncomplicated, if a preliminary period of observation and topical care show that the wound is wound healing competent, then conventional management and surgery should be done. All decisions should be predicated on the goals of controlling disease and symptoms, healing the wound, doing so as quickly and efficiently as possible with minimized costs and resource utilization, all while preserving function and lifestyle. Whatever treatment can be anticipated to best fulfill these goals should be selected. The great majority of wounds are best managed by ordinary means (case I7). Integra is used for those large, life-threatening, complex, pathological, or refractory problems for which customary methods of care have not or will not work.
REVIEW OF EXPERIENCE
In the preceding sections, many of the statements about outcomes, incidence, duration, and other quantitative information were based on data compiled from the author's own practice. This section will summarize some of that data for a clearer understanding of the patients and problems suitable for treatment with Integra and a realistic picture of management and outcomes.
The data summarized here reflect a 72 month study interval in which Integra was used in a total of 132 patients 24. It was used for chronic wounds in 111 patients, the subjects of the tables and discussion below. In 107 of those patients having 158 individual ulcers, Integra was used to directly close the wounds. In the other 4 patients with 7 lesions, Integra was an adjunct to chronic wound surgery, used mainly to close donor sites when flaps were used for the primary closure. Among the 111 patients with 165 ulcers, there were 173 instances of exposed skeletal or visceral structures which, under the conventional rules of plastic surgery, would have required flaps for closure. The first set of tables profiles all 111 patients with 165 ulcers and 173 exposed structures. The second set of tables presents outcomes, limited to the 103 patients with 151 ulcers and 166 exposed structures who concluded care and had complete data.
Patients and Ulcers
Table 3. Patient profiles and ulcer history
Diagnostic category

Primary diagnosis

Male

::

Female

Age,

range

Age,

mean

Duration of ulcers,

less than 2 years

MONTHS

Duration of ulcers,

greater than 2 years

YEARS

Prior failed procedures

% of

all 111 patients

%

years

years

% of

all pts

mean

± std

range

% of

all pts

mean

± std

range

% of patients

per category

Macro-arterial

24

67::33

42-83

68

14

4

1 – 11

2

2

- - -

11

Immunopathic

19

19::81

29-86

65

15

6

3 – 8

3

22

3 – 40

19

Venous / lymphatic

16

72::28

32-86

67

10

9

3 – 14

10

16 ± 13

2 – 40

44

Hypercoagulable

8

11::89

34-80

58

7

6

3 – 11

3

7

2 – 12

33

Mechanical / anatomical

7

37::63

16-90

59

3

5

2 – 7

3

23

2 – 44

38

Radiation / malignancy

6

0::100

21-93

67

3

16

14-18

- - -

- - -

- - -

43

Diabetes / neuropathy

5

100::0

51-67

56

3

12

3 – 21

- - -

- - -

- - -

40

Unknown

4

0::100

36-76

54

7

7

1 – 11

2

2

- - -

80

Micro-occlusive

3

0::100

45-72

62

2

15

- - -

2

3

- - -

33

Trauma and surgery

2

50::50

39-66

53

2

2

- - -

- - -

- - -

- - -

0

Granulomatous-infectious

2

50::50

37-56

47

- - -

- - -

- - -

2

19

- - -

50

Total, chronic

107 patients,

158 ulcers

96

43::57

16 – 93

64

66

7 ± 5

1 - 21

27

14 ± 15

2 – 44

30

Adjunct to chronic wound surgery

4

50::50

6 – 66

33

7

1

0 - 4

- - -

- - -

- - -

25

Total patients in study

111 patients,

165 ulcers

100

43::57

6 – 93

63

73

6 ± 5

0 - 21

27

14 ± 15

2 - 44

30
Table 3, data: patient profiles and ulcer history
These are the profiles of the 111 chronic wound patients and their ulcer history, stratified by diagnostic category. Many patients had multiple risks or diagnoses. Typically one diagnosis predominated as the most immediate or problematic factor, designated the "primary diagnosis". There were 90 instances of secondary diagnoses (for example, some of the rheumatoid and all of the diabetic patients also had atherosclerotic arterial insufficiency, and some venous patients had a hypercoagulable disorder responsible for their original venous thrombosis). Individual diagnoses within categories were diverse (examples, immunopathic: rheumatoid, lupus, Sjögren's, polymyalgia rheumatica, Wegener's granulomatosis, pyoderma gangrenosum, CREST; hypercoagulable: protein C, protein S, antithrombin-III, fibrinogen, anticardiolipin, plasminogen, homocysteine; micro-occlusive: polycythemia vera, hyperparathyroidism-calciphylaxis). The diagnostic categories are ranked in order of incidence, and sex and age distributions are given for each. Histories of less than two years duration are listed in months, longer histories in years. Also listed is the percentage of patients who had one or more failed prior procedures for those ulcers.
Table 3, analysis
These 111 are a small fraction of all patients in the author's practice during 6 years, reflecting that Integra was not used indiscriminately, neither for its novelty nor any other unconsidered reason. All patients were treated according to some disciplined schema for the evaluation and treatment of chronic wounds, with Integra opted based upon certain consistent criteria. For example, for each venous patient treated with Integra, many more were treated by compression, topical modalities, skin grafts, venous interruption, and other conventional care. Integra was used only for selective reasons as detailed in the indications sections above. These 111 patients represent the extreme of multiple risk factors, prolonged refractory disease, failed procedures, and anatomical complexities. The ranking of the data portrays the frequency with which certain diagnoses will create problems manageable with Integra, with arterial, immunopathic, venous, and hypercoagulable disorders predominating. This should be no surprise, because these are the diagnoses most likely to fail topical care and defy conventional surgery. The low incidence of prior procedures for atherosclerotic macro-arterial ulcers is also no surprise, because failed prior surgery in these patients implies a subsequent amputation, and most such patients never have the chance to come for limb salvage consultation and care.
Table 4a. Ulcer anatomy, site
Diagnostic category

Primary diagnosis

Location and number of ulcers

Location of ulcers

Instances

% of all

111 patients

Head

& trunk

% of all

165 ulcers

Upper extremity

% of all

165 ulcers

Lower extremity

% of all

165 ulcers

detailed

% of all

165 ulcers

Macro-arterial

24

- - -

1

19

Total, head & trunk

8

Immunopathic

19

- - -

- - -

25

Head

1

Venous / lymphatic

16

- - -

- - -

13

Back

5

Hypercoagulable

8

- - -

1

10

Abdomen

1

Mechanical / anatomical

7

1

1

7

Chest

1

Radiation / malignancy

6

3

- - -

1

Total, upper extremity

6

Diabetes / neuropathy

5

- - -

- - -

3

Hand / wrist

4

Unknown

4

- - -

1

2

Forearm

1

Micro-occlusive

3

- - -

1

2

Total, lower extremity

86

Trauma and surgery

2

- - -

1

1

Thigh

6

Granulomatous / infectious

2

1

- - -

2

Leg

34

Total, chronic

96

5

6

85

Ankle

26

Adjunct to chronic wound surgery

4

3

- - -

1

Foot

20

Total patients in study

100

8

6

86

Total ulcers

100
Table 4a, data: ulcer anatomy - site
This table details ulcer location. The left side panels correlate general location with primary diagnosis. Values for each site are stated as percentage of all ulcers. The right side of the table is not correlated with diagnosis, but rather gives a more detailed profile of ulcer location, instances listed as percentage of all 165 ulcers.
Table 4b. Ulcer anatomy, complications
Diagnostic category

Primary diagnosis

Anatomical

complications

Anatomical complication

Instances

Structures exposed

% of all

111 patients

% of patients

per category

detailed

% of all

173 ulcers

Macro-arterial

24

74

Total open bone

36

Immunopathic

19

76

Cortical

16

sternum, ribs, tibia, fibula, malleoli, calcaneus, tarsals, metatarsals, phalanges

Venous / lymphatic

16

72

Cancellous

20

sacrum, tibia, fibula, malleoli, calcaneus, tarsal, metatarsals, phalanges (hand & foot)

Hypercoagulable

8

56

Total open joints

14

Mechanical / anatomical

7

88

Major

5

tibiotalar, talofibular

Radiation / malignancy

6

100

Minor

9

metacarpophalangeal, intertarsal, tarso-metatarsal, metatarso-phalangeal, interphalangeal

Diabetes / neuropathy

5

100

Total open tendons

48

Unknown

4

40

Major

42

finger & wrist extensors, achilles, tibialis anterior, tibialis posterior, peroneus longus & brevis, extrinsic toe extensors

Micro-occlusive

3

33

Minor

6

extensor digitorum brevis, intrinsic & distal toe flexors

Trauma and surgery

2

100

Total others

2

Granulomatous / infectious

2

50

Internal organs

1

lung, kidney

Total, chronic

96

74

Alloplastic materials

1

metal plate (distal tibia fracture)

Adjunct to chronic wound surgery

4

0

Total patients in study

100

71

Total exposed structures

100
Table 4b, data: ulcer anatomy – complications
This table details "anatomical complications", referring to exposure of internal structures. The 173 instances of exposure occurred in 111 individual ulcers ( 67% of all ulcers) in 78 patients (71% of all patients). The left side panels list incidence as percentage of the patients in each diagnostic category who had such complications. The right side panels (not correlated with diagnosis) give a detailed profile of the exposed structures, incidence listed as percentage of the 173 structures exposed. Exposed bone is partitioned by cortical bone only versus cancellous bone exposed by disease, debridement, or ostectomy. "Open joint" refers explicitly to joints having an arthrotomy, loss of joint capsule and synovium, and exposure of the joint space, due to either disease or debridement. Major / minor tendons are classed based on physical size or functional significance. Grouped tendons such as finger and toe extensors are counted only once for each instance, even when multiple individual tendons were exposed. Many instances of exposed minor tendons, joint capsules, and retinacular ligaments were not tabulated, because while flaps are often used for their closure, flaps would not have been considered categorically necessary. Many pieces of Integra were applied directly to large areas of muscle where the results are dependably good. Coverage of viscera and hardware are presented in the case studies (cases G3, G4, I2).
Table 4, analysis
The anatomical distribution of these lesions is as one would expect, with the major ulcerative pathologies (arterial, immunopathic, venous, and hypercoagulable disorders) causing mostly leg and foot ulcers, and other diagnoses having more generalized distributions. The incidence of exposed skeletal and visceral structures is high, reflecting in part the destructive effects of these underlying disorders on skin and fascias. However, these values are exaggerated compared to the natural incidence of these situations. This is because the patients in this study were selected for Integra precisely because of these anatomical conditions. These are the situations where closure by conventional means is unreliable, where Integra is dependably effective and of low risk.
Outcomes
Table 5. Outcomes, by outcome category
Outcomes, detailed

1

healed

% of all

103 patients

2

incomplete

% of all

103 patients

3

failed

% of all

103 patients

1a Prescribed reconstruction, nominal, healed

22

1b Topical care to complete epithelialization

10

1c Second skin grafts

25

1d Second Integra

14

2a Secondary flaps or grafts

14

2b Pathology controlled

3

2c Persistent open Integra

3

3a Loss or failure of Integra

3

3b Persistence of wound or continued pathology

1

3c Amputation

5

Totals

71

20

9
Table 5, data: outcomes - outcome category
Outcomes in 103 patients are divided into three groups. Group 1 "healed" patients were completely healed by Integra, subdivided into 4 categories: 1a - the nominal uncomplicated reconstruction (excise wound, place Integra, place skin grafts when regenerated, healed); 1b - the nominal reconstruction, but persistent open areas after the epidermal overgrafts required more than 6 weeks of care, including additional topical modalities such as platelet derived growth factor; 1c - incomplete take or delayed reepithelialization of the first skin grafts prompted a second skin graft over the original Integra; 1d - residual open areas or lost Integra were successfully closed with a second application of Integra and subsequent skin grafts. Group 2 "incomplete" patients all had successful Integra-dependent outcomes, but Integra alone did not fully heal the wound: 2a - conventional flaps or skin grafts were used to complete closure of small areas where Integra did not heal; 2b - Integra created a healthy stable wound, free of active pathology and ulceration, permitting the wound to be healed with subsequent flaps or grafts that replaced areas of unepithelialized Integra; 2c - same circumstances as 2b, but remaining open Integra, stable and asymptomatic, was left open for chronic topical wound care. Group 3 were failures: 3a - loss or failure of the Integra with a persistent wound; 3b – persistent or progressive ulcerative wound pathology; 3c - failure of the reconstruction leading to amputation.
Table 5, analysis
Integra successfully closed all wounds in 71% of the patients. In 20% of patients, Integra contributed to a successful outcome, supplemented by other operations. Integra failed to close the wound or resolve the clinical problem in 9% of patients. Integra actually performed properly in nearly 100% of patients. There were a few patients with extreme degrees of arterial insufficiency in whom Integra failed to adhere or regenerate to any degree whatsoever. In all other "incomplete" or "failure" patients, adherence and regeneration of the matrix occurred, but with patchy loss or failure due to conditions of disease and patient compliance. Even in some of the "failure" patients, there was nearly complete healing of the Integra and skin grafts. These cases were designated "failures" because there was an eventual amputation, and Integra ultimately contributed nothing to the final outcome. This was notably in the diabetics with plantar ulceration, where failure was due to noncompliance with prescribed care rather than any deficiency of the Integra (case D7). Integra is safe, and potential minor complications, as detailed in the "Techniques and Management" section, are no different than the nuisance issues that arise with all chronic wound care. Miscellaneous events of this nature did occur, but were all managed in the daily course of care, and they did not significantly influence outcomes. The only notable adverse event was one infection under one sheet of Integra (pain, fever, suppuration, periwound erythema, lysis of the Integra), in a patient with high grade arterial insufficiency and active rheumatoid arthritis.
Table 6a. Outcomes, by diagnosis
Diagnostic category

1

fully

healed

% of patients

per category

2m

mostly healed

( > 2/3 )

% of patients

per category

2p

partly healed

( < 2/3 )

% of patients

per category

3

failed

% of patients

per category

Macro-arterial

58

8

16

18

Immunopathic

74

16

5

5

Venous / lymphedema

88

- - -

6

6

Hypercoagulable

86

- - -

14

0

Mechanical / anatomical

88

12

- - -

0

Radiation / malignancy

72

28

- - -

0

Diabetes / neuropathy

0

20

40

40

Unknown

60

20

20

0

Micro-occlusive

100

- - -

- - -

0

Trauma / surgery

100

- - -

- - -

0

Granulomatous / infectious

50

50

- - -

0

Adjunct

100

- - -

- - -

0

Total

71

10

10

9
Table 6a, data: outcomes – diagnosis
In this table, the three general outcome categories (healed, incomplete, failed) are stratified by diagnosis. It was obvious in the review of data that among the Group 2 "incomplete" patients, there were two subpopulations. Some did extremely well, qualifying as incomplete only on minor technicalities, and healing after some accessory surgery (cases D5, F1), whereas some had deficiencies which remained unhealed or required a different strategy for subsequent care (case D6). Within this group, this partition of better or worse outcomes correlated with the degree to which the original skin grafts healed, greater than or less than two thirds of the original wound area. In this and the next table, the "incomplete" Group 2 is subdivided into "mostly healed" and "partly healed" based on this discriminator. In this and the next two tables, data are presented as percent of patients per category, so that on each row, all values sum to 100%.
Table 6b. Outcomes, by site
Location

1

fully

healed

% of patients

per category

2m

mostly healed

( > 2/3 )

% of patients

per category

2p

partly healed

( < 2/3 )

% of patients

per category

3

failed

% of patients

per category

Upper extremity

60

20

20

- - -

Head and trunk

80

20

- - -

- - -

Thigh

25

25

- - -

50

Leg

72

4

16

8

Ankle

82

5

5

8

Foot

42

17

24

17

Lower extremity, multiple

80

12

4

4

Total

71

10

10

9
Table 6b, data: outcomes – site
This table is comparable to the preceding one, with general outcomes correlated against anatomical location rather than underlying diagnosis. All instances of multiple ulcers (151 ulcers in 103 patients) were on the lower extremity, e.g. leg and ankle, or leg and foot. Because this table describes outcomes by patient rather than outcomes by ulcer, a new "multiple" entry refers to patients that had ulcers at more than just one of the sites listed in the other rows.
Table 6a, b, analysis
Outcomes based on diagnosis were meaningful. The lowest success rates and the highest failure rates were among patients with arterial insufficiency and diabetic neuropathy. Outcomes by site show that the foot was a poor performer compared to most other locations. However, data from tables 3 and 4a remind that there were many arterial and foot ulcers treated. The implications of this experience are very clear. As already discussed in the "Uses of Integra" section, Integra not only performs well when arterial insufficiency is mild to moderate, it can be the only practical modality that can ensure success in these circumstances. However, when arterial insufficiency is extreme, as it was in some of these patients, Integra will fail. Proper patient selection is therefore important if unnecessary failed procedures are to be avoided in advance of inevitable amputation. Ankle-brachial indices of 0.2 – 0.3, and TcpO2's below 10 torr without a response to oxygen challenge are criteria by which these judgments can be made. Integra likewise performs very nicely on the foot, salvaging many extremities that all too often are peremptorily and unnecessarily amputated. The foot is a challenge, but it is not per se the problem. Non-compliant middle-aged ambulatory neuropathic diabetic patients are the problem, and a lesson learned is that it is best not to waste resources attempting to use Integra to resolve diabetic plantar ulcers.
Table 6c. Outcomes, closure of internal structures
Circumstance

Closure by

Integra

% of patients

per category

Closure by secondary surgery

Flaps or grafts

% of patients

per category

Amputation or unresolved

% of patients

per category

Open bone, cortical

89

4

7

Open bone, cancellous

94

3

3

Open joints, major

74

13

13

Open joints, minor

87

13

- - -

Open tendons, major

93

5

2

Open tendons, minor

80

20

- - -

Open internal organs

100

- - -

- - -

Open hardware

100

- - -

- - -

Totals

90

6

4
Table 6c, data: outcomes - closure of internal structures
This table documents outcomes for the closure of 166 exposed structures. The three columns are simply the three outcome categories retitled to reflect the means of resolution: closure of the structure by healed Integra (healed), closure by a secondary flap or graft (incomplete), or unresolved, including amputation (failed).
Table 6c, analysis. Of the 166 instances of exposed structures, 90% were successfully closed by Integra. For 6%, secondary surgery was required for eventual closure, but Integra functioned as a competent artificial skin, keeping those structures safe, thereby permitting late closure and salvage. Only 4% of these structures were not closed by Integra and were eliminated by later debridement or amputation. Each one of these salvaged structures would have required flaps according to the usual principles of plastic surgery. This is one of the benefits of Integra, that it can perform as well as flaps, but without morbidity and donor sites, especially in circumstances where there are no flaps to give away.
Table 7a. Utilization, length of treatment
Primary diagnosis

Integra – to – skin grafts

WEEKS

Integra – to – healed

MONTHS

mean

std

mean

std

range

Macro-arterial

5.3

1.2

5.0

2.5

1 – 9 (19)

Immunopathic

5.4

1.6

9.6

5.3

2 – 18

Venous / lymphatic

4.6

1.3

6.2

3.2

2 – 11

Hypercoagulable

5.3

2.0

5.8

2.1

4 – 9 (19)

Mechanical / anatomical

5.0

1.3

5.2

1.5

3 – 7 (12)

Radiation / malignancy

7.4

3.9

9.8

4.3

5 – 15

Diabetes / neuropathy

4.3

1.1

6.5

2.1

5 – 8 (15)

Unknown

4.1

1.4

7.0

0.8

6 – 8

Micro-occlusive

6.0

- - -

4

- - -

- - -

Trauma and surgery

4.6

- - -

3

- - -

- - -

Granulomatous / infectious

4.1

- - -

2

- - -

- - -

Total, chronic

5.3

2.0

7.2

4.3

1 – 19

Adjunct

4.1

0.7

3.8

1.7

2 – 6

Total

5.3

1.9

7.0

4.3

1 – 19
Table 7a, data: utilization, length of treatment
Direct costs of care were not tabulated, but lifestyle impact was assessed by looking at the length of time to complete a reconstruction, and economic impact was estimated by analyzing venues of care, inpatient versus outpatient. For length of treatment, "Integra-to-skin grafts" is the regeneration time in weeks, the mean time between placing Integra and placing the first set of skin grafts (counted in days, then converted to weeks), stratified by diagnosis. This parameter was controlled by surgical scheduling and by the basic physiology of Integra as much as by anything else. Therefore, values are relatively uniform, with not even a weeks difference between more benign and more pathological diagnoses. The exception is the radiation category, where, as might be expected, radiation caused a high end second mode. "Integra-to-healed" is the interval, in months, between placing Integra and when the wound was fully epithelialized. This data also includes patients in the Group 2 partial success category, their intervals measured by when secondary grafts or flaps were healed. In four groups, there is a clear outlier (the parenthetical values under "range") which is excluded from the averages.
Table 7b. Utilization, inpatient versus outpatient
Year

Total

Integra patients

Number

of in-patients

Percentage

in-patients

1996

4 (8)

3

75

1997

18

11

61

1998

10

5

50

1999

19

9

47

2000

16

4

25

2001

28

6

21

2002

12 (24)

0

0

Total

107

38

36
Table 7b, data: utilization, inpatient versus outpatient
This table assesses inpatient hospitalization versus care that was entirely outpatient (clinic and outpatient surgery). The first column is the number of patients each year (data available for 107 patients; because the study covered only 6 months of 1996 and 2002, the numbers in parentheses are pro rata annualizations that make all rows comparable). The second column is the number of patients who had an inpatient admission at any time related to their Integra reconstruction, either for the primary excision and Integra or for the skin grafts. "Inpatient admission" is defined as a formal hospitalization of greater than 24 hours duration subject to the legal and administrative criteria of inpatient reimbursement, and does not include overnight stays of less than 24 hours. The last column is the percentage inpatients, the ratio of the first two columns.
Table 7a, b, analysis
The logistics of an Integra reconstruction were explained in the "Techniques and Management" section, and they should now be reread. That discussion is based on this data. An Integra reconstruction is not a trivial affair. It is a staged reconstruction that requires the commitment of the patient and dedicated persistence of the surgeon and allied health staff. Length of care is relative. For most surgeons, who take care of people with acute injuries without wound healing problems, any chronic wound reconstruction can be a tedious affair not suited to the surgeon's ways of practice. For patients who have endured the ulcer and its diseases for months or years, Integra control of a problem wound usually means dramatic improvement, and most patients are far more understanding about the time required than the physician is. Patient acceptance is even greater because most of it can be done as an outpatient. The inpatient rate declined to zero over 6 years. The problems and the severity of the patients being treated did not change during this interval. What did change was: (1) increasing familiarity of the author with Integra and its capabilities; (2) increasing infrastructure of wound services through outpatient clinics and home health agencies; (3) concurrent socioeconomic changes in the delivery and payment of medical services (in the United States) which have steered care away from hospitals. Integra is a product very well suited to taking care of complex problems as an outpatient. While costs were not explicitly analyzed, Integra's ability to keep patients out of the hospital and free of numerous failed procedures would seem to make Integra reconstruction for chronic or pathological wounds economically favorable.
Summary of Author's Data
Tables 6 show that 81 % of patients had excellent outcomes, either complete success with Integra itself (71%, outcome group 1) or after some minor subsidiary surgery (10%, outcome group 2m). However, the way data was tallied, the good results are somewhat underestimated. For example, case E3 was assigned to group 2 because she died before the final skin graft healed, but Integra had performed well with dramatic improvements in the patient and her wounds. Case F1 was likewise classified a partial success because a small secondary procedure was needed, but the ability of Integra to close a flexor tendon and salvage a finger in an atherosclerotic hand is a truly great success. The category 3 failures were indeed failures, but in retrospect, 7 patients with extreme arterial insufficiency or diabetic plantar ulcers should be considered poorly selected. The remaining 96 patients had a realistic potential for success, and among these patients the good results were 88% (76% group 1, 12% group 2m).
The 10% of patients with neither a good result nor outright failure still benefited from Integra, either in partial closure of the wounds, control of further ulceration, or sufficient stability of the wound to permit reconstruction by other means. Lesser results were largely on the lower extremity associated with severe arterial insufficiency and diabetic neuropathy. It was learned that Integra and time ought not to be wasted on extreme patients of these types. However, for most of the other arterial patients, including diabetics, Integra not only performed well, but it was often the only salvation for a threatened extremity. Integra also closed and healed 90% of the exposed bones, joints, tendons, and other structures that it was applied to, and protected another 6% leading to closure with flaps. This demonstrates Integra's ability to supplant flaps, oftentimes in situations were flaps are needed but are not available, getting the same job done, sometimes a better job, without donor sites nor risk to the patient. While many acute conditions best treated with Integra, such as burns and degloving injuries, must be treated in the hospital, Integra reconstruction for chronic wounds can be managed almost entirely as an outpatient, with preservation of activity and lifestyle.
Other Sources
Integra was released for general use in 1996, after two decades of development and then various clinical trials for burns. There is now a full decade of clinical experience, and numerous investigators and clinicians from around the world have reported favorable experiences, in peer reviewed publications and at burn and wound symposia. Many of the exciting cases and extended indications are the subject of case reports presented at conferences for which there is no public citation. References 25 - 54 are some of the published resources. They discuss a wide spectrum of clinical scenarios, including acute and chronic wounds, large trauma cases and carefully planned elective operations, cases in adults and cases in children. In reading them, certain themes recur and certain common conclusions are drawn, all of which echo what has been discussed in this chapter. Notable points include: Integra is useful for a broad range of acute, large, critical wounds and a variety of reconstructive problems 25 - 31; it is very useful for managing acute, severe, and chronic illness in children 32 - 35; Integra has a beneficial effect on post-traumatic wound and patient physiology 36; it simplifies care, shortens recovery, and shortens length of care 29, 32, 34, 37, 38; it minimizes morbidity and saves lives 17, 37, 38; it is good for a wide range of anatomically and pathologically specific problems such as scalp, breast, upper extremity, limb and stump salvage 33 - 35, 39 - 46; it can solve chronic wound problems 35; it covers essential structures and alloplastic materials 18, 47, 48; there is value in eliminating concurrent donor sites 32, 43; the healed material is comparable to normal skin and much better than skin grafts 28, 42, 43, 49, 50; tissue mechanics, lack of scar and contractures, and physical properties of the healed material are comparable to skin and superior to skin grafts, yielding good or superior functional results and improved range of motion 18, 28, 29, 32, 42 – 45, 51 - 53; cosmetic appearance is likewise very good, much better than ordinary skin grafts 22, 25, 26, 28, 39, 40, 43 -45, 47, 51, 54; sequential layers of Integra can produce desirable effects, and it works well as a composite or adjunct with flaps 28, 47, 54. The general impressions are that for select problems of critical wound care and reconstruction, that Integra outperforms conventional methods of care, simplifying complex care, minimizing morbidity and utilization, and yielding superior results.
Other Indications
While the focus of this chapter is on wounds, and especially chronic wounds, the properties of Integra's collagen-chondroitin matrix make it suitable for other problems in surgery. Most interest is in using the matrix itself, without the silicone, for implantation purposes. The general areas of interest and investigation are:
Bulk filling
Bursas or wound "dead space" are usually controlled by negative pressure suction drainage, positive pressure compression bandaging, or filling with flaps (not controlling the space risks abscess and dehiscence). Integra matrix can be used instead, eventually turning into buried tissue. This can simplify closure of a complex wound in the same way it simplifies closure of surface wounds (case H4).
Contour correction
This may be for cosmetic or reconstructive purposes, large contour depressions or fine wrinkles. The attraction of using the matrix is that it and the regenerated tissue are durable and long lasting. Along with its other properties, this makes it safer and simpler than many flaps, more durable and less prone to complication than large tissue grafts, and superior to reabsorbing injectable filler materials in current practice, such as bovine collagen.
Control of inflammation and scar contracture
In principle, the matrix could be used as a liner along any type of serosal or mesenchymal surface to inhibit inflammatory changes and scar. Theoretical advantages run a gamut from controlling capsular contracture around breast implants to minimizing strictures and obstructions of tubular viscera to controlling serositis, effusions, and adhesions in the thorax, pericardium, peritoneum, around joints and tendons, and anywhere else where scar must be eliminated to preserve function. These are speculative uses, but presumably they will get attention as the material becomes more familiar to more surgeons.
Peripheral nerve management
The matrix has been shown to be superior to other methods of controlling epineurial fibrosis and guiding the regeneration of nerve axons 55. The author has twice used the sponge by itself for the buffering or sequestration of an entrapped nerve with chronic severe neuralgia. In both instances, the nerve was the posterior tibial or common plantar nerve at the ankle. Both patients had a history of failed operations and other care. Integra matrix allowed the nerves to be completely decompressed and lysed, and then closed with non-scarring tissue, without needing elaborate flaps. Both patients were entirely relieved of pain. What is important is that the principles of care were those of all good peripheral nerve surgery. Integra is simply a very good tool that allows a surgeon to effectively fulfill those principles of care. The matrix seems like a natural fit for problems related to nerve entrapment, nerve injury, and plexitis.
New product forms
In order to support these extended indications, there has been developmental work on a bulk implantable form of the sponge and on a micronized injectable form 56. They were not available for general use by the time that this chapter was written. This is a matter of living history, these circumstances reflecting the ongoing evolution of a new but very important product.
Keratinocytes
The possibility of completing the entire reconstruction with just one operation has received much attention. There are two approaches to this problem. One is to use laboratory cultured autografts derived from a skin biopsy. While the mesenchymal matrix is regenerating in situ, the epithelial grafts are growing in the laboratory, ready for application by the time the matrix is regenerated. This concept is limited by the availability and expense of this service, and it is not appropriate for small wounds. However, the concept has been proven, and for large burns, it can be a valuable strategy 17, 38, 57, 58. The second approach is to seed the matrix with keratinocytes, and allow them to grow as the matrix is regenerating. While maintaining the viability of these explanted cells might seem to be problematic, this concept too has been proven 59, 60. There is not yet any readily adaptable clinical technique that all surgeons might use, but development in this area continues.
Tissue engineering
As already discussed, the nominal technique of applying Integra is a form of in situ tissue engineering. However, it is somewhat passive, presenting the scaffold to the wound, then letting cells find it and do what they will. Adding keratinocytes to the matrix is a more active intervention, taking some control over which cells appear and when. The matrix permits this type of engineering. It is a highly biocompatible environment with a critical attachment chemical (the chondroitin) that affords superlative protection and organizational guidance to cells that find themselves there. In principle, any type of cell could be seeded, and in theory, one can foresee the possibility of using a matrix of this sort for the regeneration of hepatic cells or renal cells or pancreatic islet cells or the cells of any other visceral organ, epithelium, or gland. In the year 2003, bioengineering new tissues and organs has become a forefront academic research issue, and Integra-like matrices can be anticipated to be important in decades to come. Case I8 supports the concept of using Integra as a carrier for the incubation of surgeon-delivered cells in order to grow a new tissue.
GALLERY OF CASES
The author's experience with Integra, at the writing of this chapter, is nearly 200 patients, far too many to present individually. The following examples have not been selected simply because they are "the best", and many instructive cases with good outcomes and "bragging rights" are not presented. These cases have been selected exclusively on the basis of (1) being able to illustrate as many as practical of the specific points made in the text, (2) illustrating a wide enough spectrum of situations to permit a comprehensive understanding of when to use Integra, how to, and when not to, and (3) a suitable, even if incomplete, set of photographs exists. They are however typical and representative of the entire experience with Integra. The cases are grouped by subject. Each case is assigned to a particular category to draw attention to specific issues, but all cases overlap into different categories, and key points are listed for each case. The emphasis is on chronic wounds. In the D cases, "outcome type" refers to the outcome definitions in the "Review of Experience" section. The A cases are discussed in detail in the preceding text ("Integra and Chronic Wounds" section). For all cases, additional history and explanations are in the figure legends.
Case study A1, indications and surgical planning
73 year old man, figure 17. Embolic foot necrosis, leg salvage. Key points: Integra works where other surgical options will not; limbs can be salvaged; it is effective for arterial problems; it heals bones and joints; it avoids donor sites and additional complications in high risk wounds and patients.
Case study A2, indications and surgical planning
74 year old woman, figure 18. Mixed pathological ulceration into the ankle, closed and healed. Key points: closure of essential structures; resistant to underlying pathology; succeeds where other options have failed; durable long lasting result resistant to future ulceration.
Case study A3, indications and surgical planning
44 year old woman, figure 19. Hypercoagulable disorder and chronic achilles ulceration, healed. Key points: works well for hypercoagulable disorders; prevents pathergy; behaves like normal skin in areas where biomechanical loads adversely influence scars and skin grafts.
Case study A4, indications and surgical planning
58 year old man, figure 20. Vascular infarction of hand, preservation of length and function. Key points: preserves parts, length, and function; closes bone; works where other options are disqualified; no donor sites needed; no late revisions needed.
Case study A5, indications and surgical planning
60 year old man, figure 21. Severe arterial disease with heel necrosis; leg and lifestyle salvage. Key points: same as for case A1.
Case study B1, acute care and critical coverage
7 year old girl, figure 22. Vehicular trauma caused complex degloving of the lower extremity, multiple skeletal injuries, skin and muscle avulsion, and injury to femoral and popliteal vessels. The foot was uninjured. Sciatic and tibial nerves, while neuropraxic, were anticipated to recover. Multiple staged procedures were required for wound stabilization and ultimate reconstruction. Instrumental was Integra's ability to cover muscles, fractures, vessels, and other structures when other resources were limited. The patient is healed, foot sensate and normal, knee mobile without contractures, posture and ambulation normal. The only long term management is for femoral length discrepancy due to injury through the distal physis. Three years after injury, the patient participates in all manner of athletics and recreation without inhibition or significant limitations. Key points: protection of underlying structures; good mechanics and esthetics compared to skin grafts; useful where flaps are limited or destroyed; obviate free flaps; salvage limbs that might be amputated by most surgeons.
<![if !vml]><![endif]>

Figure 22     Case study B1

(a, top) The original injury, including distal femur fracture, knee injury, and extensive soft tissue trauma.

(b, bottom, left) A view of the patient a year and a half after injury. Extensive soft tissue loss means that contours are not normal, but function and lifestyle are.

(c, bottom right) Close up view of the knee, flexed over the edge of a table. Integra reconstructed skin, wrapped around the knee, is compliant, having the full extensible range of motion needed for knee flexion.
Case study B2, acute care and critical coverage
37 year old man, figure 23. Group A streptococcal fasciitis developed after arthroscopy for a knee injury. The illustrations show just a fraction of the extensive debridement and drainage. Streptococcal toxic shock resulted in severe bone marrow depression with severe thrombocytopenia and a white blood cell count of only 200 / mm3. This, resulted in unrelieved wound derived septic shock in spite of aggressive antimicrobial therapies and liberal use of silver sulfadiazine. When the wounds were deemed ready for closure, Integra was used. Within an hour of closure, all pressor drugs could be discontinued, and the patient rapidly recovered. The patient has never required a follow-up procedure for the sake of correcting scar contractures. Key points: ability to immediately close a wound and control bioburden; ability to avoid graft donor sites in a patient who already has a wound greater than normal body surface area; ability to avoid additional trauma in the face of large fluid fluxes and hemodynamic instability; ability to avoid donor sites when anemia and thrombocytopenia create risks; ability to greatly simplify nursing care; good biomechanical results obviate late reconstruction for contractures; ability to save a life.
Figure 23     Case study B2

<![if !vml]><![endif]>

(a, top left; b, top right) The right flank and thigh are shown several days after debridement of acute streptococcal necrotizing fasciitis. There are mirror image wounds on the left side, and similar involvement of legs and chest. These are the wounds just prior to Integra.

(c, middle left) This is the right thigh just after placement of Integra.

 (d, middle right) This is the same view six days later. Wrinkles in the material are due to a diminishing wound area as muscle edema resolves. These "edema reduction wrinkles" are common and of no consequence to usage and outcome. They do illuminate Integra's potent ability to control wound conditions, correcting inflammation and its consequences. This permits rapid physiological recovery of the wound, and it also causes prompt general improvements in critically ill patients, sometimes profound.

(e, bottom left; f, bottom right) The same views 5 months later. There are no contractures, and late reconstruction is not needed.
Case study B3, acute care and critical coverage
32 year old man, figure 24. The patient has Milroy's praecox primary lymphedema. Massive enlargement of lower extremities resulted in a sedentary existence without employment. Fasciectomy and skin reconstruction was performed, one side and then the other. This was an elective reconstruction which would have been essentially impossible without Integra. Integra permitted immediate closure of a very large wound, and avoided skin graft donor sites which would have doubled the wound area. The conventional approaches to this problem, fasciectomy with skin grafts or fasciectomy with preservation of local skin flaps, are notoriously complicated and have awful results. By handling the acute coverage and the reconstructive aspects equally well, Integra not only permits this type of reconstruction, but it gets good results. Lymphedema has not affected the reconstructed skin. The patient is now gainfully employed. Key points: ability to do extensive elective surgery with little risk; absence of donor sites simplifies care; good results for a problem that traditionally has only poor results with surgery.
<![if !vml]><![endif]>

  

Figure 24     Case study B3

(a, left top) The patient's lymphedematous lower extremities are shown prior to any surgery. Weight, volume, and dermatitis all contributed to severe disabilities.

(b, left middle) Four months after skin grafts. A few small open areas require continuing care near mechanically active areas at the knees. The patient is able to easily lift his extremity against gravity, something not possible in many years.

 (c, lower) One year after starting care, the grafts are healed. Note that the reconstruction has not been affected by edema (diligent compression wrapping has also been maintained).

(d, right) The patient walks and has a job.
Case study C1, reconstruction
48 year old man, figure 25. The patient is a garden worker who lacerated his arm in a freshly manured yard, resulting in clostridial myofasciitis (gas gangrene). Drainage and debridement were followed by a period of topical care until the wounds met criteria for closure. Customary care for the open wounds of the arm and dorsal forearm would have been split thickness skin grafts, but Integra was used instead to avoid joint contractures and tendon and muscle tethering. This is a characteristic property of Integra, that applied directly to bare muscle, a shear accommodating areolar plane develops, permitting normal individualized muscle motion without any tethering to the skin. The patient rapidly regained full active range of motion, without needing any later surgery. This was preemptive reconstruction, fixing the problem before letting it occur. Key points: controls scar; prevents contracted joints; prevents scar tethering to muscles; prevents problems that would require late reconstruction; primary burn or trauma repair with Integra rather than secondary late reconstruction is more efficient and easier on the patients.
<![if !vml]><![endif]>

  

Figure 25     Case study C1

(a, top; b, bottom) Just a few months after having gas gangrene of the right upper extremity, the patient has recovered normal range of motion, shown here as full elbow extension and full wrist flexion and extension. Little formal hand therapy was needed. Integra can be seen on the distal arm at the elbow and on the dorsal forearm.
Case study C2, reconstruction
11 year old girl, figure 26. The patient had severe dorsal wrist and elbow contractures from burn scars several years old. The old scars and skin grafts were excised, range of motion was restored by joint manipulation, and skin was reconstructed with Integra. The contractures were completely relieved, allowing normal range of motion with completely compliant skin. Key points: controls scar; reconstructs contracted joints; even if burn and trauma repair are not initially managed to prevent them, contractures can still be effectively relieved at any future time.
<![if !vml]>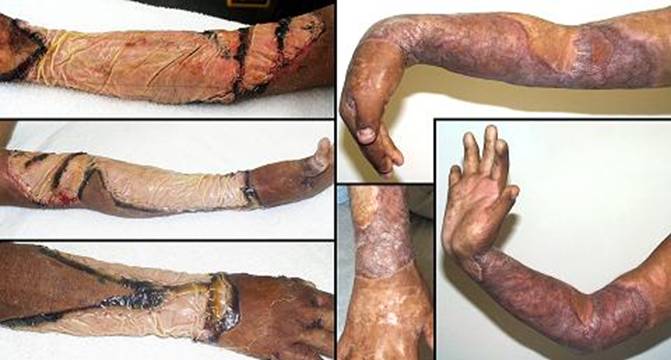 <![endif]>
Figure 26     Case study C2
(a, b, c, left side) Volar (hand to the left), radial, and dorsal views of the patient's right upper extremity. Prior to this, the involved areas were severely contracted, with distortion of fingers, wrist, and elbow. Integra covers the antecubital fossa, a position guaranteed to re-contracture if split thickness skin grafts only had been used. The regenerated Integra is ready for skin grafts.
(d, e, f, right side) Four months after Integra , there is no evidence of scar hypertrophy, skin distortion, nor joint contractures. The patient has 100% total motion of wrist and elbow.
Case study C3, reconstruction, keloid
61 year old woman, figure 27. The patient developed typical ear keloids due to piercings. The patient is somewhat older than usual for the development of keloids, but recent attempts to excise it have resulted in recurrence. Excision and closure with Integra resolved the problem. Key points: controls scar; effective for keloids, contractures, and scar hypertrophy.
<![if !vml]><![endif]>

Figure 27     Case study C3

(a, left) Posterior view of the right ear showing a typical recurrent keloid.

(b, right) Same view a few months after keloid excision and closure with Integra. There is not the least evidence of any scar hypertrophy.
Case study D1, outcome type 1a, nominal reconstruction, healed
51 year old woman, figure 28. The patient is a dialysis dependent diabetic with tertiary hyperparathyroidism. Multifocal ulceration developed due to systemic calcinosis-calciphylaxis. She had typical debilitating pain. The condition is refractory to usual topical and surgical care, with progressive necrosis being common. All necrotic areas were excised and closed with Integra. Pain and progressive ulceration immediately ceased. All areas healed quickly. This is the paradigm Integra reconstruction, complete success without delays. Key points: control of pathergy; permits safe debridement and wound closure without progression of necrosis; ability to heal problems usually considered recalcitrant; avoids high risks that would accompany conventional procedures.
<![if !vml]><![endif]>

Figure 28     Case study D1

(a, left) This is the histopathology of hyperparathyroid calcinosis and ulceration, medial arteriosclerosis of small blood vessels, some thrombosed.

(b, c, top) The patient had numerous infarcted lesions on the trunk. The right breast and right flank (lower abdomen) are shown here.

(d, e, bottom) The healed lesions 3 months after excision and Integra.
Case study D2, outcome type 1a, nominal reconstruction, healed
70 year old man, figure 29. This patient had a chronic ankle ulcer due to post-phlebitic venous reflux and hypertension. Difficulty maintaining a healed wound in spite of good care prompted excision. Integra was opted for closure because of the mechanical risks across the ankle and at the malleolus. This was another nominal reconstruction, promptly healed. Key points: dependable use for venous problems; succeeds in mechanically active areas; durable result not prone to reulceration.
<![if !vml]><![endif]>

Figure 29     Case study D2

(a, left top) This venous lesion has been repetitively healed and reulcerated, and it is now refractory to topical care.

(b, left bottom) This is the excisional defect. The ankle joint, malleolus, related ligaments, and motion make skin graft take and durability somewhat uncertain. Integra was used to ensure a durable result.

(c, right top) The healed ulcer 7 months after excision.

(d, right bottom) One year later, the Integra has remained healthy. This image was taken as acute venous dermatitis caused new ulceration on the medial malleolus, but this old area was unaffected by nearby inflammatory changes.
Case study D3, outcome type 1b, healed after ancillary care
69 year old woman, figure 30. The patient had a prosthetic knee arthroplasty for complications of advanced rheumatoid arthritis. Peculiar ulceration developed near the ankle following surgery. It failed to improve with topical care and anti-inflammatory therapy. Laboratory diagnosis revealed Factor V Leiden heterozygous, low proteins C and S, and high homocysteine. Arterial ankle-brachial index was 0.93, and periwound transcutaneous oxygen pressures were 4 – 50, increasing to 200 – 330 breathing 100% O2. These studies confirm a hypercoagulable disorder without arterial macrovascular disease. Warfarin was started. The wound was excised and reconstructed with Integra (hyperbaric oxygen might have been a worthwhile adjuvant, but the patient was intolerant of it; see discussion under "Technique and Management – ancillary therapies" section). Excision and Integra immediately improved the patient, but complete epithelialization after skin overgrafts was slow. After 2 months of incomplete progress, platelet derived growth factor was used to accelerate epithelial growth and force closure. This patient showcases many of the properties and virtues of Integra, as further explained in the figure legend. Key points: control of inflammation and pathological wound behavior; coverage of essential structures; succeeds in a high risk patient; elimination of donor site risks; resistant to recurrent disease; complete epithelialization with PDGF; role as an artificial skin; symptomatic relief.
<![if !vml]><![endif]>

Figure 30     Case study D3

(a, top left) The original left lateral ankle ulcer. Note periwound inflammation and lytic necrosis of the margins, typical of rheumatoid panniculitis and hypercoagulable disorders.

(b, top right) After 6 weeks of general wound care, conditions are slightly better, but inflammation persists and the wound is not healing. Surgery is therefore indicated.

(c, 2nd left) The excised wound, with exposed muscles, ligaments, and tendons. Integra is warranted because skin grafts are unlikely to take, both for reasons of disease and for essential coverage. The excised wound is enlarged because of extensive calcinosis cutis which had to be removed (visible in background, another pathological factor which would have guaranteed failure of topical care and grafts alone).

(d, 2nd right) Integra in place. Note how all vestiges of inflammation have completely disappeared.

(e, 3rd left) At two months after skin grafting, the original graft has left multiple islands of epidermis, but epithelial growth is retarded. Platelet derived growth factor was initiated. Note that even though the entire reconstruction is not yet concluded, that the regenerated Integra has created healthy tissue, that periwound inflammation remains completely controlled, that there is no further necrosis-lysis-ulceration.

(f, 3rd right) The response to topical cytokine was accelerated epithelial growth.

(g, bottom left) The wound at 7 months after placing the skin grafts.

(h, bottom right) The patient had a serious flare of disease 6 months later with multiple new ulcers on both legs. The original reconstruction was spared. New Integra can be seen in the background over the contralateral achilles. The patient died from that rheumatoid flare, but the new Integra still served a purpose, as artificial skin, for high grade control of pain, and obviating the need for regular dressings or other attention to the problem.
Case study D4, outcome type 1d, healed after second Integra
71 year old woman, figure 31. The patient had 30 years chronic ulceration of the distal half of the leg due to rheumatoid arthritis. Fasciectomy and Integra closed nearly the entire leg. However, a few small areas remained open, and they did not heal after a few months of topical care. Because Integra was inherently successful, these small areas were covered with new Integra, and the leg was then completely healed. Key points: succeeds where all else has failed; use secondary small procedures when needed to complete a successful Integra reconstruction.
<![if !vml]><![endif]>

Figure 31     Case study D4

(a, b, top) Close up views of the chronic pathological rheumatoid ulcers that encompassed the entire distal half of the leg.

(c, 2nd row) After the first set of Integra, nearly the entire leg is healed, but the few open areas shown would not close after several months of topical care.

(d, 3rd row) Four months after the second Integra, the leg is healed. Anterior view.

(e, 4th row) Lateral view.

(f, bottom) Medial view. The small second pieces of Integra already look quite mature and normal, but they stand out against the first set of Integra which now is almost indistinguishable from nearby normal skin.
Case study D5, outcome type 2a, partial success, healed after secondary flap
86 year old woman, figure 32. The patient had chronic ankle ulceration of several years duration, probably venous. Anatomical structures were exposed, major tendons and the ankle joint itself. Excision and Integra healed the wound except for a small area due to shearing from the tibialis posterior tendon. A small local flap was used to cover this area, completing the reconstruction. Key points: closure of complex defects; use secondary small procedures when needed to complete a successful Integra reconstruction; no risk or significant donor sites in a high risk patient.
<![if !vml]><![endif]>

Figure 32     Case study D5

(a, top) Integra in place on the medial right ankle after ulcer excision. Note that this is a large ulcer, and coverage is over ankle joint and multiple tendons and ligaments.

(b, middle) The wound is nearly healed. The unepithelialized flat surfaces would have healed by themselves with a few more weeks of topical care, but exposure and shearing of the tibialis posterior tendon requires explicit closure. Small blue dots demonstrate the length of excursion of the tendon.

(c, bottom) A small flap from the dorsum of the foot closed the tibialis tendon. Note how the Integra reconstructed areas are no different than normal skin, soft, compliant, wrinkling and folding in response to ankle motion. Normal dermal mechanics were already evident in figure b, even before the entire area was healed.
Case study D6, outcome type 2c, persistent open Integra
75 year old man, figure 33. The patient has extensive chronic venous disease and ulceration unresponsive to all treatments over many years. Excision and Integra healed most of the wounds. However, due to special circumstances, the patient had to plan months in advance for surgery, and then he had to return quickly to his usual work. He was unable to comply with all details of prescribed care, and some small areas that should have healed have not. His care has capitulated to a program of long term maintenance for the remaining open areas. While this cannot be considered an ideal result, to the patient it is quite acceptable. Compared to what he had, these residual wounds are much smaller than before Integra, drainage is less, pain is gone, and he remains functional. Key points: effective results even when not fully healed; patients are more accepting of big improvements than their doctors are of less-than-perfect results.
<![if !vml]><![endif]>

Figure 33     Case study D6

(a, top) Medial right leg. Long standing venous hypertension and chronic stasis dermatitis have caused pronounced dermatosclerosis and ulceration. There are similar ulcers laterally and on the left leg.

(b, middle) Skin, fascias, and wounds were excised, veins stripped, and skin reconstructed with Integra. Shortly after skin grafting, the Integra is healthy. The bare areas where skin grafts did not take completely are otherwise healing properly, and complete reepithelialization is expected.

(c, bottom) As the reconstruction neared completion, consistent good care could no longer be enforced. Several small ulcers persist, and even the Integra reconstructed skin has developed venous pigmentation, shown here one year later. While not fully healed, chronic inflammation, pain, drainage, and other symptoms are well controlled, so the current situation has been an improvement.
Case study D7, outcome type 3c, failure, amputation
52 year old man, figure 34. The patient is an insulin dependent diabetic with advanced neuropathy, already black-balled by other physicians as non-compliant. He was referred for a last chance attempt to salvage a complex plantar wound. The foot was closed with Integra and local flaps. Integra intrinsically performed well, in large part because of special compliance enforcing orthotics that kept the patient off of his foot. As the skin grafts healed, the splints were removed, and without picking up his prescribed custom footwear, the patient promptly took a long motor vacation out of state. The resulting injury to the reconstruction was managed by below knee amputation. Key points: any effective care can be subverted by a non-compliant patient; diabetic plantar neuropathic ulceration is a relative contraindication for Integra.
Figure 34     Case study D7
<![if !vml]>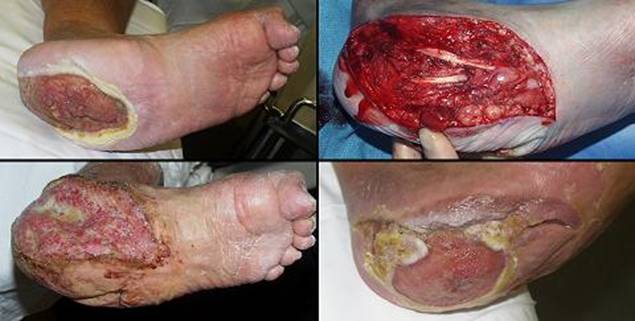 <![endif]>
(a, top left) The patient has already had posterior calcanectomy. This image is looking into the subtalar joint. The rest of the foot shows typical neuropathic and Charcot changes.
(b, top right) In surgery, the wound has been excised and partially closed by a plantar flap. Integra will be placed over the wound seen here, including tendons, bone, and common plantar vessels.
(c, bottom left) Skin grafts have been placed on regenerated Integra. They are growing to confluence and keratinizing, on their way to a technically good result.
(d, bottom right) Integra and grafts are healed and healthy in peripheral areas. In the center, denudement of epithelium, callus at the margins, and pressure necrosis in the center all attest to weight bearing and ambulation without wearing proper footwear and orthotics.
Case study E1, diagnosis, venous
77 year old man, figure 35. The patient has long standing refractory venous ulceration. The usual order of management is good topical care and compression, followed by venous interruption, and then excision and skin grafts if needed. Most venous ulcers will heal within that traditional scope of care. An obvious reason for using Integra instead of customary one stage skin grafts is to cover essential structures (cases D2 and D5). Another reason to use Integra is the one that applied here, multiple failed prior skin grafts. After the usual period of good wound preparation, Integra healing was prompt and uncomplicated, with long term durability of the reconstruction. Key points: Integra succeeds when other reasonable care has failed; Integra reconstruction for venous disease is dependable.
<![if !vml]><![endif]>

Figure 35     Case study E1

(a, top left) Venous ulcer of right medial ankle, appearance upon presentation. There is extensive dermatitis, and a necrotic piece of a recent skin graft is still attached.

(b, bottom left) After two weeks of basic hygiene, topical steroids, and compression, acute conditions are controlled. Integra was opted for closure for two reasons. One was the history of multiple failed grafts. The other was the anticipation that, after years of inflammation and ulceration, underlying anatomy would be exposed after excision, and that local biomechanics would require better coverage than an ordinary skin graft.

(c, top right) Excision leaves behind the exposed posterior tibial neurovascular bundle and an open achilles fat space.

(d, bottom right) In conjunction with continued elastic compression, everything remains healed and healthy at one year.
Case study E2, diagnosis, immunopathic
77 year old man, figure 36. This patient with long standing rheumatoid arthritis developed an ankle ulcer. It did not improve with customary topical care. Integra was opted because of the failure to respond to care (indicative of persistent soft tissue pathology), and proximity of the ulcer to the ankle and achilles where motion is apt to create problems. In a healthy patient, skin grafts or dependable local flaps (such as a "reverse sural nerve flap") would have been the simplest and quickest thing to do, but challenged by active rheumatoid, Integra was the safest thing to do. Integra healed quickly. Key points: low risks in a high risk patient; essential closure of achilles tendon.
Figure 36     Case study E2
<![if !vml]>

<![endif]>
(a, left) Right posterolateral heel ulceration in a patient with rheumatoid arthritis. It is a typical rheumatoid lesion, characterized by multifocal lysis of skin and fascias.
(b, middle) After a month of basic care, including intralesional steroids, the wound is not improved. There is some control and wound healing in a few areas, but there is also persistent inflammation and marginal necrosis. Spontaneous improvement is not expected.
(c, right) Several months after Integra, the area is healed. In this image, the patient has some contact dermatitis due to continued use of dressing materials even after everything else healed. This eczematous reaction cleared promptly with some topical steroids. The Integra reconstructed skin is inherently healthy, looking quite normal at the periphery of the dermatitis, but this demonstrates that Integra skin can also be affected by injury and injudicious care.
Case study E3, diagnosis, immunopathic
41 year old woman, figure 37. This patient had characteristic multifocal rheumatoid ulceration along synovium and tendons of both feet and ankles. Topical care failed, and multiple skin grafts dissolved. Integra induced immediate and complete cessation of inflammation and ulceration for each and every wound. Multiple tendons and interphalangeal joints were covered and healed. However, the first set of skin grafts had only limited take. After a couple of weeks of hygienic topical care, the healthy open Integra was regrafted. The patient had a strong family history of early cardiovascular death, and shortly after the second skin graft, she died from thrombosis of her coronary artery stent. While the final result was not achieved, this case does highlight important aspects of Integra. Key points: potent ability to control soft tissue pathology; superior control of immunopathic ulcers; improved quality of life through control of symptoms and simplified care; good performance even when it is bare of an epithelial cover.
<![if !vml]><![endif]>

Figure 37     Case study E3

(a, left top) The medial left ankle. In spite of some nominal recent care and failed skin grafts, this is an active ulcerating rheumatoid lesion, with lytic dissolution of skin and fascias.

(b, left middle) The dorsum of the right foot with other necrotic and lytic lesions. There were many other concurrent ulcers of both feet and ankles, all located over tendon sheaths and joints, a typical lower extremity manifestation of rheumatoid synovitis.

(c, left bottom) All lesions were excised and closed with Integra, the dorsum of the left foot shown here. The material is covering extensor tendons and open toe joints. Inflammation and necrosis in the periwound soft tissues have ceased.

(d, right top) The initial skin grafts had limited take. Images d, e, and f are concurrent, at the time of second skin grafting. They show healthy happy regenerated Integra. The original wounds, sequestered under the neodermis, are themselves closed and no longer wounds. Only the Integra itself remains open, behaving as "naked" but otherwise normal dermis.

(e, right middle) Same as d. Epithelial ingrowth is evident at margins, and some of the small wounds on the dorsum of the foot have completely reepithelialized. All pre-Integra inflammation and necrosis are completely gone. These images demonstrate Integra's ability to control pathergy, local soft tissue pathology, chaotic wound dynamics, and persistent inflammation and necrosis. While healed skin grafts are the goal, open regenerated Integra is always healthier than the original wound.

(f, right bottom) Similar findings on the left foot. This is now a healthy non-pathological wound. Integra successfully closed the open tendons and joints. Although the patient died before the reconstruction was complete, she had several weeks of pain free healthy wounds.
Case study E4, diagnosis, hypercoagulable
61 year old woman, figure 4. Hypercoagulable ulceration. See figure 4 legend for more details. Also notable is that the fibula immediately underneath the ulcer had a large dysplastic osteophyte. This is because chronic ulceration over bone often causes hyperplastic new bone due to the effects of transforming or pro-proliferative growth factors which are perpetually in the wound. Tangential tibial ostectomy was done to get smooth wound surfaces, and Integra was applied to the osteotomy. Key points: control of periwound inflammation; prevention of pathergy; success when other treatments have failed; ability to close bone.
Case study E5, diagnosis, hypercoagulable
45 year old woman, figure 38. The patient was seen in consultation after multiple amputations for multifocal necrosis and ulceration. Skin infarction and progressive limb loss were active and ongoing, exacerbated with each amputation and debridement. The patient did not have atherosclerosis. Laboratory workup showed high homocysteine levels. Warfarin anticoagulation and hyperbaric oxygen therapy were started. Thigh and hand wounds were excised and closed with Integra, arresting all further necrosis. The patient has been healed and problem free for 4 years. Key points: control of pathergy; permits safe debridement and wound closure without progression of necrosis; eminently suited to hypercoagulable ulcers and necrosis; indiscriminate progressive amputation is avoidable with thoughtful diagnosis and effective treatment; saves lives and limbs.
<![if !vml]><![endif]>

Figure 38     Case study E5

(a, top) Prior to Integra, the patient was critically ill, with active progressive skin necrosis. The patient had already had bilateral above knee amputations, and higher amputations and death were threatened. Necrosis was arrested and the wounds were all healed after proper diagnosis and effective treatments were started (anticoagulants, hyperbaric oxygen, Integra). In this view, healed Integra is seen on the lateral and posterior thigh.

(b, c, bottom) Necrosis was multifocal, including some small hand lesions. Integra is shown here over a finger lesion that ulcerated into the distal interphalangeal joint. In these two views, the healed lesion is shown at rest and with the long finger flexed, demonstrating good compliance in the graft.
Case study E6, diagnosis, arterial disease
64 year old man, figure 39. The patient has aortoiliac atherosclerosis. Toe necrosis resulted in progressive levels of amputation, each complicated by further necrosis. The patient was referred when thigh wound necrosis left few other options. Oxygen tensions in the thigh were very low, but large vessel revascularization was not possible. The necrosis was excised, covered with Integra, and the patient had adjunct hyperbaric oxygen therapy. Healed. Key points: control of vascular pathergy; no risk due to incisions or donor sites in a high risk wound or patient; a good treatment choice when there are no conventional good choices.
Figure 39     Case study E6
<![if !vml]>

<![endif]>
(a, left) This recent thigh amputation has been complicated by skin and fat necrosis. While many surgeons regard above knee amputations as usually safe, they are not when there is aorto-iliac occlusion. This is an instructive case study about the challenges of doing wound and soft tissue surgery in the presence of arterial insufficiency, where the principles of good care create their own problems and compete with each other. One of the surest ways to kill ischemic tissues is to subject them to any kind of tension. Tension creates pressure which can exceed blood pressure in an underperfused part. That means that suturing an ischemic wound will kill it, and leaving the wound open and unstressed is therefore preferable. However, another ischemic flap killer is an open wound. Regardless that an open wound is safe and healthy and a mandatory necessity of effective care of soft tissue pathology, highly ischemic tissues can be intolerant of exposure. Desiccation, bioburden, inflammation, and injurious topical medicaments will all cause progressive infarction. This thigh is the perfect example of this clinical perplexity. Do an amputation and sew it up, and it dies. Leave it open, and it dies. Damned if you do, damned if you don't. This wound was sutured, and the adjacent tissues died. Had it been left open, or if the wound is now debrided, it will likewise develop superficial necrosis, comparable to case study F4 (figure 50). Integra solves this dilemma, because you can debride the wound and then immediately close it without stress or tension on the tissues. By arresting inflammation, it controls yet another factor which threatens the ischemic wound.
(b, middle) In this image two weeks after debridement and Integra, the wound is healthy, and there is no necrosis at any of the margins.
(c, right) Healed after skin grafts.
Case study E7, diagnosis, arterial disease
67 year old woman, figure 40. The patient developed foot necrosis due to complications of atherosclerosis. Arterial revascularization was performed. The foot was debrided and closed with Integra. Healed. Key points: averts threatened amputation; heals over bones and joints; revascularization (or correction of any underlying disease) should always be done when possible; no donor or incision risks in a high risk extremity.
<![if !vml]><![endif]>

Figure 40     Case study E7

(a, top left) Extensive arterial necrosis of this foot was managed initially by basic topical are and debridement, along with operative revascularization. Saphenous vein bypass to the dorsalis pedis artery has been done, and the wound has responded with rapid proliferation of granulation tissue. Prior to revascularization, the foot and a potential below knee amputation had the same risks and dilemmas as case E6. After successful revascularization, the issues become much simpler, only a matter of good wound preparation, then essential closure in a locale where no flaps are available.

(b, top right) The wound was debrided and closed with Integra, shown here 6 weeks after placement and ready for skin grafts.

(c, bottom left) The healed foot 6 months later.

(d, bottom right) An inferior view showing the healed reconstruction over the plantar calcaneus and over a posterior calcaneal osteotomy. The patient uses custom footwear for control of pressure and shear in these areas.
Case study E8, diagnosis, arterial disease and diabetes
74 year old man, figure 41. The patient has diabetes and atherosclerosis leading to forefoot amputation. This case is very similar to case A1, and the same general commentary applies. The biggest difference is that case A1 was one of the earlier cases in the author's experience, and using Integra to salvage an open transtarsal amputation was done with some uncertainty about the outcome. This case was done without a moment's thought to any option other than Integra. There should no longer be any need to throw away a perfectly good extremity only for the want of a good flap. Integra ought to be seen as the preferred option for salvaging complex foot wounds in high risk patients. Two years later, this patient remains completely ambulatory and active. Key points: closes complex wounds with open bone and joints; prevents higher level amputations; preserves quality of life; manageable strictly as an outpatient; very effective for arteriopathic and diabetic patients.
Figure 41     Case study E8
<![if !vml]>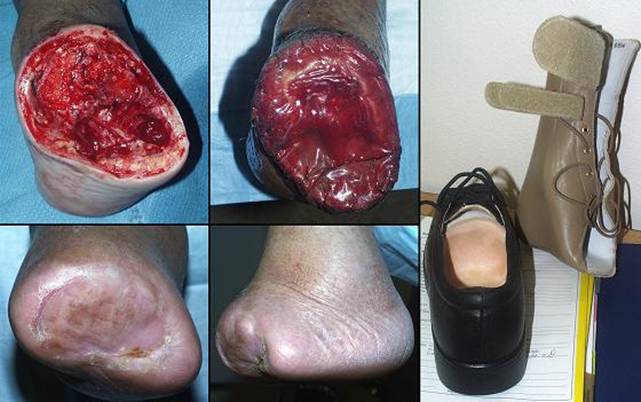 <![endif]>
(a, top left) The open foot after transtarsal amputation. The cuneiforms and intertarsal joints are exposed and require cover.
(b, top middle) The amputation closed with Integra. It is stained red from bleeding at the time of surgery, but this is of no consequence.
(c, bottom left) The healed foot.
(d, bottom middle) Lateral view of the foot demonstrating active dorsiflexion through the tibialis anterior tendon, confirming that major tendons remain inserted and active.
(e, right) Using an insert at the front of a regular shoe, and a thin ankle-foot orthosis for some additional stability, the patient remains very active, leading a normal life.
Case study E9, diagnosis, diabetes, necrobiosis
53 year old woman, figure 42. This patient has longstanding diabetes. Vascular complications have not occurred, but necrobiosis lipoidica of the legs has accompanied the disease since early adulthood. Persistent painful inflammation and ulceration, unresponsive to any prior therapy, have caused chronic illness and social anxieties. The problem has been cured by complete excision of diseased and ulcerated fascias followed by Integra reconstruction of the skin. Malaise and fatigue have resolved due to elimination of chronic inflammation, and she no longer feels compelled to hide her legs. Key points: maintains control of local pathology; acceptable esthetic results; succeeds where all else has failed; makes a difference in people's lives.
<![if !vml]><![endif]>

Figure 42     Case study E9

(a, top) Necrobiosis lipoidica diabeticorum. A view of the right leg prior to surgery. Chronic inflammation, necrosis, ulceration, and fibrosis are advanced.

(b, middle) The leg after excision and placement of Integra. Lesions on the left leg were also excised and covered.

(c, bottom) Skin grafts were placed at six weeks. This image is 9 weeks after the grafts. The last few small open areas are nearly healed, and the patient is otherwise completely healthy. Note the dermal wrinkling orthogonal to underlying muscle fibers over the anterior and lateral compartments, a sign of maturation and normal mechanical skin compliance (compare this to the thick scar present in the same locations prior to excision and reconstruction).
Case study E10, diagnosis, granulomatous
55 year old woman, figure 43. The patient had many years of leg ulceration refractory to care. Many prior skin grafts failed. When seen in consultation, diagnostic workup could not identify a particular cause. Complete wound excision was performed, for debridement and diagnosis, in anticipation of new skin grafts to be placed within a few days. However, within days of excision, the wound had indurated margins and peculiar proteinaceous plaques indicative of active pathology. Histology showed granulomatous inflammation, but atypical pathogens could not be recovered. While Integra was not originally planned, it was now chosen because of its ability to control persistent or chaotic wound pathology. While not necessarily expected to work, it did, and the healed wound has remained stable for several years. Key points: succeeds where all else has failed; controls non-specific or chaotic soft tissue pathology.
<![if !vml]><![endif]>

Figure 43     Case study E10

(a, top) The nearly circumferential leg wound is shown days after excision. Granulation tissue is indicative of an inherently healthy wound repair process. However, note the waxy white plaques, persistent edema at the ankle, and the thickened wound margins at the inferior edge. These findings are indicative of some type of active unresolved pathology.

(b, middle) Integra in place, fully regenerated and ready for skin grafts. There is neither edema nor any other sign of inflammation or disease.

(c, bottom) In this view, there is a small area posteriorly which is a little red and immature. This is where the skin overgrafts did not take and required some extra topical care. However, there is no evidence of active disease. At 8 months, everything is healed, the first time in many years, free of inflammation and ulceration.
Case study E11, diagnosis, atypical infection
58 year old woman, figure 44. With a long history of rheumatoid arthritis and treatment, this patient developed progressive leg ulceration and critical illness. Aspergillus was diagnosed histologically. Complete fasciectomy and Integra closure was performed (amputation also would have been appropriate but was refused). The patient rapidly stabilized, with improvements in general metabolic, hemodynamic, and ventilatory parameters. However, she then developed complete renal failure from (encapsulated) amphotericin B. The family also refused dialysis, and the patient died from uremia. The acute physiological corrections were comparable to cases B2 and H4. Had the patient survived, the anatomical outcomes would have been comparable to cases D4, F3, and G1. While there are no final pictures to show, this case illustrates how Integra can be used in the management of atypical infections. The principles are the same as for any mycotic or mycobacterial abscess: total excision and antimicrobial drugs, and then wound closure. Integra should be used for large anatomically complex wounds and for fragile patients. Key points: rapid stabilization of wounds and general physiology; no donor sites nor additional operative risk in an unstable patient.
<![if !vml]><![endif]>

Figure 44     Case study E11

(a, top) The left leg, with aspergillus fasciitis.

(b, middle) The debrided leg. As with many conditions portrayed in these case studies, this disease affects skin and subcutaneous fascias, but spares the "working parts", neurovascular and musculoskeletal structures. Absent arterial insufficiency, these are all manageable problems. Extremities need not be amputated simply because skin is missing.

(c, bottom) One week later, the Integra is in place and healthy. Note the wrinkles in the material, due to reduction of leg volume and surface area as inflammation and edema subside, reflecting the physiological improvements that occur when Integra closes a wound.
Case study E12, diagnosis, mechanical
79 year old woman, figure 45. The patient has a chronic ankle ulcer of many years duration, unresponsive to any prior treatment. Workup failed to reveal any diagnosis other than chronic pseudarthrosis at an old malleolar fracture directly underlying the ulcer. Excision of the ulcer, bone fragments, and arthrosis was closed with Integra. The significance of tissue mechanics and their influence on mesenchymal differentiation and repair is overlooked by most physicians. The cardinal signs of pseudarthrosis are inflammation and pain, and in a susceptible elderly person, it can create enough local pathology to maintain an active ulcer. Healed. Key points: control of chaotic wound dynamics; effective over bone and joint.
Figure 45     Case study E12
<![if !vml]>

<![endif]>
(a, left) This right lateral malleolar ulcer has been present several years, refractory to all prior care. Note the intense eczematoid dermatitis surrounding the ulcer. A malleolar fragment and pseudarthrosis are underneath.
(b, middle) The wound was excised, and Integra has been placed over bone and joint and ligaments. Note that inflammation has completely subsided.
(c, right) The healed wound.
Case study E13, diagnosis, metabolic
46 year old woman, figure 46. The patient has pannicular calcinosis (calcifying panniculitis). Calcium is precipitated extensively throughout subcutaneous fascias. Involvement in this case is circumferentially around the pelvis, over both hips, and down both thighs laterally to the knees, with patchy calcinosis of other thigh surfaces. This is a characteristic but advanced distribution of an uncommon disorder. Like all calcium dystrophies, this problem can be a primary diagnosis in an otherwise healthy patient, or it can be associated with a variety of disorders. In this case the patient has dermatomyositis, and chronic cutaneous and pannicular inflammation may have been etiological. Her disease is now controlled by methotrexate, and she is free of other acute illness. The calcium tumor over the left hip became ulcerated and abscessed, a problem which has no solution other than excision. Dense confluent rock hard calcinosis means that excision is all-or-none. Note that this is not a case of Integra-or-nothing. Conventional skin grafts would have been a perfectly suitable alternative, but the advantages of Integra are two. First, it simplifies care, by closing the wound immediately, avoiding secondary wounds created by skin graft donor sites, and thereby controlling drainage, pain, and short term disability. Second, long term results are apt to be better. In this case, just as in case B3, extensive resection of skin and fascias was done electively, without donor sites. All care was outpatient. Contractures have not occurred, and no type of late revision will be needed. At one year, there is no disease in the reconstructed hip and thigh. Key points: permits aggressive elective resection and reconstruction; keeps complex care manageable as an outpatient; obviates need for late reconstruction; resistance to disease; results in happy healed patients.
Figure 46     Case study E13
<![if !vml]>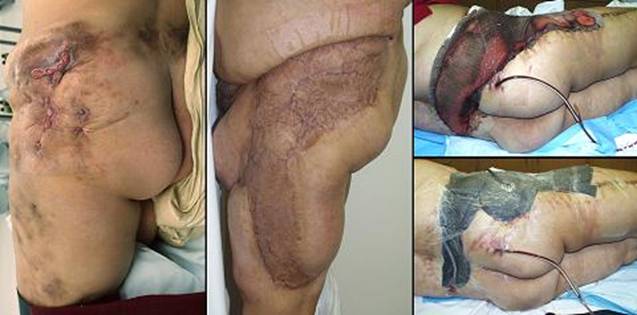 <![endif]>
(a, left) The left hip and thigh at the time of resection. Hyperpigmented areas along the thigh and lumbar indicate the location of calcinosis. Over the hip, numerous sinuses are draining the abscess within the calcium tumor.
(b, center) One year after excision and Integra, the area is healed. There has been no recurrence of pathology. The patient's general welfare is greatly improved by elimination of chronic infection. This photograph was taken just prior to the same procedure on the right side. Calcinosis is equally extensive on the right, but because it is not yet abscessed, there has been no urgency to operate. The fact that the patient returns to have the other side operated is a testimonial to patients' acceptance of these procedures: good results, control of disease, and a return to healthy lifestyle, with acceptable post-operative discomfort and little risk or time away from home.
(c, right top) These two pictures illustrate some options for graft fixation. In this image, the right side has been excised and closed, as an outpatient, 4 days prior. The pelvis is a challenging area to use wrap-on bandages, so the Integra was compressed and immobilized with a "tie-over" type of dressing using an elastic bandage zigzagged and stapled over bulk cotton gauze.
(d, right bottom) The stapled dressings are very effective compression, but they can be untidy and uncomfortable. They were used of necessity in the operating room, but 4 days later in outpatient clinic, they were replaced with a sponge vacuum device (V.A.C.®, Vacuum Assisted Closure ™, Kinetic Concepts, Inc., San Antonio, Texas, USA). This is an effective way of getting good graft compression and adherence to the wound, with comfort and relative simplicity. Vacuum fixation is particularly suitable for patients with vascular disease where it can eliminate bandage-induced pressure ulcers.
Case study F1, location, upper extremity
42 year old woman, figure 47. The patient has diabetic atherosclerosis involving the upper extremities. Long finger ulceration resulted in progressive necrosis and amputation. At the time of consultation, there was abscess and necrosis of the central hand. Debridement and silver sulfadiazine stabilized the wound, permitting the third ray defect to heal by natural contraction. However, exposed joints and flexor tendons required coverage to avoid ring finger amputation. Vascular disease and loss of the adjacent finger precluded any of the customary flaps that ordinarily solve this problem. Integra over the exposed structures of the ring finger succeeded, followed by a small flap to close residual open ligaments of the interphalangeal joint. Key points: low risk in a high risk situation; suitable when customary options do not exist; simplicity, low risk, and good results make it a preferable choice even if customary options are available; effective for vascular problems; essential closure of important structures.
<![if !vml]><![endif]>

Figure 47     Case study F1

(a, top) This left hand presented with active progressive infarction and abscess beginning in the long finger ray. This image is after a few weeks of good wound hygiene, silver sulfadiazine, and debridement. Arterial pressure and circulation are not as bad as first thought, evidenced by the completely healed central hand. Since initiating good topical care, gross inflammation (erythema, edema, and so on) are controlled, and there has been no further necrosis. The hand is healing, but essential coverage issues over the skeletal structures of the ring finger need a solution. The usual flaps from adjacent fingers cannot be done in this high risk arteriopathic hand.

(b, middle) The prepared wound ready for Integra. Crucial structures to be covered are the web space, the proximal interphalangeal joint, and the flexor tendons and their sheath.

(c, bottom) The healed hand. The interphalangeal joint had a persistent small ulcer after Integra, and this was closed with a small flap from the dorsum of the joint. Integra closed the flexor tendons, and it reconstructed a fully compliant web space free of scar and contracture. Interphalangeal joint motion is limited, but the patient eschewed therapy and is very happy to have a healed hand without having lost the ring finger.
Case study F2, location, trunk
49 year old man, figure 48. This paraplegic patient had chronic lumbar ulceration due to vertebral osteomyelitis and extensive bone abscess at the site of his original lumbar injury and surgery. Complete three level vertebrectomy, L2 - L3 - L4, was required to cure the problem. Repair had to satisfy closure of remaining bone, dura, and spinal cord, protection of intraabdominal vascular structures just anterior, and sufficient mechanical stability to prevent subsidiary ulceration or excessive disability. The most crucial structures were closed with available flaps of lumbar muscles, fascias, and skin. Integra was a complement to the flaps, closing all other open surfaces, providing essential coverage and simplifying post operative care. The patient has been healed and functional for two years, using a spinal orthosis for stability in his wheelchair. Key points: simplifies care in an unusual situation; works well in combination with flaps, each contributing what it does best for the reconstruction.
<![if !vml]><![endif]>

Figure 48     Case study F2

(a, left top) A view from caudad to cephalad showing the lumbar area after 3 level total vertebrectomy. Available skin and paraspinal muscles have been elevated or transposed to close key structures.

(b, left bottom) The wound closed with flaps and Integra.

(c, right) The patient is healed and independent, seen here a year and a half later. By wearing a TLSO (thoraco-lumbo-sacral orthosis), the patient is stable and mobile for transfers and wheelchair activities.
Case study F3, location, leg
77 year old woman, figure 49. The patient had bilateral leg and ankle ulceration for 40 years. In spite of classic symptoms of Sjögren's disease, the diagnosis was missed countless times. When seen in consultation, the diagnosis was made, anti-inflammatory and antimetabolic treatments were started, and the patient's general health status improved considerably. Fasciectomy and Integra reconstruction healed the legs. Key points: succeeds where all else has failed; succeeds when patients and providers think the situation is hopeless; especially helpful for treating extensive ulceration due to connective tissue disorders.
<![if !vml]><![endif]>

Figure 49

Case study F3

(a, left top and middle)

The patient has extensive bilateral "rheumatoid" ulceration of 40 years duration due to Sjögren's disease. (There are three sets of images, before-during-after. There are 4 views for each time. The image order is matched, beginning from the top: medial right leg and ankle, lateral left, medial left, lateral right.)

(b, center top and middle) The legs and ankles one week after excision and Integra. The material covers multiple muscles, tendons, and retinacular ligaments. Notice the wrinkling in the Integra, a common occurrence because inflammation is controlled and all edema is gone, decreasing the circumference of the extremity.

(c, right column) The healed legs two years later. An anterior view is also shown.

(d, bottom row) Close up views of the medial and lateral right ankle, to show the quality and texture of the regenerated skin.
Case study F4, location, foot
73 year old man, figure 50. The patient required transmetatarsal amputation for atherosclerotic necrosis of the toes. The open incision, well cared for, was not an immediate threat to the patient, but it would not heal, and slow progressive necrosis continued on the wound surface. Hyperbaric oxygen therapy was offered but refused because the patient lives and works at a far distance. The wound was excised and closed with Integra, and the patient continued his normal activities. Integra stabilized the wound. It remained healthy after silicone removal (unlike the open wound's behavior prior to Integra). Slow epithelialization was accelerated with platelet derived growth factor. Healed. Key points: control of pathergy; succeeds where most surgeons would have done a leg amputation; good topical wound care, hygiene, and patience give much better results than amputations due to impatience; PDGF is a useful adjunct; function, lifestyle, and vocational productivity can be preserved, even during reconstruction; all outpatient care.
<![if !vml]><![endif]>

Figure 50    Case study F4

(a, top left) The left foot many weeks after transmetatarsal amputation. The wound is rigorously cared for, and it has remained free of inflammation and complications. However, the foot remains severely ischemic, and there is the perpetual accumulation of superficial necrosis in spite of regular debridement.

(b, top right) Closure with Integra arrests necrosis. The foot is fully motored and functional.

(c, bottom left) Open Integra, two months after regeneration and silicone removal. Skin grafts did not adhere, and the wound is not epithelializing. However, although epidermis is not moving, the regenerated Integra is acting like "naked dermis", healthy, protecting the wound, preventing necrosis. In the interest of stimulating epithelial growth, platelet derived growth factor is now being used topically.

(d, bottom right) Healed and ambulatory 3 months later.
Case study G1, exposed structure, bone
33 year old man, figure 51. The patient has had multiple venous thrombosis and leg ulceration ever since a femur fracture at age 14 (while not worked up for such, laboratory evaluation of recent similar patients has demonstrated that young men with a comparable history almost uniformly have Factor V Leiden or similar pre-thrombotic disorder). Under the author's care, a large ulcer healed, but in spite of continuing compression and preventive care, it recurred a year or two later, and surgery was opted. All inflamed, ulcerated, and trophic skin was excised. The tibia, highly dysplastic due to chronic contiguous inflammation, was planed down to remaining normal cortex, and the wound was closed with Integra. The wound has been healed and stable nearly 5 years. Key points: durable reconstruction that outlasts other approaches to care; closes bone; no donor sites nor other risks as would be the case with free flaps; outpatient care.
<![if !vml]><![endif]>

Figure 51     Case study G1

(a, top) The right leg in surgery. Pathological tissues have been excised. Dysplastic tibial cortex is exposed.

 

(b, middle) After planing the tibia back to architecturally normal bone, the wound is ready for closure with Integra.

(c, bottom) At 5 months, the reconstruction is almost completely healed (it has since healed and has remained stable for 5 years).
Case study G2, exposed structure, joint
43 year old man, figure 52. An internationally ranked athlete, this patient rapidly deteriorated due to scleroderma. He presented with multiple hand problems, including ulceration into the index finger metacarpophalangeal joint. As one of the few fingers not contracted and still otherwise functional, salvage was important for the most rudimentary activities of daily living. Any incisional surgery was risky because of immunopathy and related vascular problems. Even if surgery was safe, sclerotic skin made local flaps a technical impossibility. Integra healed the open bone and joint, with preservation of a functioning finger. Key points: works where anything else is too risky; no further incisions or risk; coverage of bone and joint.
<![if !vml]><![endif]>

Figure 52

Case study G2

(a, top left) The right hand in surgery. The open index finger metacarpophalangeal joint and degenerated bone at the base of the phalanx have been debrided. Various contracture releases have been performed on other fingers. Note skin atrophy, sclerosis, and telangiectasias typical of scleroderma.

(b, top right) Histology of the debrided specimen shows stenotic fibrotic arteries typical of immunopathic angiopathy. Impaired circulation adds another layer of risk and complexity to this case. Of the conventional options for closure, topical care, repair, flaps, grafts, or amputation, all are either too risky, doomed to fail, technically unfeasible, or too destructive of remaining function. There are no rational solutions to close this wound, nothing safe, nothing which will get a favorable result, other than Integra.

(c, bottom left) The healed hand at 6 months. This is the posture at rest. The healed Integra over the joint, soft and compliant, has dermal creases.

(d, bottom right) The material is compliant enough to allow full flexion. Due to extensive fibrosis, failed prior operations, and lack of systematic care, the hand prior to consultation was useless. After this Integra reconstruction and related activities, socioeconomic factors hampered his ability to have aggressive hand therapy and follow-up reconstruction. While this result is only as good as circumstances permitted, it has healed the hand and restored basic activities of daily living. Daily care is no longer needed, pain and symptoms and threat to the limb are gone, and he can now hold a pencil, telephone, cup, and toothbrush.
Case study G3, exposed structure, hardware
50 year old woman, figure 53. The patient had a distal tibia fracture treated by plate and screw fixation. Skin dehiscence was managed by rectus abdominis and latissimus free flaps, both of which died. When seen in consultation, the first jobs were to stop all other surgery, clean up the wound, and work her up for autoimmune and hematological disorders (a diagnosis was not established). Options for surgical closure of an open distal tibia are already quite limited, and in this case, all choices, local flaps and free flaps, carried substantial risk of further failure. Rather than take these risks, Integra was opted. Its intended use was to be a high grade artificial skin. Whenever silicone would threaten to come off, new Integra would be placed, and this would continue until the fracture was healed and the exposed plate could be removed, probably 3 or 4 months. It was not meant to completely close the wound over the plate, but because of tangential histoconduction, that is what happened. After the third piece of Integra, a complete competent lamina of new tissue covering the plate could be skin grafted. There were no complications nor setbacks of any kind. The patient became quite skilled with the required care, permitting her to take an out-of-country holiday vacation for three weeks while the third Integra was in place. It has remained healed for two years, the hardware uncomplicated and still in place. Key points: controls pathergy; safe; not susceptible to the pathological failures that normal repairs, flaps, and grafts are subject to; solves problems when other options have run out; tangential histoconduction; essential closure; role as a high quality artificial skin; multiple serial Integra is a good strategy, to be used for artificial skin purposes or for reconstruction; outpatient care.
<![if !vml]><![endif]>

Figure 53     Case study G3

(a, left top) The right distal tibia after two failed free flaps. Note the multifocal infarction of skin edges, all suspicious for vascular, hematological, or immunopathic disorders, even though an underlying diagnosis was not established. The tibialis anterior tendon, the metal plate and screws, and the fracture underneath are all exposed and need a solution for coverage and salvage. After a period of hygienic wound care, Integra was used to close this wound, according to the rationale discussed in the text.

(b, left middle) After a few weeks, Integra has fully opacified over those surrounding soft tissues that could directly source regenerative cells into the matrix. Integra sponge over plate and tendon has not yet regenerated. Filled with yellow serum, the plate can still be seen through it. Because silicone ejection was imminent, the original silicone has been peeled off in surgery. Skin grafts will be placed on peripheral regenerated areas, and new Integra will be placed over the central zone.

(c, left bottom) In this and image b, look closely at the margins of the central sponge. In many areas, opacified new tissue is diffusing inward from the surrounding normal areas. This centripetal growth will continue until the entire matrix has generated tissue.

(d, right top) While tangential histogenesis alone was not the original surgical plan, it became obvious early in the process that it was going to work. After the third Integra (and skin grafts), the leg is healed. The leg is seen here 11 months after starting the reconstruction, entirely healthy and uncomplicated (anterior view, foot to the left).

(e, right middle) The patient is fully ambulatory and active, with no restrictions of activity of any kind. The fracture is healed, and the plate and screws remain in place. Ankle dorsiflexion is off by 20 degrees, but this can be a consequence of fracture, and it is better than having the whole foot off.

(f, right bottom) Demonstrating plantar flexion, which is normal.
Case study G4, exposed structure, lung
50 year old woman, figure 54. Advanced breast cancer caused abscess and necrosis of the upper extremity, with brachial plexus and chest wall infiltration. Radiation necrosis and ulceration of the sternum further complicated the problem. No distant metastasis could be identified, and the patient was recommended for interscapulothoracic amputation to relieve intolerable symptoms. Most forequarter amputations have normal thoracic skin that allows primary wound closure. The operation in this patient was undertaken knowing that if the resection was to be effective palliation, justifying the procedure at all, that all nearby skin, parts of the musculoskeletal chest wall, and all usual flaps would be gone. Without Integra there was no coverage, and surgery simply could not have been done and would not have been scheduled. Excising the chest wall without any flaps meant that Integra was used to cover open thorax and lung. The patient died 10 months later. Patient and family reported that the experience was worthwhile because pain and other symptoms were almost completely relieved, and travel and family activities were possible for a few months. The Integra was an effective skin and a competent chest wall, developing an alveolar fistula only in the last few days of life. Integra was also placed over known micrometastases, without visible growth of the tumor in those areas. Key points: effective over well debrided irradiated areas; role in palliative care; support of meaningful lifestyle; effective for chest wall and abdominal reconstruction; sometimes the only possible option; makes extreme surgery feasible and relatively easy; no donor sites when they can be ill afforded; a good companion to flaps (see figure legend); possible tumor control?
<![if !vml]><![endif]>

Figure 54

Case study G4

(a, top left) The chest, abdomen, and neck after wide resection and interscapulothoracic amputation for widely infiltrated breast cancer. The first rib and apical chest wall have been removed, and the lung is exposed. The anterior chest and sternum are areas of radiation exposure and superficial ulceration.  Posteriorly, the extent of resection is comparable, crossing the midline. The rectus abdominis muscle is the only potential flap that might be used, but its viability is uncertain when transposed to the base of the neck. There are no options for closure other than Integra. Other than 10 days associated with this first operation, the care was outpatient.

(b, top middle) Two weeks after surgery, Integra was healthy except anteriorly over the irradiated areas. A second procedure was done, anterior debridement and new Integra, and also delay of a rectus flap. Integra was serving as a very effective chest wall substitute, but there was uncertainty about leaving it as the only long term coverage over the lung. So, preparation of the rectus muscle was started so that it would be safe to pull up this far. In this image 2 weeks later (4 weeks after the first operation), the original Integra is fully regenerated. The new 2 week Integra is healthy (except for the characteristic black color over two dead ribs). The delay incisions are visible on the upper abdomen.

(c, bottom left) Three weeks later, skin grafts are healing posterior and lateral. The new anterior Integra is healing properly. Degenerative exudates surround the two dead ribs, but this does not influence the rest of the reconstruction. Regenerated Integra is still in place over the lung.

(d, bottom middle) It is now 3 months after the first operation. Skin grafts are healing across the entire chest. The flap has been transposed and covers the lung. A piece of Integra has been placed on the bare undersurface of the flap, to keep it healthy and to obviate the need for any specific care. This piece of Integra is regenerated, still under silicone, an innocuous neodermis that obviates any direct care.

(e, right top) These two images are at two weeks. The lung is visible under the Integra which is just beginning to opacify. This first image shows the lung in inspiration. There is the expected paradoxical inversion of the material, but the lung stays suspended and inflated, obviously without pneumothorax or effusion.

(f, right 2nd) The companion image, during positive pressure valsalva.

(g, right 3rd) During the various procedures, the original Integra over the lung was replaced with a second Integra when the first piece was ready to lose it silicone. This image is at the time when the second silicone was removed and the lung was covered with the rectus flap. The lung is still visible through the thin but regenerated Integra, and it remains fully inflated, even with the silicone peeled off. When the patient later started chemotherapy, fat necrosis developed at the distal end of the flap, exposing the Integra. Fortunately, the Integra neodermis remained a competent chest wall for another 6 months.

(h, right bottom) Several months later, cutaneous tumor metastases are beginning to grow, visible in the lower left of this image. At the time of initial surgery, histology had confirmed microscopic disease across the chest wall, now under Integra. If it was going to grow, one might expect it to be obvious through the thin Integra, just as ordinary skin grafts in this situation rapidly become ulcerated by tumor growth. However, except for a limited number of small nodules, the Integra was not host to tumor growth, at least not obvious exophytic growths nor malignant ulceration. In this image, there are a few open areas of still healing skin graft, and a few nodules near the normal skin, but little other sign of neoplastic tumor growth.
Case study H1, select problem, achilles
65 year old woman, figure 55. The patient has Wegener's granulomatosis with severe pulmonary disease and an achilles ulcer. After a period of preparational wound care and treatment of disease, the ulcer and tendon were closed with Integra. The reconstruction healed promptly. Key points: essential closure; eliminates flaps in high risk wounds; safety in high risk patients, excellent results over the achilles tendon.
<![if !vml]><![endif]>

Figure 55     Case study H1

(a, top) A view of the ulcerated achilles tendon. There are multiple scars from previous immunopathic or vasculitic ulcers. Granulation tissue around the tendon indicates that wound healing is intrinsically competent. However, disease is still active, and shearing from achilles tendon motion means that this wound cannot easily heal, if at all, even in a healthy person.

(b, 2nd) In surgery, the wound has been prepared by excisional debridement, including decortication of tendon until only healthy fibers remain. Serious consideration was given to using a "reverse sural nerve flap" (the design marked in blue ink), a usually dependable flap for wounds in this area. However, skin grafts would have been needed at the donor site, so the flap would not really have simplified the situation. Given the high risks for this wound and patient, good sense prevailed, and the simplest safest thing was done, Integra.

(c, 3rd) The regenerated material ready for skin grafts.

 

(d, bottom) The healed result two months later.
Case study H2, select problem, heel
84 year old woman, figure 56. The patient developed multiple foot ulcers related to diabetic vascular disease and disabling senile illnesses. Living in a rural area with an elderly husband, foot preservation was required so that she could stand and assist with wheelchair transfers. All ulcers were debrided and closed with Integra, including a large heel ulcer requiring posterior calcanectomy. Reconstruction was uncomplicated, and all wounds healed. Key points: effective closure of heel; effective closure of bone; salvage of limbs and preservation of lifestyle without risk.
<![if !vml]><![endif]>

Figure 56     Case study H2

(a, top) The right foot is seen after debridement and Integra reconstruction of multiple wounds, including the achilles tendon and the heel which are visible in this view. The extent of posterior calcanectomy can be seen from the missing heel contour.

(b, middle) A close up view of the heel showing stable skin.

(c, bottom) The same view, but with the foot in forced passive dorsiflexion. The contours of the achilles tendon insertion on the calcaneal margin are seen in relief as the thin, compliant, scarless new skin moves and conforms to activity underneath.
Case study H3, select problem, stump salvage
53 year old man, figure 57. The patient had a below knee amputation for complications of diabetic atherosclerosis. Although wound necrosis threatened above knee amputation, it was managed by debridement, good wound care, and then reclosure with Integra. The stump healed, permitting the patient to be rehabilitated with a preserved knee. Key points: salvages complicated stumps; prevents progressive amputation; effective in diabetic atherosclerotic patients; recently healed Integra can be injured and lacerated by accidental trauma (see figure legend).
<![if !vml]><![endif]>

Figure 57     Case study H3

(a, top left) This left leg has stump necrosis after below knee amputation. Note the granulation tissue. This wound is sufficiently vascularized, and it is competent to heal. Necrosis was a consequence of avoidable technical factors. With patience, good wound care, and suitable surgery, this should be easy to heal, without higher amputation as had been suggested to the patient. (In all of these images, the tibial tubercle is at the top of the image, the knee superior to that by a few centimeters.)

(b, top right) After a period of debridement and good daily care, the wound now meets criteria for reclosure. Note the exposed necrotic tibial surface which will need excision.

(c, middle left) The prepared wound ready for closure, including decorticated anterior tibia. There are no dependable options, no available flaps, no realistic choices for closure other than Integra.

(d, middle right) Integra in place 5 weeks later, nearing complete regeneration and ready for skin grafts.

(e, bottom left) The healed reconstruction two months later. A few subsidiary wounds around the knee are also healing (not treated with Integra). Throughout the reconstruction, a rigid posterior platform splint was used to maintain an extended knee yet permit care of the wounds and the reconstruction. Knee posture is now normal, and the patient and leg are preparing for prosthetic training.

(f, bottom right) One month later, the patient fell. This caused a tangential avulsion laceration of newly healed epidermis. This was treated like any similar laceration without difficulty. This image is included to demonstrate that Integra reconstructed skin, like any wound or scar or skin graft, needs suitable time to fully mature and develop sufficient strength to bear up to the requirements of daily life. Appropriate caution and care should be taken for several months after reconstruction.
Case study H4, select problem, dorsum of hand
44 year old man, figure 58. The patient developed staphylococcal necrotizing fasciitis after leg surgery. Extensive involvement of lower extremities, trunk, and upper extremities required usual aggressive debridement followed by wound care and then closure and reconstruction. Integra was used to close many areas, including leg amputation, knee joint, shoulder joint, and many tendons and muscles. The case is presented to demonstrate the type of dorsal hand wound which is easily reconstructed with Integra. This is also an example of Integra as a biological dressing, as a bulk filler, and as a planned second use of Integra (see figure legend). All wounds and structures closed with Integra have remained healed and uncomplicated for 4 years. Key points: high grade artificial skin; good tool for managing critically ill patients with large wounds; a superior dorsal hand reconstruction compared to other methods; the spongy matrix alone can be used for volume filling; Integra should be a first choice for the dorsal hand and wrist.
Figure 58     Case study H4
<![if !vml]>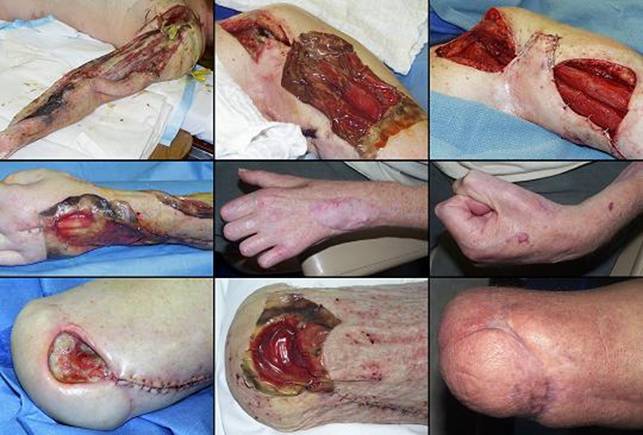 <![endif]>
(a, top left) A view of the left upper extremity after staphylococcal necrotizing fasciitis. Multiple other areas of the body were similarly involved. After a week of debridement and initial care, the patient is now back in the operating room ready to start closing wounds. Note the drain passing through the glenohumeral joint. The shoulder was not ready for closure and was kept open for another week of care.
(b, top middle) This image is one week later. All wounds closed by Integra or simple direct repair have contributed to a healthier more stable patient with fewer nursing requirements. The shoulder itself is now clean and ready for closure.
(c, top right) The Integra over brachial muscles, seen in image b, has been pulled off. It served a function as high quality interim closure, but now it has been removed for the sake of an integrated repair of the entire shoulder area. A small flap of axillary skin was available for transposition, so it was used. As good as Integra does for preserving normal skin mechanics, flaps are still better in many areas. In an area like the axilla, notorious for scar contracture, the opportunity to do a simple composite reconstruction with a handy flap should not be missed. Except for the final overgrafts, these wounds healed without further ado.
(d, middle left) However, in some areas, Integra is superior to conventional flaps, and the dorsum of the hand is one of those areas. In this image, the open dorsal hand and its tendons have been covered with Integra.
(e, center) This and the next image show the hand a year and a half later, at rest and in flexion.
(f, middle right) The dorsal hand Integra is thin, compliant, and extensible. Dermal creases are present. There are no restrictions on range of motion. Tendons and joints glide independently of the new skin. The results are comparable to full thickness skin grafts: good texture and mechanics; no need for late revision. The differences are important: Integra is more apt to take completely than the grafts; the supply of full thickness grafts is limited, but Integra is unlimited; losing some full thickness graft is a waste that cannot necessarily be restored, but losing some Integra, while unlikely, can easily be replaced with more Integra. Integra ought to be seen as the preferred option for reconstructing skin on the dorsum of the hand.
(g, bottom left) The bottom row illustrates Integra for volume filling. The patient's fasciitis began in the leg after below knee amputation. The stump wound is now ready for closure, but the defect extends into the tibial medulla. Soft tissue is required to fill this (or risk abscess if it is covered without filling). However, there are no good options for local flaps.
(h, bottom middle) Integra sponge was packed into the endosteal cavity and deeper soft tissues, and then a normal bilaminate piece was used to cover the entire wound. The Integra will be replaced with tissue, and in the short term, it is a reservoir of antibiotics that will resist any tendency to get a dead space abscess. Its use is comparable to antibiotic-laden acrylic cement, which is usually used for bone filling. However, the Integra matrix will simply become part of the host and will not require exchange.
(i, bottom right) The silicone remained in place without complication until the wound was regenerated. The skin grafts healed and the stump has remained uncomplicated for 4 years.
Case study I1, performance, resistance to recurrence
71 year old woman, figure 59. The patient was treated for "venous ulcer" for several years, even though the ulcer had paradigm features of rheumatoid disease and the patient met multiple other diagnostic criteria. On consultation, the diagnosis was made and anti-immune treatment was started. The ulcer, including open fibula, was closed with Integra. Two years later, disease flare-up caused multiple new ulcers on both legs and ankles. The original reconstruction was spared new injury. The new lesions were closed with Integra after preliminary management showed that they were not likely to heal by topical care alone. Key points: accurate diagnosis important; treatment of underlying disease important; essential closure of muscles, tendons, bone; durable results resistant to disease flare-up.
<![if !vml]><![endif]>

(g, bottom left) Medial view. Because the new ulcers and fascial necrosis did not improve by anti-rheumatoid control and topical care alone, they were excised and closed with Integra, shown here one week after placement.

(h, bottom right) Medial view. All healed, seen here 9 months later.

Figure 59     Case study I1

(a, top left) The original ulcer on the lateral left leg and ankle. Multifocal lytic ulceration, exposure but sparing of muscles and tendons, distribution along tendon sheaths, and absence of venous pigment and edema all peg this as a rheumatoid ulcer (or related immunopathy).

(b, top right) Integra in place after excisional debridement and initiation of anti-inflammatory and antimetabolic therapy.

(c, 2nd left) The healed ankle 6 months later. This area has remained healed ever since.

(d, 2nd right) Two years later, the patient became very ill with a disease flare-up. Rheumatoid dermatofasciitis and multifocal ulceration occurred, seen here on the medial side of the left leg.

(e, 3rd left) Anterior view. After 3 weeks of increased anti-inflammatory therapy and care of the leg, some inflammation has subsided, some persists, and there are numerous small ulcers.

(f, 3rd right) This image is simultaneous to figure e. Whatever else has happened nearby, the original lateral leg reconstruction remains healthy. This is because Integra does not restore the adipose fascias in which rheumatoid panniculitis typically occurs, but also possibly because, as a more embryonic type of tissue, it might have some inherent resistance to these diseases.
Case study I2, performance, tumor
22 year old woman, figure 60. The patient has juvenile nodular fibromatosis and Gardener's syndrome. Multiple previous tumors and surgery had created areas of unstable scar and skin graft on the right flank, all of which lysed and ulcerated when she developed an acute nephric abscess. The area was closed with Integra and it remained healed, another successful Integra result, another example of visceral coverage (kidney and colon). However, one year later, mesenteric tumor growth and a persistent calyceal fistula necessitated block resection of abdominal wall, kidney, and bowel. The old Integra came out with the kidney. This case is presented because the histology of the specimen suggests that Integra might be a barrier to the growth of invasive tumor. Key points: visceral coverage; possible tumor control?
<![if !vml]><![endif]>

Figure 60     Case study I2

(a, top) The patient's back and right flank prior to tumor resection (hip to the right, chest to the left). The large mass protruding anteriorly is a large thoraco-abdominal and mesenteric fibrous tumor which is to be removed. In the center is one-year old Integra. The two lobules to which the Integra conforms are kidney and tumor. The Integra is inherently healthy, not invaded by tumor. The calyceal-nephrostomy fistula is at the medial margin ( position in the photograph).

(b, center) Wide microscopic view of part of the specimen. The top pink zone is healthy Integra, covered by mature epidermis and papillary dermis. At the left margin is some conventional scar (see figure 16). At left bottom is kidney. The right and center bottom is tumor, juvenile nodular fibromatosis. While not a true sarcoma, this neoplastic process is invasive and recurrent. The blue-grey tumor is separated from kidney by some normal pink collagenous fascia.

(c, middle left) These two panels zoom in on tumor margin along the perinephric fascia. There is diffuse infiltration of tumor into the fascia.

(d, middle right) These two panels zoom in on margins of the tumor adjacent to Integra. The tumor does not appear to transgress or invade the Integra.

(e, bottom left) A close up of the fascia margin shows organized columns of tumor infiltrating into normal tissue.

(f, bottom right) A close up of the Integra margin. A few tumor cells seem to be flirting with the idea of crossing the line, but there is no organization between these cells, and no bulk transgression.
Case study I3, adjunct use, flap delay and donor site
14 year old boy, figure 61. The patient had a back ulcer of several years duration following radiation for a spinal tumor. Closure was done using a large lumbar (non-irradiated) flap. The flap required several delays and intermediate transfers. Integra was an adjunct to care. It was not used as the primary closure, but instead, it was used to close flap donor sites and to line the undersurface of the flap during delay. This is an important concept in staged flaps. The idea of delay is to develop robust circulation in the flap through a small inflow pedicle. A flap is typically raised and then put back in place, waiting until later procedures to be moved. If an already dissected undersurface is allowed to heal and reconnect, that completely abrogates the delay. In this case, effective delay made for a safe flap, and when the flap was moved, the underlying Integra was ready for overgrafts. All components of the reconstruction healed without complication, and the problem was easily managed as an outpatient with little pain and no disability. Key points: works well in conjunction with flaps; excellent companion to large staged and pedicled flaps; simplifies post-operative pain, nursing, and recuperation.
<![if !vml]><![endif]>

Figure 61     Case study I3

(a, top left) The lumbar area is a watershed between large vascularized muscles, and the choice of large dependable one stage flaps is limited. Closure of the right paraspinal radiation ulcer is to be done with a random flap transposed in stages from the non-irradiated left lumbar area. This image shows the flap elevated and moved into place over the excised ulcer. Scar and dystrophic skin inferior to the flap is part of the radiation injury, and this is to be excised and closed with the back end of the flap after the forward part of the flap heals.

(b, top right) Integra has been used over exposed muscles at the flap donor site. This was done, rather than skin grafts, to minimize pain, drainage, and nursing requirements. Part of any good flap delay is to keep the elevated pedicle from healing and revascularizing on its deep surface. Integra can also be seen buried underneath the flap to prevent this.

(c, middle left) Images a and b were photographed from the right side (head to the right). Images c, d, e, and f are from the left side (head to the left). Fourteen days later, a delay was done. Because the flap is healing and revascularizing at its distal end, the base has been divided so as to force more robust vascularization at the front end. This will permit the back half of the flap to be elevated and moved in another few weeks. The Integra has normal two-week appearance, still a transparent window on underlying structures, but just starting to opacify from histogenesis. The buried Integra cannot be seen, but this is the moment of its most important function, because if the flap were able to revascularize on its deep surface, it would not develop enough circulation at the distal end to support the entire thing.

(d, middle right) Three weeks later, the delayed flap is healthy, uncomplicated, and ready for transposition. The Integra is fully regenerated and ready for skin grafts.

(e, bottom left) Taken at the same time as image d, this is the back end of the flap, elevated and ready to move. The underlying Integra is healthy, and it has done its job, keeping the flap unconnected in that area, easy and bloodless to elevate, without creating new vascular stresses on the flap. The tail of the flap was moved across the midline to replace the remaining dystrophic irradiated skin. Skin grafts were placed over both pieces of regenerated Integra.

(f, bottom right) A year later, everything is healed. The flap is healthy, Integra regenerated skin is soft and compliant, and there has been no skin dystrophy nor ulceration.
Case study I4, technique and management, complete excision.
60 year old woman, figure 62. The patient had a persistent leg ulcer refractory to various care. Progressive lytic ulceration with spotty pigmentation suggested a venous, vasculitic, or other immunopathic disorder (but an exact diagnosis was not established). This profile prompted excision and Integra, and the ulcer healed. The case is presented to illustrate the method of ulcer excision and Integra placement. Key points: proper technique; good wound preparation; complete ulcer excision; proper graft fixation; continued care of the healed result; relatively resistant to disease, but not impervious to injury and neglected care (see figure legend).
<![if !vml]><![endif]>

Figure 62     Case study I4

(a, top left) The right leg ulcer. Spotty brown pigment suggests venous insufficiency or hypertension. However, the ulcer itself has features more typical of immunopathies and hematopathologies rather than ordinary venous stasis ulceration. Various topical treatments and compression failed. Anticipating that skin grafts would not take, and that flaps might be subject to complications or impaired healing, excision and Integra was elected. While disease is still active, as evidenced by a retarded wound module and signs of active necrosis and ulceration at the margins, nevertheless, this wound has been properly prepared for surgery. Periwound erythema is mostly gone, there is little or no edema, and the only residue on the surface is from silver sulfadiazine cream.

(b, top right) The excised wound. All of the original wound surface must be removed. Note that the deep plane of resection incorporates the deep or muscular fascia (the "sural fascia" here on the leg). Since musculoskeletal and visceral structures are not usually affected by these disorders, excision of susceptible tissues must be done until these structures are revealed. This is a mandatory treatment principle, and it explains why so many Integra cases have essential coverage issues, and why Integra is so suitable for their closure. (Note that the specimen remains attached by the superficial peroneal nerve. This nerve perforates the sural fascia and terminates in its target territory in this position. Almost all chronic wounds in this position are tethered by this nerve, explaining why most anterolateral ulcers are predictably painful.)

(c, middle left) Integra has been placed on the wound and secured (staples in this case, but choice of method is irrelevant). Excess material at the margins is then trimmed. In spite of its collagen content and microporous surface area, recall from figure 5 that Integra is not thrombogenic nor hemostatic. Wound bleeding should be controlled before the material goes on.

(d, middle right) Post-operative care is minimum or none, because the reconstruction is protected under fixation or compression bandages. They are usually changed once a week, but more often or less often depending on circumstances. In this case, this is the first dressing change at 10 days. The Integra is healthy and normal looking for this interval, without yet any histogenetic opacification.

(e, bottom left) Six weeks later, the material is regenerated and ready for skin grafts.

(f, bottom right) The skin grafts did heal, but four months later, the patient developed some superficial ulceration of the new epidermis. This resulted from inconsistent use of prescribed compression garments and skin care. Basic topical care and good compression corrected the problem, and the wound quickly rehealed, shown here as epithelium has once again grown to confluence.
Case study I5, technique and management, redo Integra
90 year old woman, figure 63. The patient developed heel and achilles pressure ulcers while recuperating from a femur fracture. Operative debridement and closure with Integra was performed, including posterior calcanectomy for the large heel defect. It became obvious, from black discoloration of the Integra sponge, that there was still dead calcaneal bone that was not fully excised. The Integra was left in place as a temporary artificial skin. During the second procedure, skin grafts were placed over the regenerated achilles, and new Integra was placed on the heel after further ostectomy. Final skin grafts were placed a month later. The wounds healed, and the patient continued with rehabilitation. The results have remained stable for 2 years. Key points: effective simple closure of heel and achilles; effective artificial skin; sequential use of Integra in select circumstances; necessity of thorough excisional debridement prior to placement.
<![if !vml]><![endif]>

Figure 63     Case study I5

(a, top) Integra was placed on a calcaneal ostectomy and over the achilles tendon. The first piece of heel Integra turned black due to incompletely excised bone necrosis (the black color is characteristic of Integra over non-viable tissues, such as in image b where it overlaps normal keratinized skin, or in figure 54b). During the second procedure, skin grafts were placed where ready, on the achilles, and a progressive calcaneal ostectomy was covered with new Integra. In this view a week later, achilles skin grafts and the new heel Integra are healthy

.

(b, 2nd) Three weeks later, the second heel Integra is regenerating properly.

(c, 3rd) Five months later, all is healed and healthy.

(d, bottom) The following year, the reconstruction continues to be healthy, without any injury or ulceration due to footwear, walking, nor other normal activities.
Case study I6, technique and management, planned second Integra
69 year old woman, figure 64. The patient had necrosis and ulceration of the leg following excision of a small benign skin lesion.. It failed to heal with customary care, and slow necrosis and ulceration continued. Foot pulses were good, and laboratory studies showed protein C deficiency and the presence of cryoglobulins. Warfarin was started, but anticoagulation and topical care alone still did not induce wound module healing. Conventional skin grafts and local flaps are contraindicated because they will have the same complications that caused the ulcer in the first place. Excision and closure with Integra controlled the wound and permitted healing. However, by the time that the first piece of Integra was regenerated and ready to loose its silicone, the flexor digitorum longus tendon was not yet covered. A second piece of Integra was applied over the entire reconstruction, and skin grafts could be placed after that. Key points: control of pathergy; ability to bridge structures; multiple sequential Integra buys time and allows the reconstruction to completely regenerate.
<![if !vml]><![endif]>

Figure 64     Case study I6

(a, top left) Right medial leg ulcer. Active necrosis and ulceration at the margins are still active, even with good topical care, edema control, and anticoagulation.

(b, top right) In this histologic section, the ulcer surface is at the top left corner. Inflammatory exudates are sparse, due to good hygienic care and the fact that the cause of this was not an inflammatory disorder. Subjacent blood vessels have stasis and thrombosis, and the vessels themselves are necrotic, typical of microthrombotic disorders.

(c, middle left) Integra in place. There has been no further necrosis nor ulceration. The flexor digitorum longus tendon is visible underneath.

(d, middle right) The silicone has been removed showing that the Integra has regenerated everywhere except over the flexor digitorum tendon. This is not a failure, but merely a need to apply a second serial piece of Integra.

(e, bottom left) After the second piece regenerated, skin grafts were applied. Three months later, all is healed, and the double barrel contours of the tibialis posterior muscle and the flexor digitorum tendon are easily seen.

(f, bottom right) Two years after that, the reconstruction remains healthy.
Case study I7, technique and management, not using Integra
77 year old man, figure 65. One case is selected to illustrate when not to use Integra. This patient with long standing rheumatoid arthritis had an ankle ulcer over the medial malleolus. Malleolar ulcers generally do not heal without surgery because of local mechanics, shearing due to foot motion, and wound geometry related to the malleolar bursa. This patient's history sounds in principle like many of the other cases presented. However, there are important differences. His rheumatoid arthritis is not very active, and he is not ill. The ulcer is due to minor impact trauma in the presence of weakened senile skin, but there has been no dermatitis nor ulcerative inflammation. Although one might anticipate atherosclerosis due to his age, he in fact has normal pulses. This is a simple mechanical ulcer. Risk factors for failed surgery or impaired healing are more speculative than real. The ulcer and malleolar bursa were excised then closed with conventional flaps and grafts, concluded in one operation. Integra would have worked well, but it would have unnecessarily prolonged the care and required a second operation. The flap also gives a superior result, being more tolerant of future trauma (see case H3). Key points: choose the best option to get the best result efficiently and with minimum morbidity.
Figure 65     Case study I7
<![if !vml]>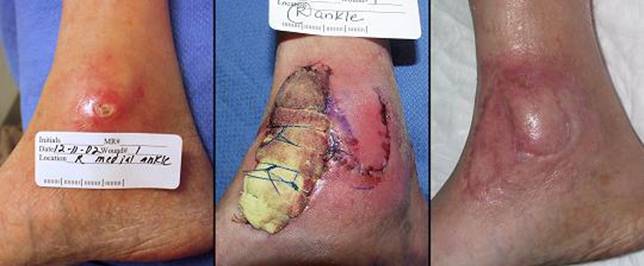 <![endif]>
(a, left) Medial right ankle with malleolar ulcer. The skin defect is deceptive, because there is a bursa underneath. The malleolar bursa is normal anatomy. The bursa is there to accommodate motion of skin over bone, and it extends another centimeter or two in most directions. Once the skin perforates into the bursa, the mechanics of the mesenchyme dictate that this cannot heal. A trial of topical care is always appropriate (as was done), but it will quickly confirm that this lesion requires surgery.
(b, middle) The lesion has been excised. A small local flap was transposed from the anterior ankle to close the bare debrided malleolus. A full thickness skin graft taken from near the knee closed the flap donor site. A customary "tie-over" dressing holds the graft in place.
(c, right) The reconstruction is healed. The thick flap over the malleolus provides protection against future accidental injury.
Case study I8, technique and management, tissue engineering
82 year old woman, figure 66. The patient had a skin cancer of the scalp treated by radiation, 6500 cGy, resulting in a chronic ulcerated parietal cranium. Compounding the problem was advanced Paget's disease of bone with atrophic immobile skin making scalp flaps impossible. The calvarial wound was vascularized and viable, just not wound healing competent. Restoration of competent tissue with trapezius flaps or free flaps would have succeeded, but having had several failed operations, she refused any more major surgery. She did agree to minor outpatient procedures. The solution was to use Integra as a carrier of healthy cells. The reconstruction started by placing a small fenestrated plastic chamber under abdominal skin. Two weeks later, proliferative tissue within the chamber has removed. It was mashed, partly trypsinized, and filtered. The resulting paste was worked into a piece of Integra which was applied to the debrided scalp wound. The composite implant remained alive, the matrix serving as an incubator of mitosis-competent cells. There was a bloom of multifocal regenerative loci distinct from normal Integra regeneration patterns, indicating that the Integra was healing by the seeded cells. When the first piece regenerated, a second unseeded layer of Integra was placed to build a thicker lamina of new tissue. Subsequent skin grafts healed transiently, until dystrophic pagetoid bone continued to extrude, causing reulceration. The patient has since adopted a program of chronic maintenance care and she remains healthy. Key points: Integra can be used in situ as a reactor or incubator to engineer a new tissue with impregnated cells not derived from the substrate wound.
<![if !vml]><![endif]>

Figure 66     Case study I8

(a, top left) This is the radiation ulcer of the scalp, just after debridement, prior to placing Integra. The Integra was impregnated with a paste of wound activated cells harvested from a donor wound.

(b, top right) The matrix at 2 weeks. Some small unmacerated yellow fat lobules are present from the original seeding. Scattered through the matrix, especially center, right, and top, are multiple blooms of pink regenerative tissue.

(c, middle left) The matrix 4 weeks later, fully regenerated, just prior to peeling the silicone and placing another layer of Integra.

(d, middle right) The second piece of Integra completely regenerated and ready for skin grafts.

(e, bottom left) The skin grafts appear normal at 2 weeks.

(f, bottom right) Five months later, pagetoid bone is starting to extrude through the reconstruction, but most of the reconstructed skin is still present. The matrix presumably was populated in part by cells derived from the wound, blood borne or locally resident, but the images suggest that it was mainly the cell transplants which generated the neodermis.
SUMMARY
Integra Dermal Regeneration Template, a collagen-chondroitin matrix, is a unique surgical implant which, when applied to a wound, functions first as a high quality artificial skin and then acts as the agent of dermal regeneration. It has many indications for the closure of traumatic and surgical wounds, for elective reconstructive surgery and the regulation of scar, and for the control and closure of chronic and pathological ulcers. Integra provides the means of treating those large, complex, or pathological problems for which customary methods of care are inadequate, inefficient, or ineffective. Compared to those customary methods of wound surgery, repair, grafts, and flaps, Integra is a completely new paradigm of care and reconstruction. It is a method of stimulated new tissue growth which induces a form of embryonic dermatogenesis.
Unlike any other topical care or material, Integra has an acute therapeutic effect on the wound. It is recognized by a host as self, immediately terminating inflammation, thereby controlling pathergy and avoiding further wound complications. A wound can then recover and regenerate at its own rate without further jeopardy. As an artificial skin, it provides continuous closure of the wound while new dermis is forming, protecting whatever is underneath and simplifying care. Its technical application and care are comparable to skin grafts, but unlike skin grafts, it is not alive, so it does not risk loss due to ischemic necrosis nor inflammatory lysis. This makes it ideal for circumstances in which devascularization, residual pathology, and exposed structures interdict a conventional skin graft. In its role as an agent of skin regeneration and reconstruction, it is indicated and opted for the same general reasons that flaps are used. Its ability to close essential visceral and skeletal structures mostly equals conventional flaps, but it is often safer and it requires no donor sites. It is more versatile than flaps in certain situations, and it works when and where flaps are unavailable, contraindicated, uncertain to succeed, or patient risk is too high. There are also situations in which it gives superior results compared to conventional flaps. For certain select problems, such as midfoot amputations, large posterior heel ulcers, and dorsal hand coverage, it is not only superior but ought to replace any other legacy procedure as the primary method of skin closure and reconstruction.
Integra heals complex and refractory wounds without incurring any risk to the patient. Because it is so safe, there are no formal contraindications to its use. Severe arterial insufficiency and diabetic plantar wounds are two situations apt to fail, but nevertheless, Integra is the means of success for many arteriopathic ulcers and non-plantar diabetic patients. Integra is likewise not appropriate for neuropathic pelvic pressure ulcers, and a multitude of other problems exist where conventional flaps are simply better. However, in these circumstances, Integra can serve a valuable role as partner to a good flap, using both to best advantage for a simple, safe, effective overall reconstruction. For mostly any other chronic and pathological wound, Integra is apt to succeed where all prior attempts to treat have failed.
Integra is a staged reconstruction. For chronic wounds, several months are needed to complete the process. For most surgeons, who take care of acute and traumatic conditions where time is measured by the few days or weeks it takes to remove sutures, the prolonged and staged requirements of reconstructive surgery may seem unnatural and laborious. These exaggerated healing times are lengthened even more in sick patients with pathological wounds. Any physician wanting to be involved in the care of these patients and problems must understand this principle, and successful care requires the ongoing commitment of surgeon and patient. However, for patients who have lived for years with their problems, who have suffered the symptoms and disabilities, who are fearful of amputation, and who have endured many prior treatment failures, a few months of slow but steady success is almost always welcome. The necessary care and related surgery can be strictly outpatient for nearly all subjects.
Integra is not a topical "wound care" product, nor is it a "collagen product". It is a deliberately engineered surgical device that must be used accordingly. Used properly, it changes the economics of wound care and reconstructive surgery. Integra does not supplant the low end of wound care, and outpatient services and good daily care must be unabated in all phases of managing the patient, from first consultation to long term maintenance of the healed wound. Rather, Integra's role is at the high end of wound care, definitive surgical closure, providing added degrees of safety, convenience, and success where conventional grafts and flaps are unsuitable or are likely to fail.
All wound treatment decisions must be made on the goals of controlling disease, healing the wound, doing so efficiently, and preserving function and lifestyle. As with anything else in medicine, a physician must choose the best tools to get the job done. Whatever treatment can be anticipated to best fulfill these goals should be selected. For many wounds, acute, chronic, or late reconstruction, Integra is now the best tool. Not only can it perform well where conventional surgical methods are prone to fail, but it opens up new doors of possibility that would have been impossible with prior surgical methods. First developed for burns beginning in the 1970's, and available for general use since 1996, there is now enough science and experience behind it that it can no longer be seen as a novelty product. Integra collagen-chondroitin matrix is truly a new mode of care. Conventional methods of surgical wound management, repair, grafts, and flaps, are now joined by in situ tissue regeneration, "tissue engineering", and surgeons must work this new mode of practice into their decision making schemas.
Integra's ability to make historically complex problems treatable as an outpatient make it ideally suited to the changing economics and sociology of contemporary medicine. It's ability to protect a wound, control inflammation, suppress normal wound repair and scar, induce embryonic histogenesis, conduct histogenesis across gaps, withstand future flare-ups of disease, succeed where all else has failed, and do so with no risk to the patient is a combination of features unrivaled in the history of surgery. For chronic wounds and their hosts, these features strongly favor Integra as a preferred method of closure for many wounds. The contemporary wound surgeon must adopt this new modality of care.
REFERENCES
1. Yannas IV, Burke JF: Design of an artificial skin. I. Basic design principles. J Biomed Mater Res 14: 65-81, 1980.
2. Yannas IV, Burke JF, Gordon PL, et al.: Design of an artificial skin. II. Control of chemical composition. J Biomed Mater Res 14: 107-31, 1980.
3. Yannas IV: Studies on the biological activity of the dermal regeneration template. Wound Repair Regen 6: 518-23, 1998.
4. Dostal GH, Gamelli RL: Fetal wound healing. Surg Gynecol Obstet 176: 299-306, 1993.
5. Bullard KM, Longaker MT, Lorenz HP. Fetal wound healing: current biology. World J Surg 27: 54-61, 2003.
6. Ronca F, Palmieri L, Panicucci P, et al.: Anti-inflammatory activity of chondroitin sulfate. Osteoarthritis Cartilage 6 SupplA: 14-21, 1998.
7a. Hunt TK, Knighton DR, Thakral KK, et al.: Cellular control of repair, in Hunt TK, Heppenstall RB, Pines E, et al. (eds.): Soft and Hard Tissue Repair: Biological and Clinical Aspects. New York, Praeger, 1984; pp 3-19.
7b. Bertolami CN: Glycosaminoglycan interactions in early wound repair, in Hunt TK, Heppenstall RB, Pines E, et al. (eds.): Soft and Hard Tissue Repair: Biological and Clinical Aspects. New York, Praeger, 1984; pp 67-97.
8. Holbrook KA, Smith LT: Ultrastructural aspects of human skin during the embryonic, fetal, premature, neonatal, and adult periods of life. Birth Defects 17: 9-38, 1981.
9. Gottlieb ME. Modeling blood vessels: a deterministic method with fractal structure based on physiological rules. Proceedings of the 12th International Meeting, IEEE Engineering in Medicine and Biology Society, 1990.
10. Gottlieb, ME. The VT model: a deterministic model of angiogenesis and biofractals based on physiological rules. Proceedings of the 17th Annual Northeast Bioengineering Conference, 1991.
11. Gottlieb, ME. Vascular networks: fractal anatomies from non-linear physiologies. Proceedings of the 13th International Meeting, IEEE Engineering in Medicine and Biology Society, 1991.
12. Mozingo DW, Ben-David K, Perrin KJ, et al.: Comparison of the biomechanical properties of burns grafted with conventional split thickness skin vs. IntegraTM artificial skin. Boswick Burn and Wound Symposium, Maui, 2001. Data on file Surgical Research Laboratory, Inc., Nashville TN, USA
13. Burke JF, Yannas IV, Quinby, Jr WC, et al.: Successful use of a physiologically acceptable artificial skin in the treatment of extensive burn injury. Ann Surg 194: 413–28, 1981.
14. Heimbach D, Luterman A, Burke J, et al.: Artificial dermis for major burns: a multi-center randomized clinical trial. Ann Surg 208: 313–20, 1988.
15. Heimbach DM, Warden GD, Luterman A, et al.: Multicenter postapproval clinical trial of Integra® dermal regeneration template for burn treatment. J Burn Care Rehabil 24: 42-48, 2003.
16. Sheridan RL, Hegarty M, Tompkins RG, et al: Artificial skin in massive burns – results to ten years. Eur J Plast Surg 17: 91–93, 1994.
17. Loss M, Wedler V, Kunzi W, et al.: Artificial skin, split-thickness autograft and cultured autologous keratinocytes combined to treat a severe burn injury of 93% of TBSA Burns 26 :644-52, 2000.
18. Dabney A, Voigt D, Metz P, et al.: The Use of Integra in Traumatic Degloving and Soft Tissue Injuries. Boswick Burn and Wound Symposium, Maui, 2003, in Journal of Burns & Surgical Wound Care, Feb, 2003.
19. Gottlieb ME: Lower extremity lymphedema - management by total dermatofasciectomy and skin reconstruction with Integra®. Boswick Burn and Wound Symposium, Maui, 2003, in Journal of Burns & Surgical Wound Care, Mar, 2003.
20. Peacock EE, Van Winkle W: Wound Repair, 2nd ed. Philadelphia, W.B. Saunders Company, 1976.
21. Rudolph R, Noe JM: Chronic Problem Wounds. Boston, Little, Brown and Company, 1983.
22. Gonyon DL, Zenn MR: Simple approach to the radiated scalp wound using INTEGRA skin substitute. Ann Plast Surg 50: 315-20, 2003.
23. Prystowsky JH, Siegel DM, Ascherman JA: Artificial skin for closure and healing of wounds created by skin cancer excisions. Dermatol Surg 27: 648-53, 2001.
24. Gottlieb ME, Furman J: Successful Management and Surgical Closure of Chronic and Pathological Wounds Using Integra®. Journal of Burns & Surgical Wound Care, Feb, 2004.
25. Dantzer E, Braye FM: Reconstructive surgery using an artificial dermis (Integra): results with 39 grafts. Br J Plas Surg 54: 659-64, 2001.
26. Dantzer E, Queruel P, Salinier L, et al.: Integra, a new surgical alternative for the treatment of massive burns. Clinical evaluation of acute and reconstructive surgery: 39 cases. Ann Chir Plast Esthet 46: 173-89, 2001.
27. Demarest GB, Resurrecion R, Lu S, et al.: Experience With Bilaminate Bioartificial Skin Substitute and Ultrathin Skin Grafting in Non-Burn Soft-Tissue Wound Defects. Wounds 15: 250-56, 2003.
28. Orgill DP, Straus FH 2nd, Lee RC: The use of collagen-GAG membranes in reconstructive surgery. Ann NY Acad Sci 888: 233-48, 1999.
29. Wiley DE, Kowal-Vern A, Latenser BA: Successful Application of Integra® in a Polytrauma Case. Boswick Burn and Wound Symposium, Maui, 2003, in Journal of Burns & Surgical Wound Care, Mar, 2003.
30. Suzuki S, Matsuda K, Isshiki N, et al.: Clinical evaluation of a new bilayer "artificial skin" composed of collagen sponge and silicone layer. Br J Plast Surg 43: 47-54, 1990.
31. Larson KW: Treatment of Necrotizing Fasciitis Wounds with Integra® Dermal Regeneration Template. Boswick Burn and Wound Symposium, Maui, 2003, in Journal of Burns & Surgical Wound Care, Mar, 2003.
32. Lorenz C, Petracic A, Hohl HP, et al.: Early wound closure and early reconstruction. Experience with a dermal substitute in a child with 60 per cent surface area burn. Burns 23: 505-8, 1997.
33. Vazquez Rueda F, Ayala Montoro J, Blanco Lopez F, et al.: First results with Integra artificial skin in the management of severe tissue defects in children. Cir Pediatr 14: 91-4, 2001.
34. Besner GE, Klamar JE: Integra Artificial Skin as a useful adjunct in the treatment of purpura fulminans. J Burn Care Rehabil 19: 324-9, 1998. .
35. Greenberg JE, Falabella AF, Bello YM, et al: Tissue-engineered skin in the healing of wound stumps from limb amputations secondary to purpura fulminans. Pediatr Dermatol 20: 169-72, 2003.
36. King P: Artificial skin reduces nutritional requirements in a severely burned child. Burns 26: 501-3, 2000.
37. Ryan CM, Schoenfeld DA, Malloy M, et al.: Use of Integra® Artificial Skin is associated with decreased length of stay for severely injured adult burn survivors. J Burn Care Rehabil 23: 311-7, 2002.
38. Boyce ST, Kagan RJ, Meyer NA, et al.: The 1999 clinical research award. Cultured skin substitutes combined with Integra Artificial Skin to replace native skin autograft and allograft for the closure of excised full-thickness burns. J Burn Care Rehabil 20: 453-61, 1991.
39. Wang JCY, To EWH: Application of dermal substitute (Integra) to donor site defect of forehead flap. Br J Plast Surg 53: 70-2, 2000.
40. Hunt JA, Moisidis E, Haertsch P: Initial experience of Integra in the treatment of post-burn anterior cervical neck contracture. Br J Plast Surg 53: 652-8, 2000.
41. Soejima K, Nozaki M, Sasaki K, et al.: Treatment of giant pigmented nevus using artificial dermis and a secondary skin graft from the scalp. Ann Plast Surg 39: 489-94, 1997.
42. Chou TD, Chen SL, Lee TW, et al.: Reconstruction of burn scar of the upper extremities with artificial skin. Plast Reconstr Surg 108: 378-84, 2001.
43. Dantzer E, Queruel P, Salinier L, et al.: Dermal regeneration template for deep hand burns: clinical utility for both early grafting and reconstructive surgery. Br J Plast Surg 56: 764-74, 2003.
44. Palao R, Gomez P, Huguet P: Burned breast reconstructive surgery with Integra dermal regeneration template. Br J Plast Surg 56: 252-9, 2003.
45. Kopp J, Magnus NE, Rubben A, et al.: Radical resection of giant congenital melanocytic nevus and reconstruction with meek-graft covered integra dermal template. Dermatol Surg 29: 653-7, 2003.
46. Thomas WO, Rayburn S, Leblanc RT, et al.: Artificial Skin in the Treatment of a Large Congenital Nevus. South Med J 94: 325-28, 2001.
47. Giovannini UM, Teot L: Aesthetic complex reconstruction of the lower leg: application of a dermal substitute (Integra) to an adipofascial flap. Br J Plast Surg 55: 171-2, 2002.
48. Shermak MA, Wong L, Inoue N, et al.: Reconstruction of complex cranial wounds with demineralized bone matrix and bilayer artificial skin. J Craniofac Surg 11: 224-31, 2000.
49. Moiemen NS, Staiano JJ, Ojeh NO, et al.: Reconstructive surgery with a dermal regeneration template: clinical and histologic study. Plast Reconstr Surg 108: 93-103, 2001.
50. Stern R, McPherson M, Longaker MT. Histologic study of artificial skin used in the treatment of full-thickness thermal injury. J Burn Care Rehabil 11: 7-13, 1990.
51. Berger A, Tanzella U, Machens HG, et al.: Administration of Integra on primary burn wounds and unstable secondary scars. Chirurg 71: 558-63, 2000.
52. Fitton AR, Drew P, Dickson WA: The use of a bilaminate artificial skin substitute (Integra) in acute resurfacing of burns: an early experience. Br J Plast Surg 54: 208-12, 2001.
53. Soejima K, Nozaki M, Sasaki K, et al.: Reconstruction of burn deformity using artificial dermis combined with thin split-skin grafting. Burns 23: 501-4, 1997.
54. Moore C, Lee S, Hart A, et al.: Use of Integra to resurface a latissimus dorsi free flap. Br J Plast Surg 56: 66-9, 2003.
55. Lut BS, Ma SF, Chuang DC, et al.: Specificity of reinnervation and motor recovery after interposition of an artificial barrier between transected and repaired nerves in adjacency--an experimental study in the rat. Acta Neurochir (Wien) 143: 393-9, 2001.
56. Research on file, Ethicon, Somerville, New Jersey, USA.
57. Pandya AN, Woodward B, Parkhouse N: The use of cultured autologous keratinocytes with integra in the resurfacing of acute burns. Plast Reconstr Surg 102: 825-8, 1998.
58. Wisser D, Steffes J: Skin replacement with a collagen based dermal substitute, autologous keratinocytes and fibroblasts in burn trauma. Burns 29: 375-80, 2003.
59. Jones I, James SE, Rubin P, et al.: Upward migration of cultured autologous keratinocytes in Integra artificial skin: a preliminary report. Wound Repair Regen 11: 132-8, 2003.
60. Kremmer M, Lang E, Berger AC: Evaluation of dermal-epidermal skin equivalents ('composite-skin') of human keratinocytes in a collagen-glycosaminoglycan matrix (Integra artificial skin). Br J Plast Surg 53: 459-65, 2000.
END

  

•

  

END

  

•

  

END